Better Living uses affiliate links. If you make a purchase through them, we may receive a small commission (for which we are deeply grateful) at no cost to you.
Are there rooms in your home that are kind of blah? Right now I have to be honest that's how I feel about most of my house. In my defense, I just moved in a couple months ago. I'm still figuring out the house and deciding what I'd like to do design wise. But in a few weeks I have a special guest coming to stay with me (Hi Mom!) and I realized my guest room looks like… Well… Not too welcoming. So it's time for a guest room refresh. This room needs to be revived! Stat!!!
Here's the guest room in question: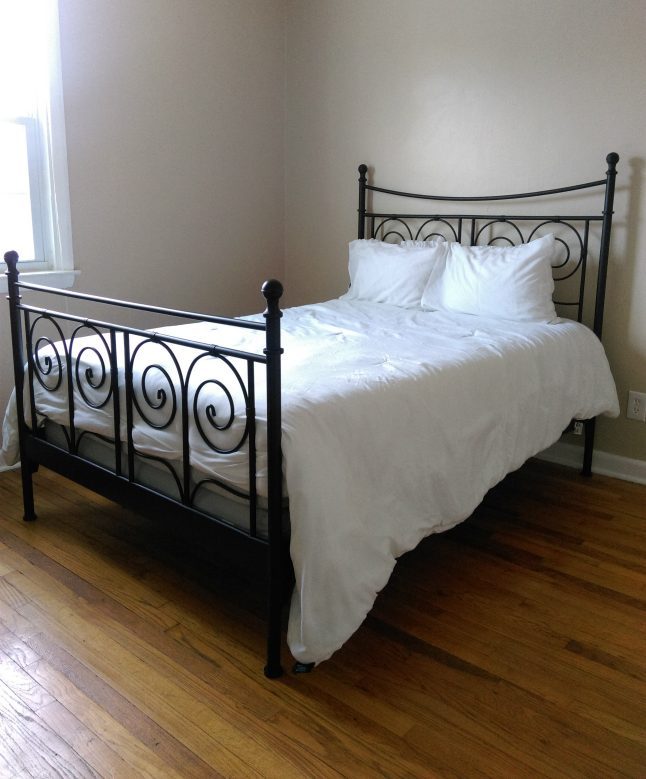 :
Painting a room, furniture, and lighting fixtures can obviously change a room. But there's something you can do in your home that can make a big impact that you probably aren't thinking about. In fact, it's something I think often gets completely forgotten about when most people redecorate their homes. I'll give you a hint: It's something you use every single day and you turn it. Can you guess what I'm thinking of?
If changing out the hardware on your doors came to mind, you're amazing and you get a gold star! Changing out your door knobs is also an acceptable answer. But seriously, when was the last time you changed the hardware on your doors? Maybe never? Think about it for a moment. Door hardware is used in just about every room of the house. It's a functional accessory that can truly enhance the style and feel of your home. And it's always the details that bring a room to life.
We teamed up with Schlage (say it like sh-lay-g) for a #oneroomrefresh to show you how changing your door's number 1 accessory is the perfect way to complete the look of a room. It's an inexpensive change you can make in your home that can ultimately make a huge impact.
Here I go taking off the old door knob.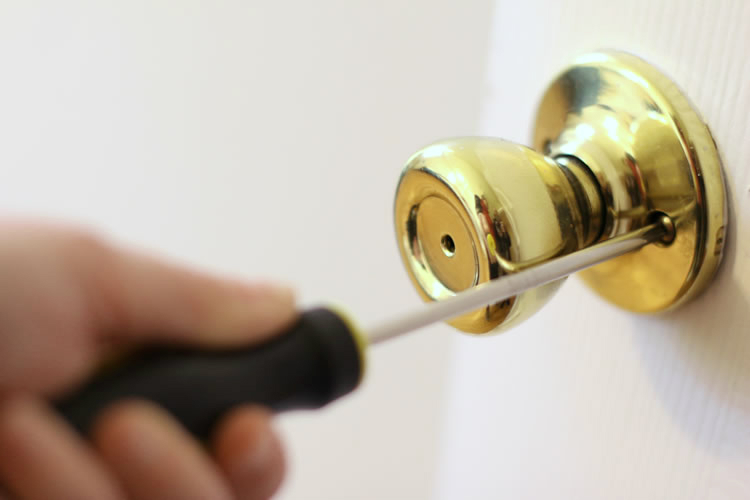 Some of you may be thinking, how the heck am I supposed to change a door knob? Let me tell you, it's easy as pie. If you can turn a Philips screwdriver (the one with the x at the end) you can do this. Four screws. That is all. Not only is it incredibly easy to do, it is so so quick. It took me less than 10 min to change out 1 door knob on a bedroom door. That's nothing.
When you get new door hardware, here's what will come in the box: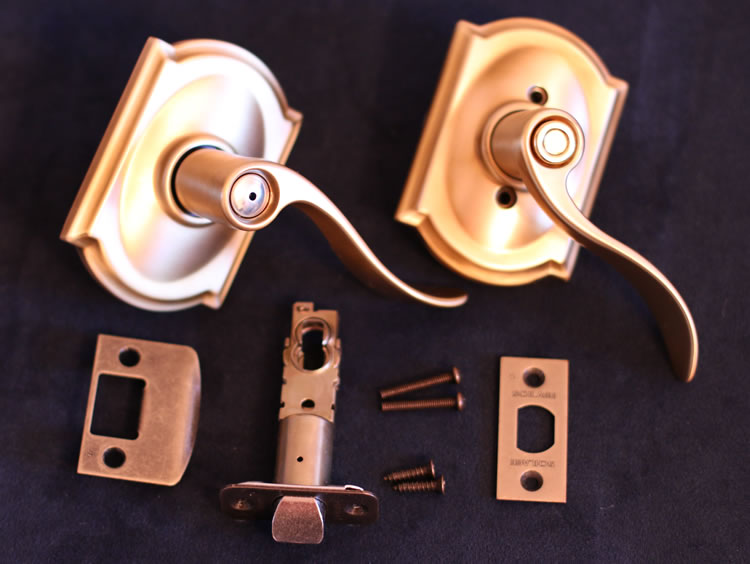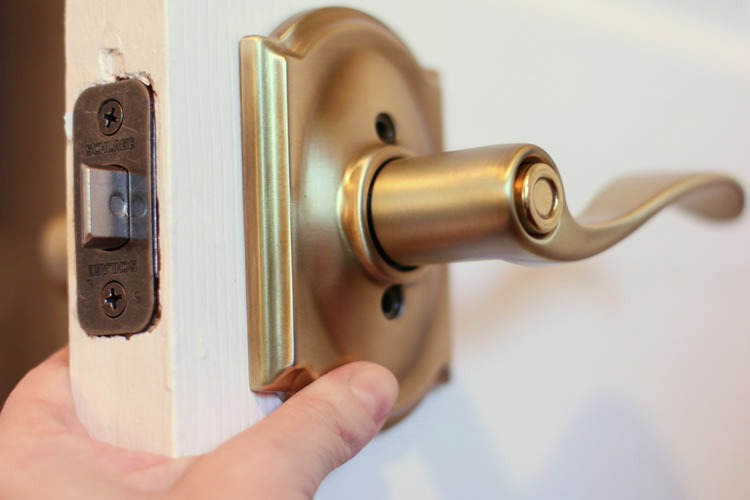 Installation is a cinch. Just a couple of screws in the door, two on the door frame plate and you're good to go.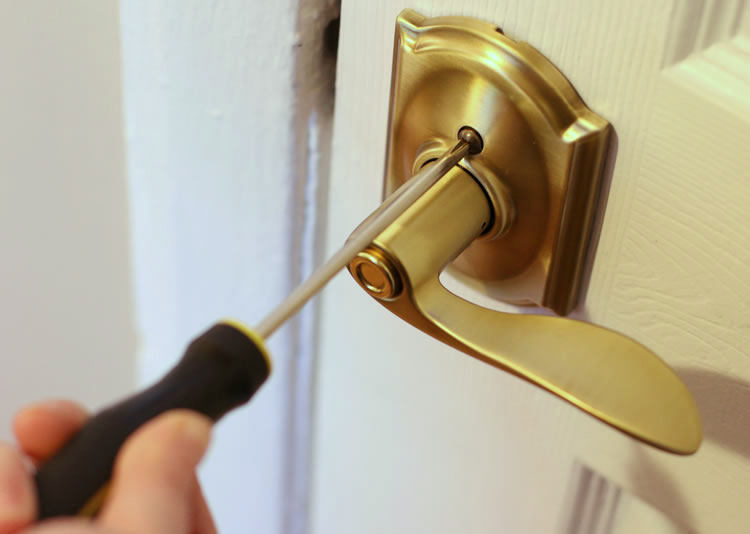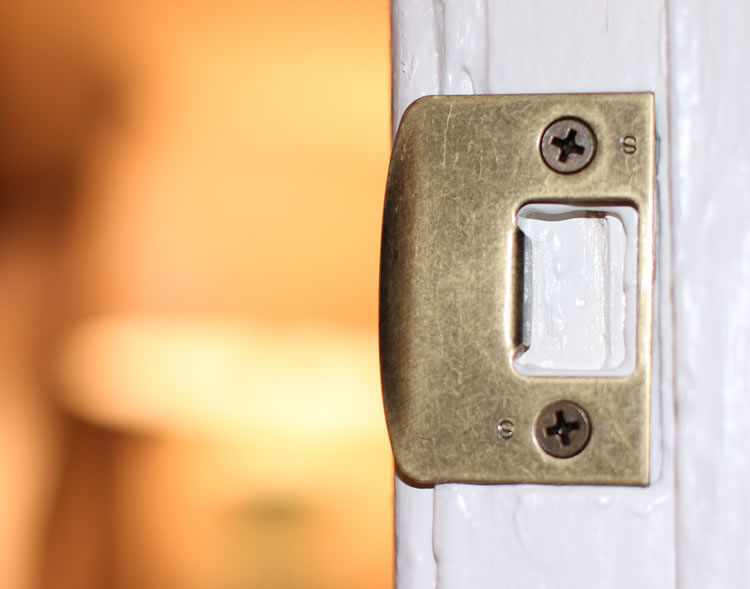 Here's the Schlage door lever installed. It's important to make sure the lock is installed on the inside of the door.  I think it looks really pretty: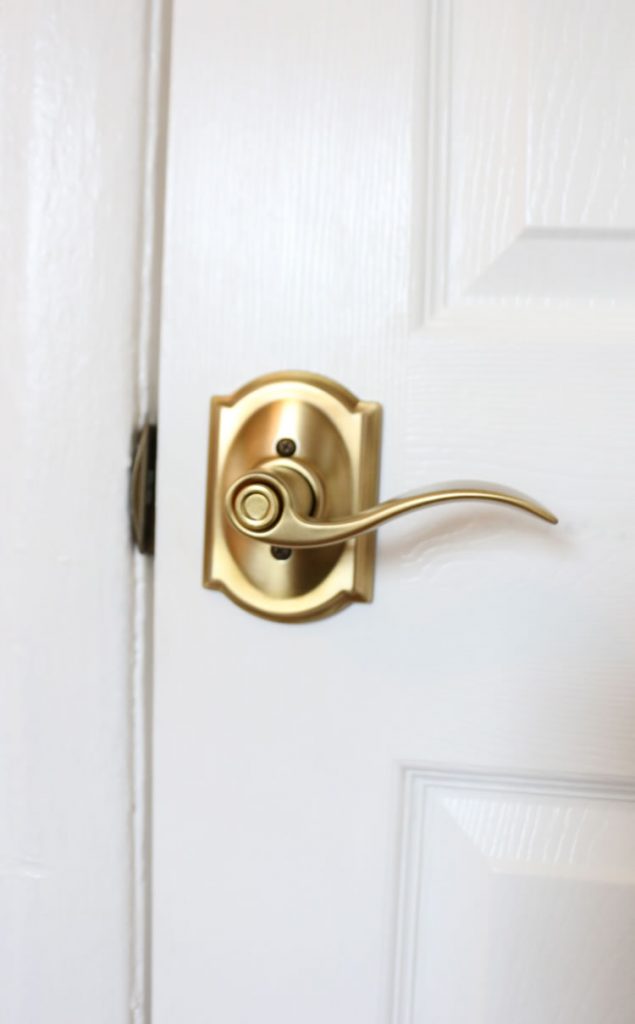 For this guest room makeover, I stayed within a budget of $300 for everything. I already had the rug and the seat at the end of the bed. You really don't have to spend a lot to make a drastic change. For everything else, I hit up stores like Homegoods and T.J. Maxx. I wanted to give the guest room a sense of luxury with a bit of hotel feel.  And here is the guest room makeover after. Complete with gorgeous new door hardware: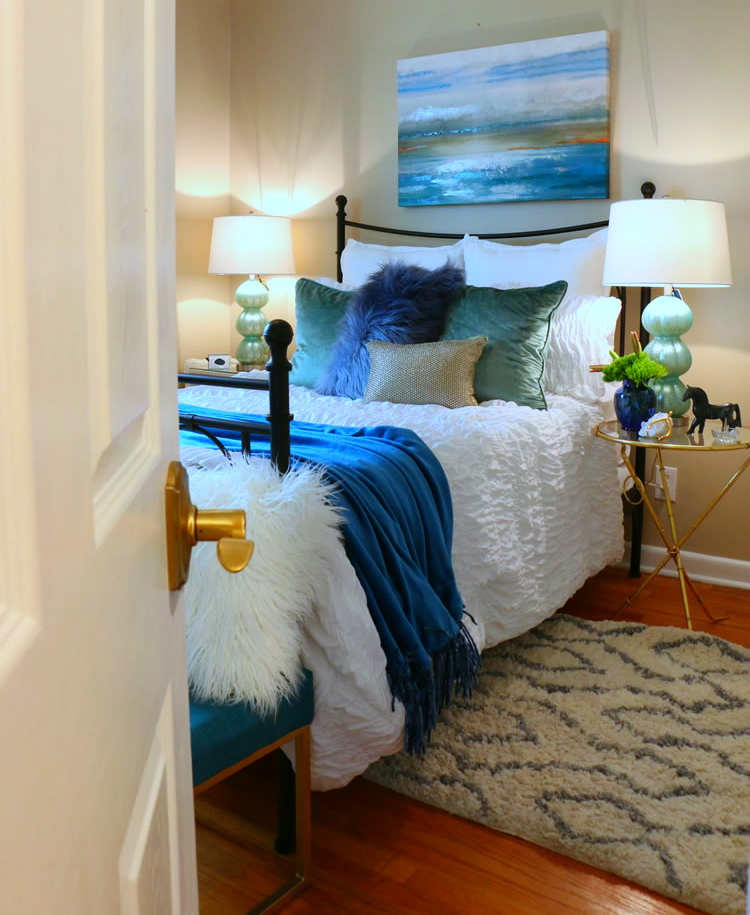 The door hardware I chose is the Schlage Accent Lever with Camelot trim designed for bed & bath (with a lock for privacy of course). We chose the satin brass finish, but it also comes in a variety of other colors like polished nickel, chrome, bronze, matte black and more.
Schlage door hardware styles range from ultra-modern to traditional. So whether your home is brand new or a historic gem, Schlage has styles that will work for your home. Ours is somewhere in the middle. 🙂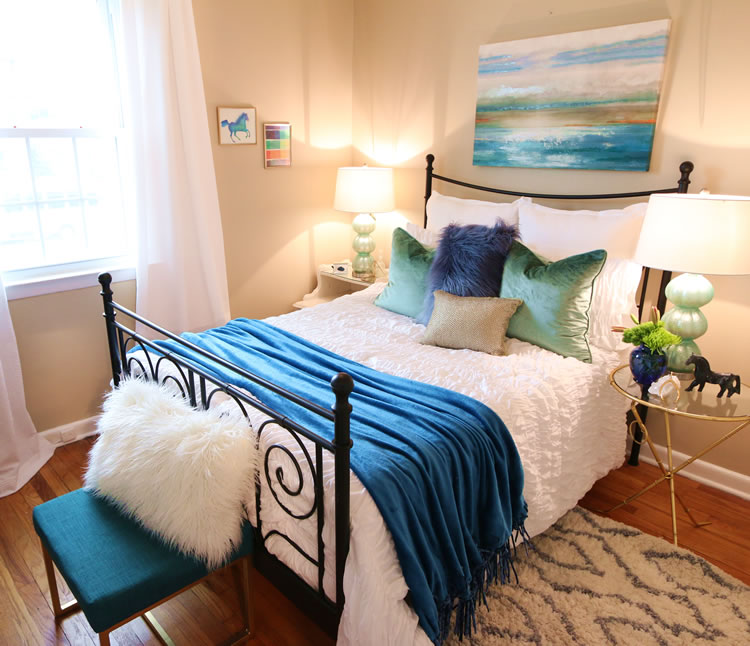 Not only does the Schlage Accent Lever with Camelot trim work well with the style of the house, it definitely elevates the feel of the room. It just goes to show you don't have to sacrifice style for function. I hope our guests love this room as much as I do. Soon I'll make up a basket of goodies for the guest room with things like towels, toiletries, lip balm and waters.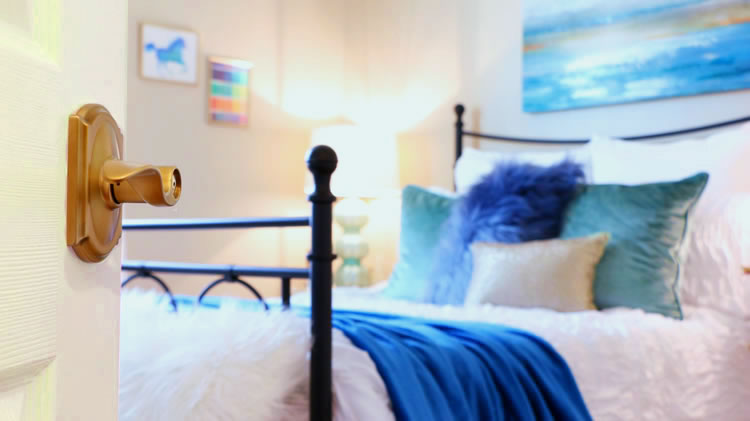 Ready to update the door hardware in your home? Here's a sweet deal to get you started. From 2/15/17-3/13/17, you'll get 20% off your Schlage interior hardware purchase at Lowes online or in store! Click the link here –> http://low.es/2iRW1pQ
For advice on what style of Schlage door hardware would work best with your home, check out their Style Selector here. I actually used this tool to decide which door hardware would work best for my home. Love it!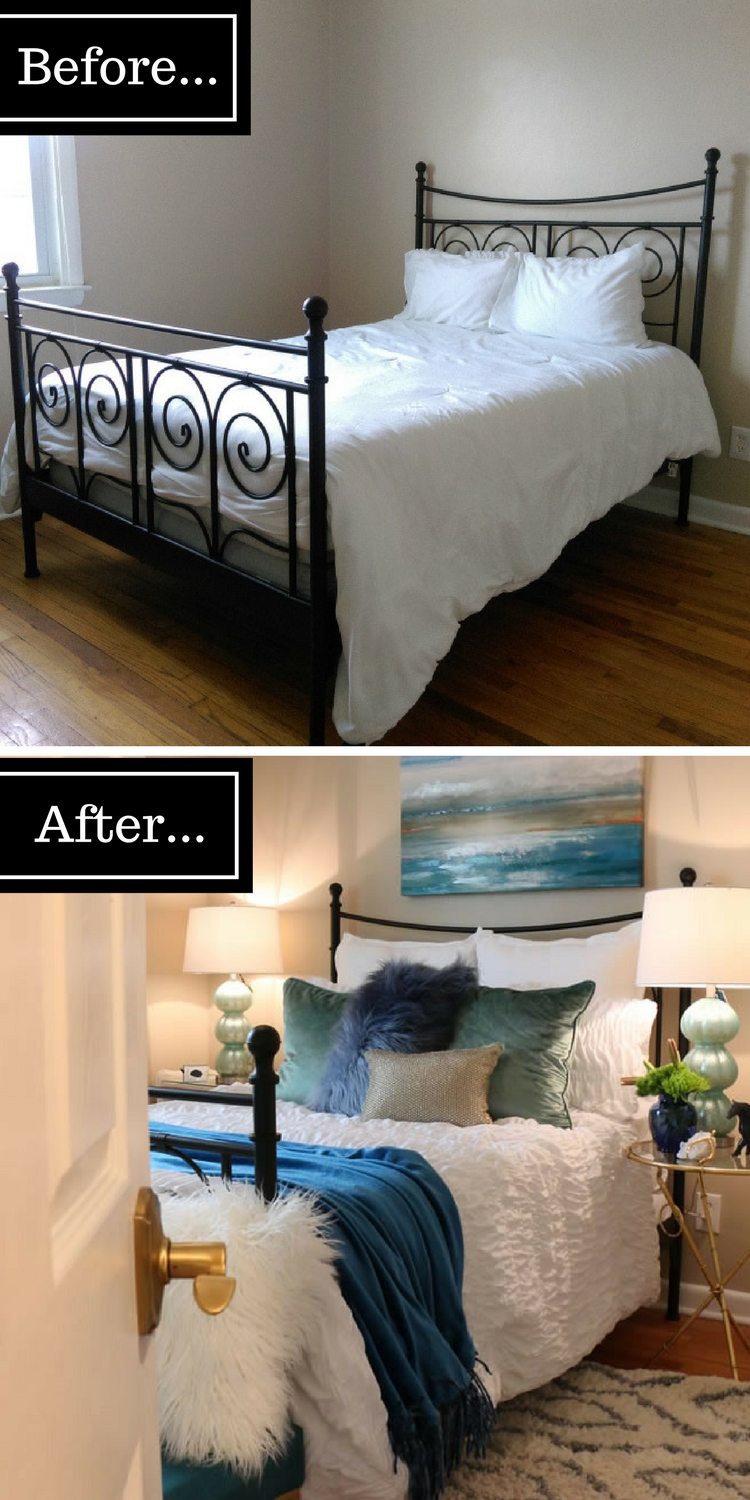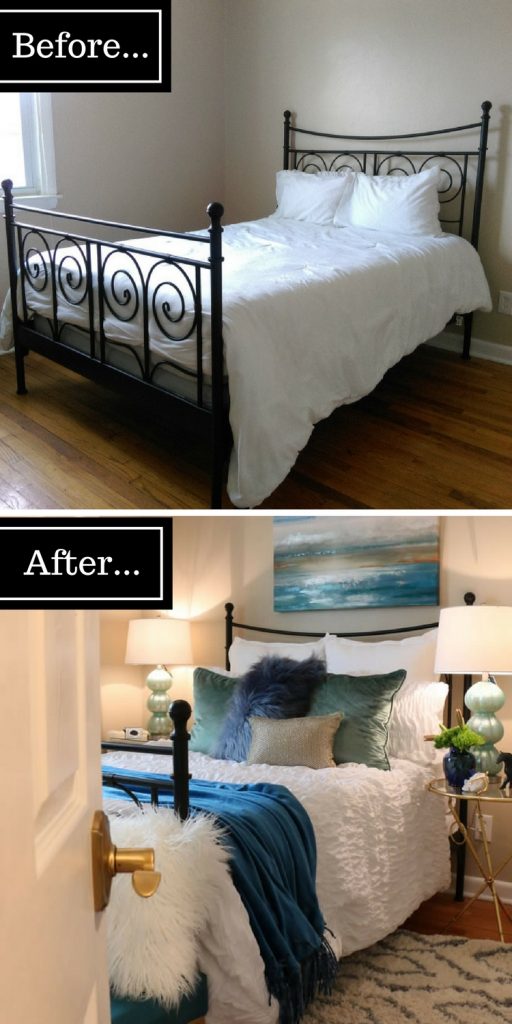 Want to explore more ways Schlage can transform the way you open your doors? To learn more visit www.schlage.com
You can also visit Schlage on their social media accounts @:
Facebook (@SchlageLocks): www.facebook.com/SchlageLocks
Instagram (@SchlageLocks): www.instagram.com/schlagelocks
Twitter (@Schlage_Locks): www.twitter.com/Schlage_Locks
Pinterest (@SchlageLocks): www.pinterest.com/schlagelocks
*This is a sponsored conversation written by me on behalf of SCHLAGE. The opinions and text are all mine.
Do you think this is a DIY project you'd like to take on? Let us know in the comments how you like the #oneroomrefresh and which room you'd like tackle next in your home?