Better Living uses affiliate links. If you make a purchase through them, we may receive a small commission (for which we are deeply grateful) at no cost to you.
Summer is a time for eating lighter and fresher. And with the summer's sometimes unpleasantly hot weather, I tend to go for recipes that will have me spending less time in the kitchen. There's nothing worse than turning your house into a hot-box. Quick and fresh is where it's at when it comes to summer flavors and summer cooking. And with tomatoes in peak season is there anything better than a Greek Salad?
A Greek salad is traditionally a combination of tomatoes, bell peppers, cucumbers, and Kalamata olives served over lettuce and finished with a nice hunk of savory feta cheese and some fresh pita bread if you're lucky. This recipe combines the flavors a Greek salad and tzatziki sauce but uses it in a dip instead. eta rich yogurt and cucumber dip loaded with everything you could ever want on your Greek Salad. Kind of fun, right?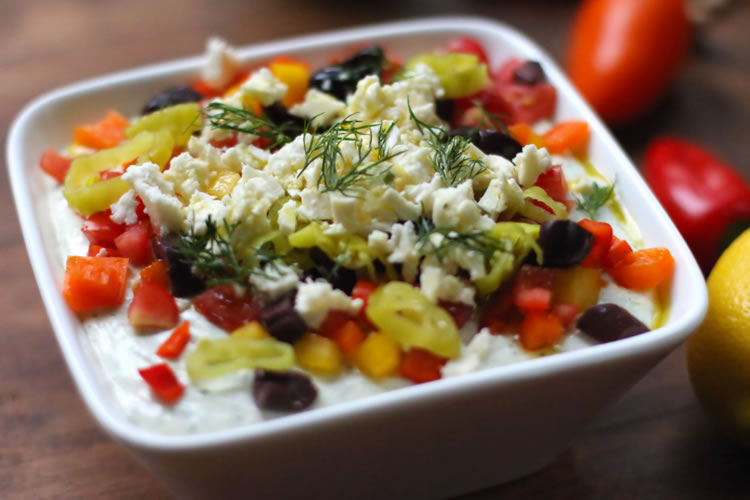 Let me tell you this dip is really delicious stuff and would make a great addition to any party appetizer table. Fresh and colorful this Greek Salad Feta Dip is perfect for dipping veggies, crispy pita chips, potato or veggie chips and even spooning over grilled meats or fish.
Try spreading leftovers on your sandwich the next day or using it as a creamy base for a Greek-inspired chicken salad.
Dip Tip: The key to this dip is using really good quality feta which will blend smoothly making for a super creamy dip. Sheep's milk feta will yield the best results. Avoid feta that is pre-crumbled. It tends to be dry and may give your dip a gritty texture. Smooth, creamy and a little salty is what we want.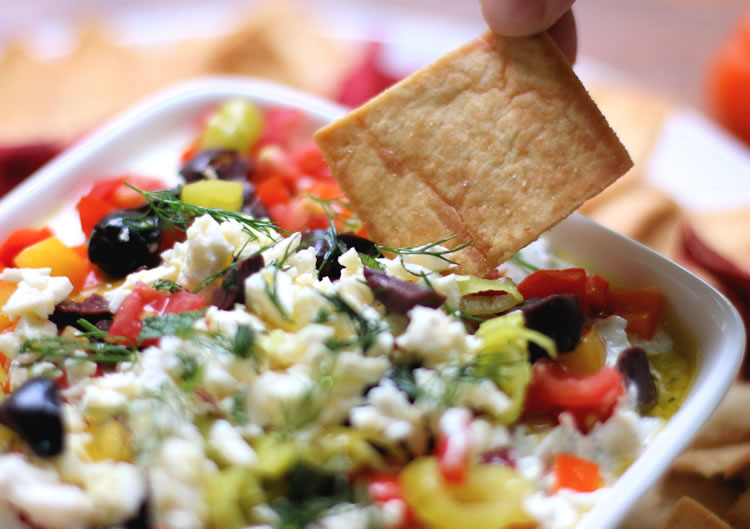 GET THE RECIPE!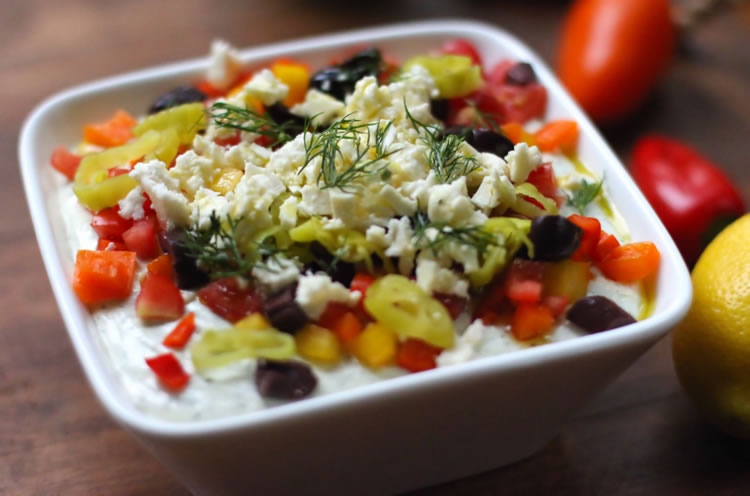 Greek Salad Feta Dip
A Greek style yogurt dip blended with garlic, cucumber, feta, dill and topped with all the flavors of a fresh Greek salad with Kalamata olives, tomatoes, pepperoncini peppers and bell peppers. Easy to make and perfect for entertaining, this Greek Salad Dip is great with pita chips and will have you going back for more.
Ingredients
1

16 ounce container

Greek yogurt

1

small

cucumber, grated and strained of excess water

8

ounces

feta cheese, divided

2

cubes

Pop and Cook garlic (equal to 2 cloves of garlic)

1

lemon, juice of

1/4

cup

extra virgin olive oil

1/4

cup

fresh dill, chopped ( you can substitute 4 cubes of Pop and Cook Basil)

optional
Dip Toppings
1/3

cup

bell pepper, diced

1/3

cup

tomatoes, diced

1/4

cup

pepperoncini peppers, sliced into rings

optional

1/4

cup

Kalamata olives

Feta cheese, reserved from above
DIRECTIONS
Making The Bottom Dip Layer
Add the Greek yogurt, cucumber, 6 ounces of feta cheese (or 3/4 of an 8 ounce block of cheese), olive oil, Pop and Cook garlic cubes, dill and freshly ground pepper in a food processor and blend to combine well to a really smooth consistency. Season with salt to taste and place in the refrigerator to chill. This can be made the night before.
Plating The Dip
In a serving dish spoon the chilled yogurt layer evenly on the bottom. Then sprinkle and layer with the Greek dip toppings in the order they are listed. Finish the dip with a sprinkle of the reserved 2 ounces of feta cheese and a drizzle of olive oil.

Serve the dip with pita chips, toasted pita slices, fresh sliced veggies or veggie chips. Enjoy!

Notes
NOTE #1: The quality of your feta cheese and olive oil will make or break this dip. Please use the best ingredients for best results.