Better Living uses affiliate links. If you make a purchase through them, we may receive a small commission (for which we are deeply grateful) at no cost to you.
There's no better way to see the fall's famous fiery display of foliage, than with a road trip through the Northeast.  So, when's the best time to hit the road? Typically, leaves first begin to change color in the northern parts of Maine, Vermont, and New Hampshire around mid-to-late September. In these states the vibrancy of the leaf colors usually peak around the middle of October. In the lower northeast, foliage changes later and can last up until November.
When planning your road trip, it's best to check foliage map reports of the states you will be driving through so you can plan accordingly. These reports will give you up to date information about color, which areas are peaking at which times, how quickly the leaves are changing and recommendations for best "leaf peeping".  These reports change slightly over the years as things such as environment and weather will affect the foliage colors as well as how fast they turn.
Here's some great ideas for a perfect fall foliage road trip in the Northeast, from northern Maine to southern Pennsylvania. Their timelines estimate as to when peak foliage is likely to arrive at each destination, but in the end it's up to Mother Nature.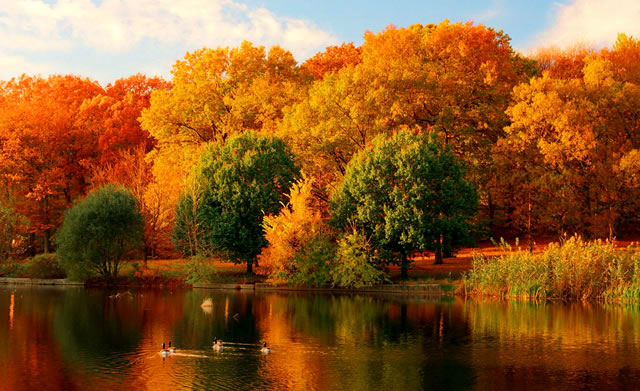 Last Week of September
Follow the Foliage: Northern parts of Vermont, New Hampshire and Maine
Great Drive: Acadia Harbors and Heights
This tour starts in Bangor and takes you through Ellsworth to picturesque Mount Desert Island. From there you'll head to beautiful Bar Harbor and Acadia National Park, where from the summit on Cadillac Mountain you can be the first to see the sunrise in the Northeast. The lighthouse in Bass Harbor is another highlight of the trip, as are the fishing villages of Deer Isle and Stonington.

First Week in October
Follow the Foliage: Northern New York, northeastern and central Maine, central and southern Vermont and New Hampshire, northern Pennsylvania and western Massachusetts.
Great Drive: SoVT (Southern Vermont) Loop
This drive begins in Manchester, Vermont, home to the Southern Vermont Art Center, and continues to South Shaftsbury, where you can explore the Robert Frost Stone House Museum. Later in the 104-mile loop you'll pass through Old Bennington with its historic monuments, homes and churches; there's also a lovely side trip to the Somerset Reservoir, near Searsburg.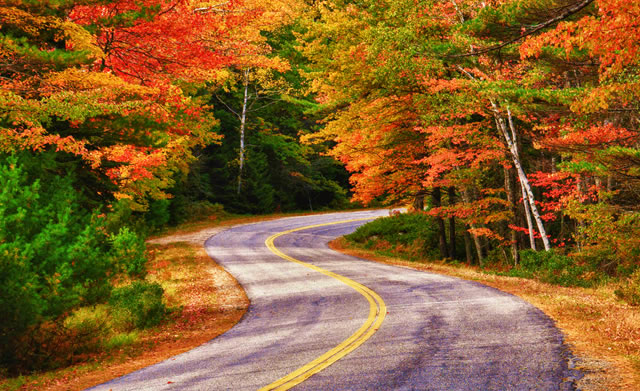 Mid-October
Follow the Foliage: Southern and central coast of Maine, central and eastern Massachusetts, northwestern Connecticut, Catskill Region of New York, central Pennsylvania, northern New Jersey and southern Rhode Island.
Great Drive: Upper Delaware Scenic Byway
The 70-mile Upper Delaware Scenic Byway, also known as New York Route 97, wends along the Delaware River from Hancock to Port Jervis in southern New York. Spectacular river vistas are plentiful throughout the drive, but it's worth a stop at Elks Bronx Memorial Park in Port Jervis for hiking trails and panoramic views of the surrounding mountains and river valleys. Towns along the route offer a variety of art galleries, antique shops, historic museums and other attractions.