Better Living uses affiliate links. If you make a purchase through them, we may receive a small commission (for which we are deeply grateful) at no cost to you.
* This post is sponsored by FitJoy.  The information and content presented here is all ours.
Do you ever feel like you're always on the search for that next great protein bar? I know I do. But in order for a protein bar to be great, it needs to have a few requirements. First, it has to keep me fueled for a couple of hours. Whether it be to get me through a tough workout or hold me over while I'm out running around, I need something that's going to keep me out of the drive-through when the hunger pangs hit. Second, it has to be healthy. It can't just pretend to be on the label and then contain artificial ingredients and hidden (and sometimes not-so-hidden) sugars. It needs to be clean. And third, it has to taste amazing to keep me coming back for more. 
I think my search is finally over. My new favorite healthy, clean and super yummy go-to protein bars are from FitJoy.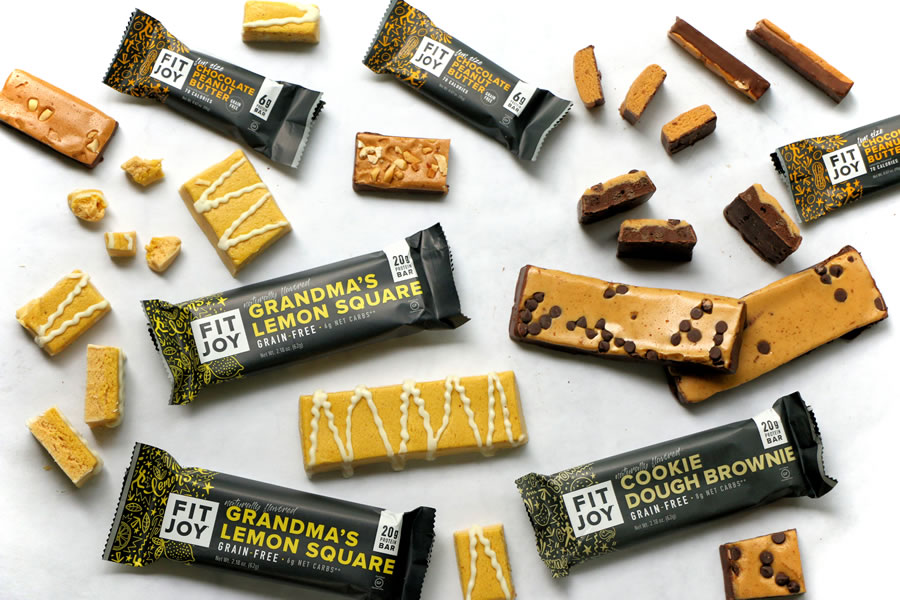 What's In FitJoy Bars?
Grain-free, gluten-free and low-glycemic, each of FitJoy's protein bars are packed with 20 grams of protein and only 6-8 net carbs depending on the flavor. Do you know how with some protein bars you feel hungry right after? FitJoy protein bars high in dietary fiber, which I found keep me satiated for hours. That's right, they're actually filling. Oh, and did I mention they taste pretty awesome too? They so do!
What's Not In FitJoy Bars?
To keep things clean, FitJoy bars are free of GMOs, and artificial flavors and sweeteners.  FitJoy also keeps maltitol out of their bars. What's maltitol? Maltitol is a cheap sugar alcohol that can be found in a lot of "health foods" and other protein bars on the market. But while maltitol may seem like it's healthy on a label it can cause blood sugar spikes, resulting in hunger and cravings, and for some GI distress. Yikes!
Here Are The FitJoy Bar Flavors We Taste Tested: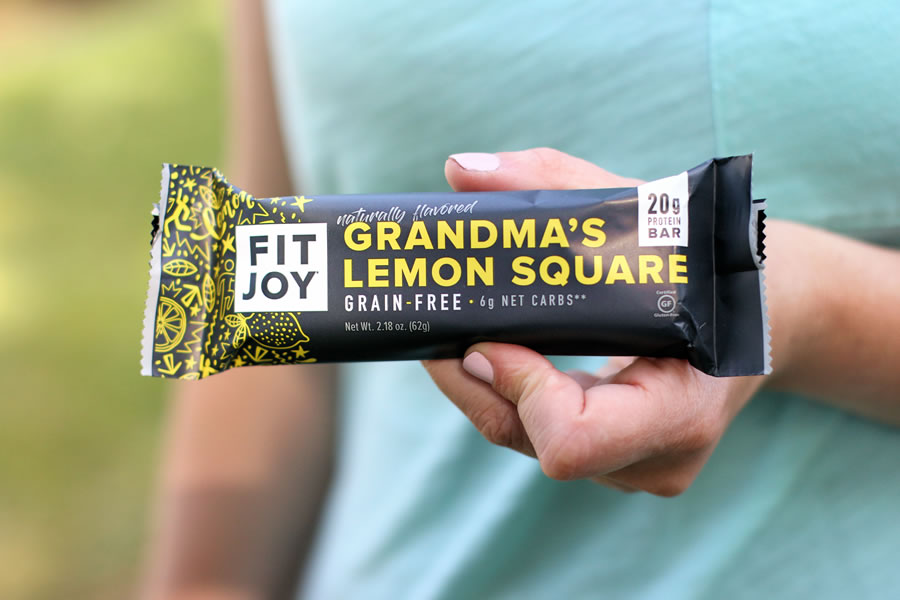 Grandma's Lemon Squares (Winning Flavor!)
20 grams of protein
6 net carbs
12 grams of Dietary Fiber
Being the first lemon-flavored protein bar I've ever tried, I was admittedly skeptical. One bite and I was instantly hooked. They almost seem too tasty to be healthy. They're chewy and bursting with citrusy lemon flavor with just the right amount of sweetness. I also love the bright and sunny color of these bars, thanks to turmeric, and the fun zig-zag yogurt icing design on top. Just lemony goodness all around and really great with coffee. And added bonus: these bars have 15% of your RDA calcium.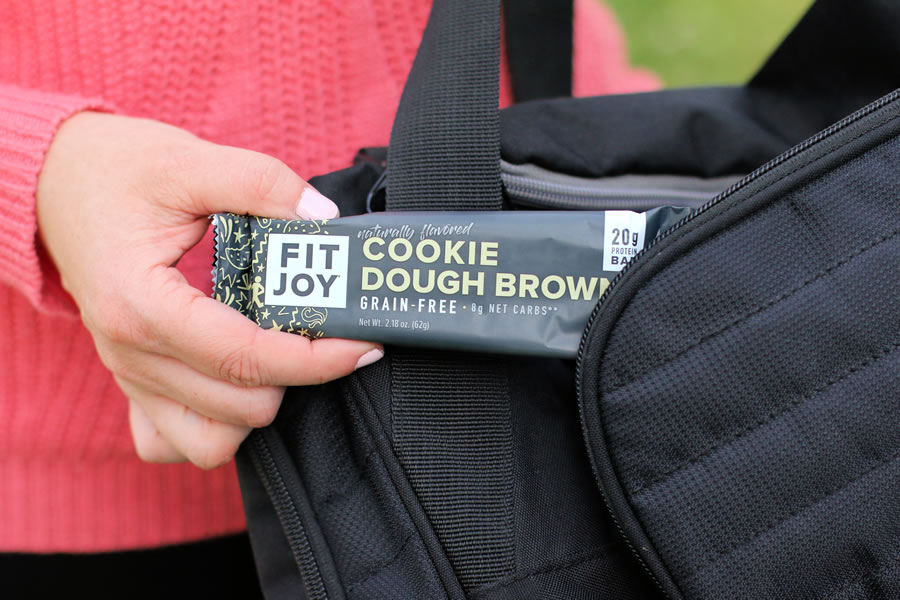 Cookie Dough Brownie (Winning Flavor!)
20 grams of protein
8 net carbs
12 grams of Dietary Fiber
If you think this tastes as good as it sounds, then you are 100% correct my friends. And if you're a chocolate or cookie dough lover than this bar is definitely calling your name. FitJoy's Cookie Dough Brownie packs the deliciousness of chewy chocolate under a layer of chocolate chip speckled cookie dough goodness without any of the sugar, fat or carbs of the real deal. Pretty genius, don't you think? These bars are also a good source of your daily iron and calcium.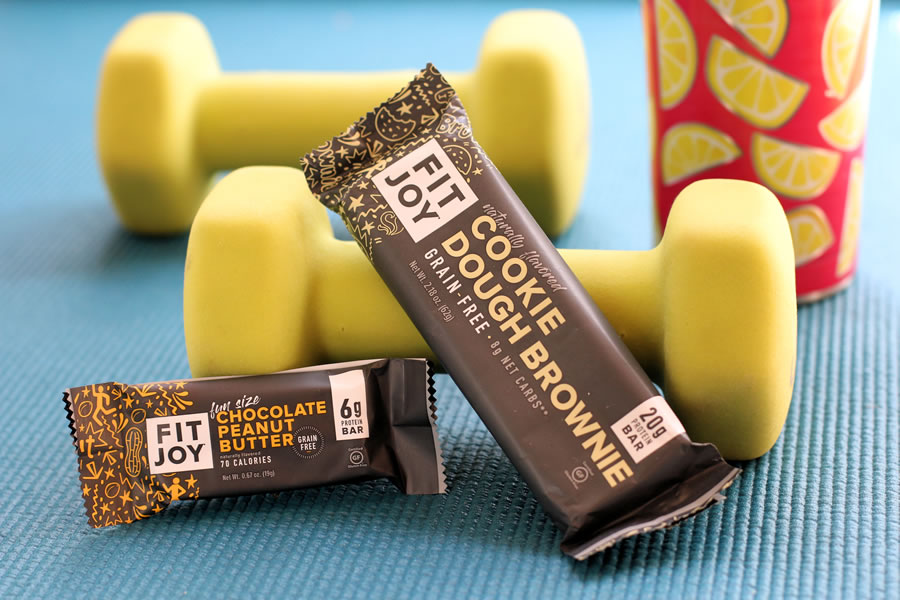 Chocolate Peanut Butter In Funsize (1/3 the size of the regular bars)
6 grams of protein 
3 net carbs
What goes better than chocolate and peanut butter? The third and final flavor we tested was FitJoy's Chocolate Peanut Butter in the fun size. These guys are a peanutty flavored bar with a layer of chocolate on the bottom and some crushed peanuts sprinkled on top for a nice bit of crunch. Very chewy and milder in flavor than the other two, these are nice to keep in your bag in the fun size for when you need something quick to hold you over fast that won't melt in your bag.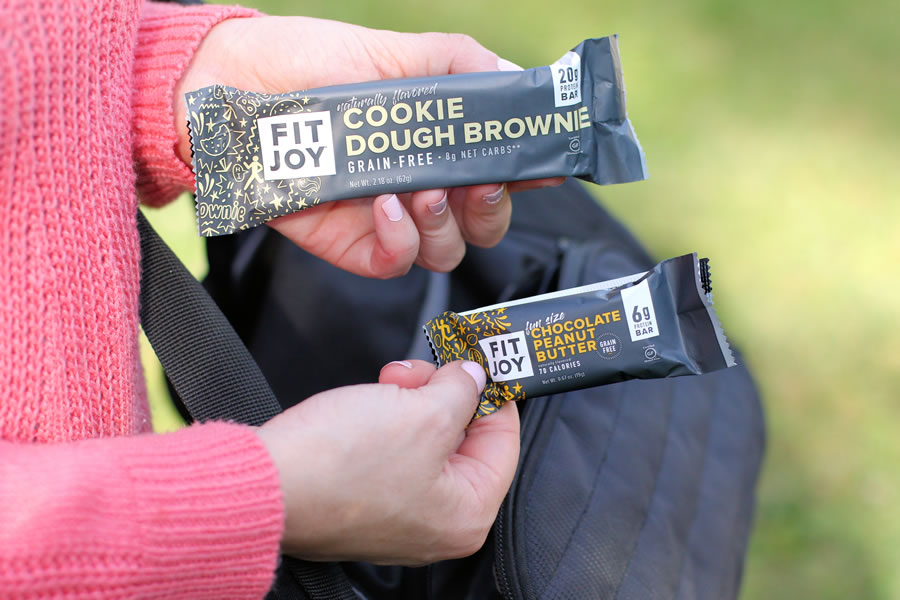 When's The Best Time To Eat A FitJoy Bar? 
Since these bars are grain-free and packed with protein they make a great pre or post-workout snack. But after going through 2 boxes already (yes, I'm hooked) I've found these bars are perfect for an afternoon snack or stand-in breakfast on busy days. I also found myself reaching for one whenever I had a sweet craving.  I can confirm that FitJoy Bars are a healthy and yummy alternative to calorie and sugar-packed desserts. Keep scrolling to get a healthy FITJOY PARFAIT dessert recipe you can make in 5 minutes!
GET THE RECIPE!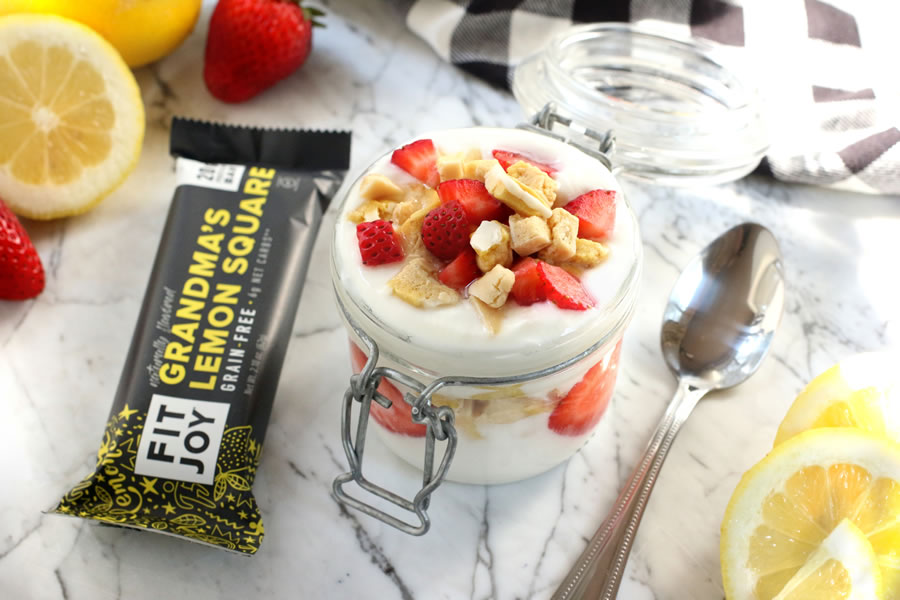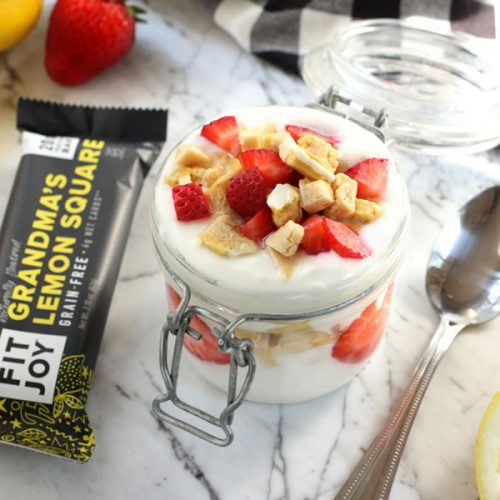 Healthy Recipe: FITJOY Strawberry + Lemon Yogurt Parfait
For a completely satisfying post workout meal or healthy dessert packed with tons of protein try this yogurt parfait layered with vanilla yogurt, fresh strawberries, and FITJOY's Grandma's Lemon Square. It's ready in 5 minutes or less.
Ingredients
1

FITJOY Grandma's Lemon Square (full size)

1

cup

fat-free vanilla yogurt

1/3

cup

strawberries, diced
DIRECTIONS
Begin, by crumbling the FITJOY Grandma's Lemon Square Bar into small bite-sized pieces.

Then layer 1/3 of the vanilla yogurt into the bottom of small glass or jar. Continue by layering about a third of the diced strawberries and crumbled FITJOY bar.

Continue alternating layers until all the ingredients are used.

Enjoy your healthy high-protein treat!
NOTES
The full portion of this parfait is 400 calories and is perfect for a post workout meal or even a breakfast. For a lower calorie dessert option (200 calories) divide this recipe into two portions.

Try substituting FITJOY's other bar flavors like Cookie Dough Brownie or Cookies And Cream for a simple twist on this recipe.
Nutrition
Want Grain-Free/Protein-Packed FitJoy Bars?
All FitJoy bars come in full ($29.99 for 12) and fun-sized portions ($19.99 for 16). 
Flavors include:
How about more GRAIN-FREE healthy snacks?
Check out FitJoy's new grain-free Pretzels With Himalayan Salt. These crunchy little twists are perfect for dipping or eating on their own.
COUPON CODE: Enter BETTERLIVING15 for 15% OFF your order at checkout!