Better Living uses affiliate links. If you make a purchase through them, we may receive a small commission (for which we are deeply grateful) at no cost to you.
Thank you Facebook Marketplace for sponsoring this post. There's something for everyone!
Do you love all things antique, vintage furniture, and home decor? Maybe you love 'Fixer Upper' style or adding unique pieces to your home that don't scream, "I just ordered this online?" A little obsessed myself, I'm always on the lookout for those cool one-of-a-kind finds. While I usually look to flea markets, antique shops, and thrift stores, there's a new place I'm now looking to for some super amazing, one-of-a-kind pieces: Facebook Marketplace.
I recently partnered with Facebook Marketplace to give it a whirl. Unique finds, great deals, and I can make money by selling items, too? I wanted in. So to start, I set out to find a really cool vintage piece to bring home to see what it what it's all about.
Step 1: Click here to get to Facebook Marketplace. You can also access it on the app. After browsing for a bit, I found a vintage circa 40's enamel topped baking table with chippy paint and farmhouse style legs listed for $85. Adorable.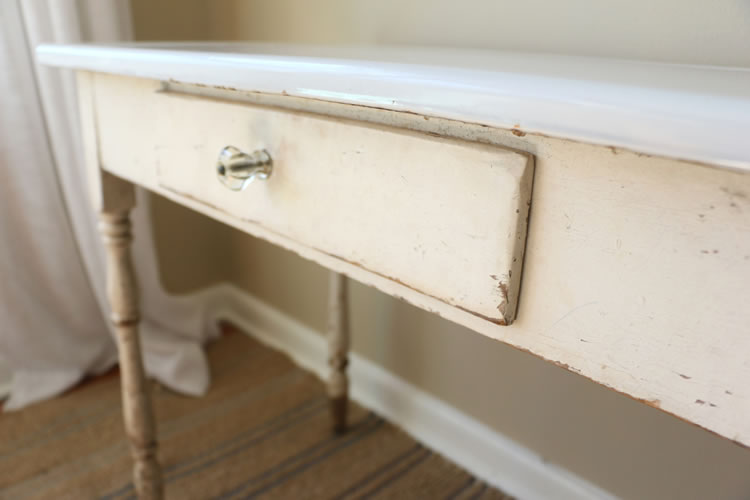 Step 2: To contact the seller, I clicked the listing and then clicked the blue button that says "Ask For Details." An automatic message is then sent to the seller asking them if the item is still available. Lucky for me, it was. She got back to me quickly and we set up a time and place to meet.
Step 3: We met the next day, and I was happy to see that the enamel top of the table was in near perfect condition. The legs, however, were super extra chippy and worn, which I kind of loved, but also felt like I might want to/need to refinish it the future. We ended up agreeing to a final price of $75 and I popped this sweet and chippy little table in my car.
Step 4: Driving home, I was thinking of all the ways I could use this amazing piece. Kitchen prep and baking table like it was originally made for? Vanity? Desk? It will most likely rotate around the house as needed, but for now, I decided to use it as a reading desk.
Before: Here it is in its new spot.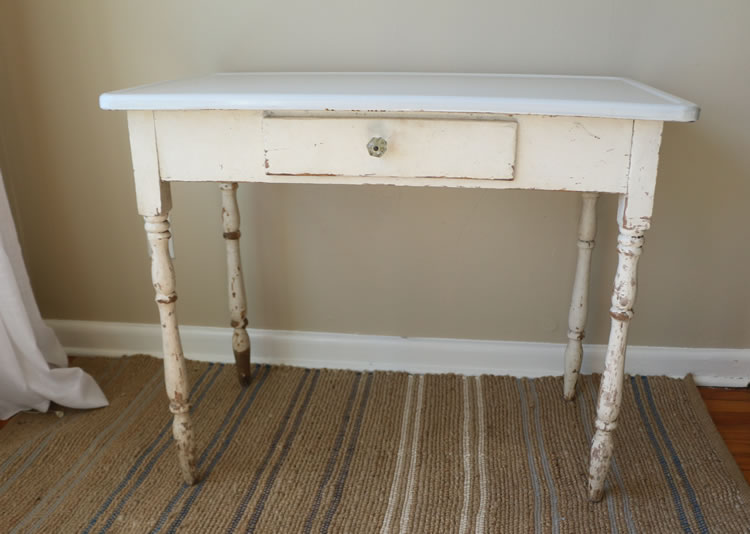 After: Here it is styled with a chair I was gifted by a friend, and some other things I already owned.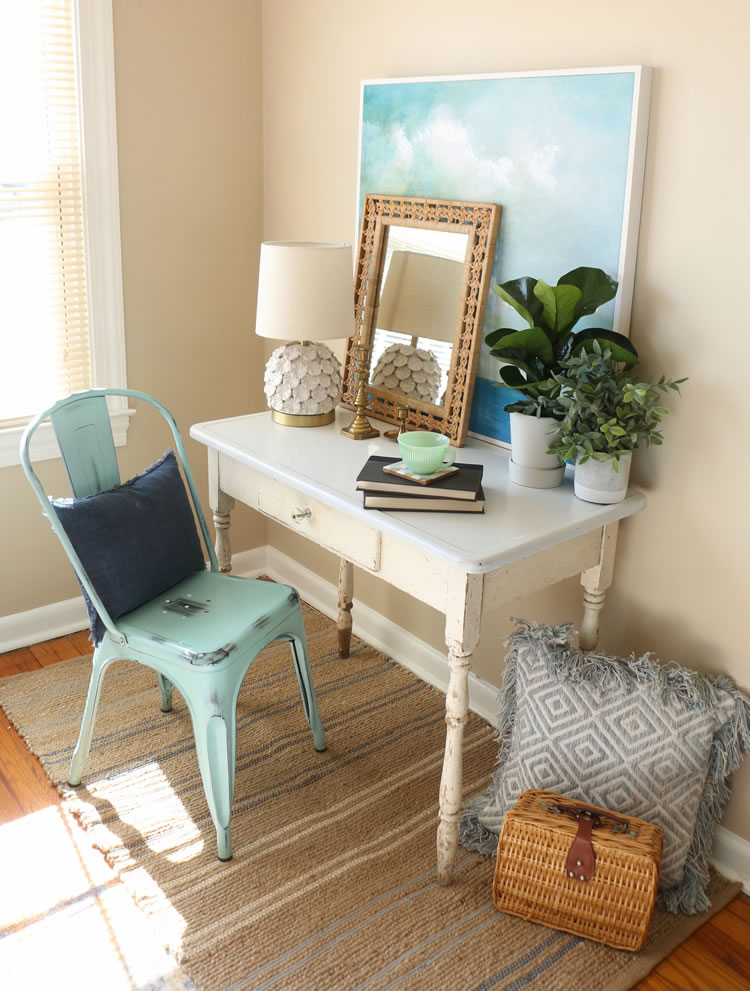 One of the things I found is that Facebook Marketplace is really easy to use. To search for things to buy, you just type in whatever you might want, and Facebook Marketplace will locate the nearest items that fit your description. You can also search for items by filtering for things like category, location, or price, or just browse.
Tip: Listings can be saved and bookmarked for later viewing, but I found things can sell really quickly. If you see something you really like, and it looks like a great deal or is super unique, don't delay in contacting the seller. A few items I was undecided about were either already sold or the listing had been removed when I went back to check them again. Snooze and you will definitely lose.
While Facebook Marketplace has lots of unique vintage furniture finds, antiques, and cool home decor items, you can also find clothes, electronics, appliances, household stuff, lawn and garden tools, art supplies, and tons more. There's pre-loved stuff, new stuff, and listings on there for custom orders, cars, homes, and services. Doing a home renovation project on a budget? You can even find listings for cans of paint, stain tiles, lumber, and more at some great prices.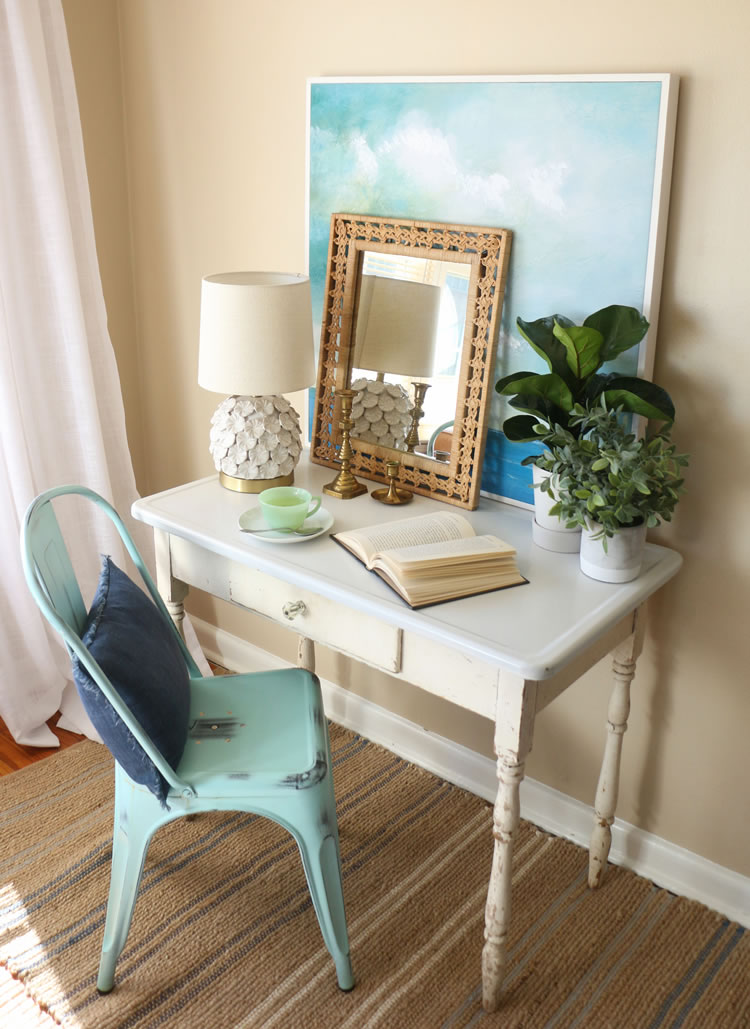 Don't forget you can sell stuff, too. Easy and convenient, it's a great way to turn your cluttered closet, attic, or garage into cash. Here's how to do it: snap a couple photos of your item(s), write a brief description, and set your price. There's no listing fees and payment is worked out between you and the buyer. You can have the buyer come to your house or set up a place to meet.
One of the coolest and, frankly, most addicting things about Facebook Marketplace is that there are always new items being added. You never know what amazing mid-century modern or perfectly rustic farmhouse piece might pop up. Not only is it a great way to make your home unique, it's also a great way to recycle, upcycle, and support your local community. Mark me as sold.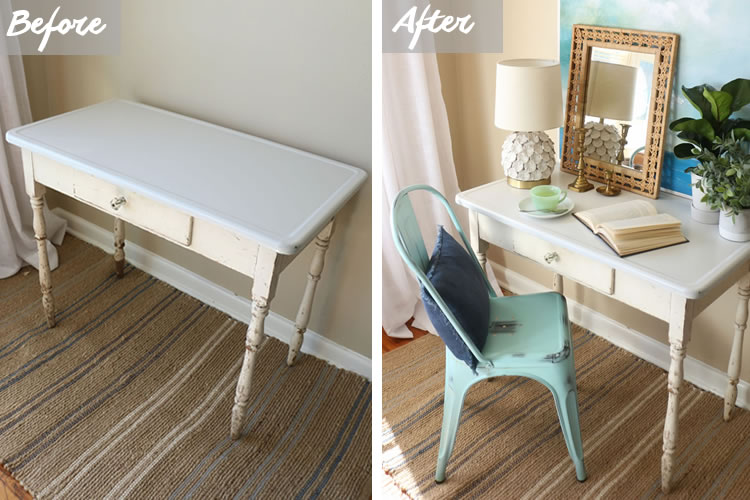 What do you think about the vintage table we bought? Have you bought or sold anything on Facebook Marketplace yet? Let us know in the comments!