Better Living uses affiliate links. If you make a purchase through them, we may receive a small commission (for which we are deeply grateful) at no cost to you.

Here comes spring with its beautiful warm weather and long sunny days. It's the season when everything starts to bloom in full color. But while spring is a welcome change from the cold harsh winter, it also brings something else: seasonal allergies and hay fever! Between 40 and 60 million Americans will be sniffling, sneezing and wheezing this spring all due to seasonal allergies. Although researchers aren't sure why, each year that number rises.
What Are Allergies Caused By?
What exactly are allergies? According to WebMD allergies or Allergic rhinitis, the medical term for hay fever happen when:
"Your immune system overreacts to particles in the air that you breathe-you are allergic to them. Your immune system attacks the particles in your body, causing symptoms such as sneezing and a runny nose. The particles are called allergens, which simply means they can cause an allergic reaction."
Common allergy symptoms include runny nose, itchy, watery eyes, congestion, sneezing, coughing, sinus pressure and headaches. Some people may even experience symptoms like fatigue. Other common seasonal allergy symptoms include:
Post-nasal drip
Runny nose
Scratchy or sore throat
Irritation or infection in the ears
Irritability
Asthma
Hives and skin irritations
Decreased concentration and focus
It's important to pay attention and recognize what triggers your allergy symptoms so you can take steps to minimize symptoms. Left untreated, seasonal allergy symptoms can for some be quite miserable. While tree pollen and mold are two of the major spring allergy culprits, grass and weed pollen can be triggers as well.
For those who are really affected by seasonal allergies experts recommend avoiding allergens as much as possible. You can do things like keep your windows and doors shut in your home and in your car, limit the amount of time you spend outdoors and make sure air filters in your home are changed regularly.
But, even if you do your best to avoid your allergy triggers some spring allergy symptoms may be inevitable. I mean you do have to go outside at some point. Allergy medications can also offer some relief from symptoms, but they may also come with undesirable side effects like nausea, drowsiness, dizziness, dry mouth and confusion. Luckily there is a more natural alternative for seasonal spring allergy relief.
Relieve Allergies By Diffusing Essential Oils
One of our favorite ways to minimize and relieve allergy symptoms is to diffuse essential oils. Essential oils are the natural oils found in plants that have a number of healing compounds. These healing compounds have a variety of benefits. Some contain natural antihistamines that sooth irritations and reduce inflammation. Others can help to boost our immune system or kill bacteria, fungi and other allergens. In other words you'll sneeze less and be less itchy. Essential oils that are most effective in treating allergies have the following properties. They are:
Anti-viral, anti-bacterial, anti-fungal
Anti-inflammatory
Immune boosting
Expectorants
Soothing and restorative
Calming
Diffusing essential oils like tea tree, lemon, eucalyptus, lavender and peppermint oil can help to open up the nasal passages, improve circulation, sooth irritations and relieve stress. Essential oils also have antimicrobial properties that help to fight infections, bacteria, parasites, microorganisms and other harmful toxins that can trigger allergic responses. By diffusing essential oils through your home they can leave the air in your home disinfected, clean and clear.
There are lots of places to buy essential oils online but we like to get ours from iHerb.com. Not only are their prices great, but they have an awesome selection. And if you're in need of an essential oil diffuser for your home they have a nice selection of those as well. It's convenient one stop shopping.
If you don't have a diffuser at home try blending 5 drops of essential oil with 2 teaspoons of jojoba oil and 2 ounces of salt for a relaxing aromatherapy bath.
Essential Oils Beneficial For Seasonal Allergies
Here are some of the most beneficial essential oils to diffuse for spring allergies:
Tea Tree
Tea tree essential oil is one of the most beneficial and powerful essential oils. While it can kill the airborne mold, bacteria and fungi that cause allergies it is also a known anti-inflammatory. A German study found that tea tree oil is an effective antimicrobial agent against a wide range of bacteria, yeasts and fungi. Tea tree oil is also a wonderful addition to homemade household cleaner to disinfect the home and eliminate allergens.
Recommended: Now Foods Tea Tree Essential Oil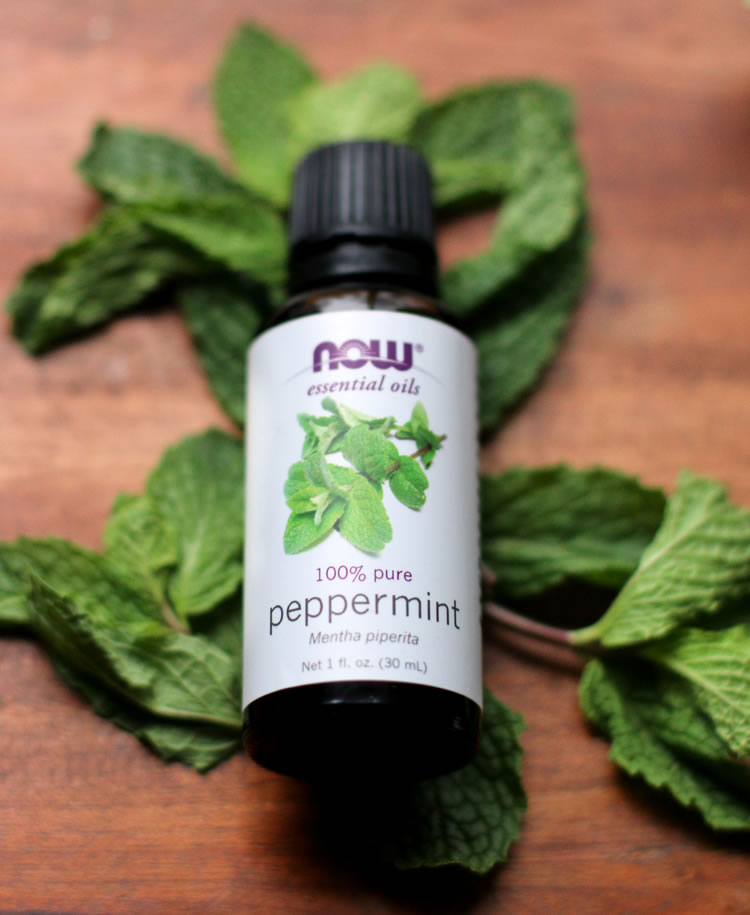 Peppermint
Peppermint is a favorite essential oil for allergies. Not only does it smell great, but it can help alleviate nasal congestion while clearing your airways and soothing inflammation. Inhaling peppermint essential oil will reduce any buildup of phlegm and let you breathe easier. A study published in The Journal of Ethnopharmacology found that peppermint essential oil is an effective expectorant, anti-congestive and can also soothe coughs, clear sinuses, and relieve the symptoms of bronchitis. These are all symptoms that can come along with spring allergies. And you if you're one of the lucky ones who gets really tired due to spring allergies (I'm raising my hand) then peppermint essential oil can give you an uplifted feeling while increasing concentration, focus and relieving fatigue.
Recommended: Now Foods Peppermint Essential Oils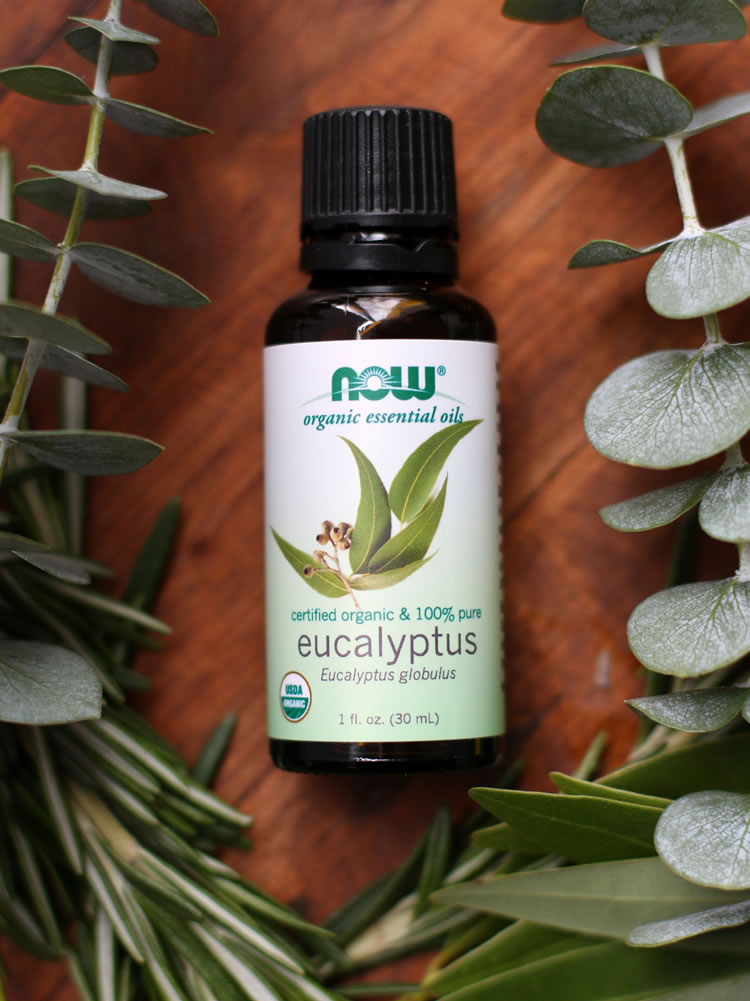 Eucalyptus
Eucalyptus is an amazing essential oil to heal and relieve things like sore throat, sinus infections and respiratory related symptoms like asthma, hay fever, sneezing and coughing. It's also anti-inflammatory and can relieve congestion. Not only does eucalyptus smell amazing but it gives you a nice cooling sensation as you inhale. Eucalyptus is also a great remedy to ease headaches due to sinus congestion or seasonal allergies.
Recommended: Now Foods Eucalyptus Essential Oils
Lemon
Lemon is a favorite essential oil to use to combat allergies. Lemon essential oil works as a natural antihistamine, relieves excess mucus, and cools down the inflammation caused by allergies. Lemon essential oil can help clear your sinuses and reduce congestion while increasing your alertness and boosting your energy. When diffused at home, lemon oil is a great disinfectant. It helps to keep the air inside your home clean as it eliminates active allergy triggers in the air. Clean air for you means less allergies and allergy symptoms. And who doesn't love the scent of a lemony fresh home? Lemon essential oil works best in combination with other essential oils like lavender and peppermint.
Recommended:  Now Foods Lemon Essential Oils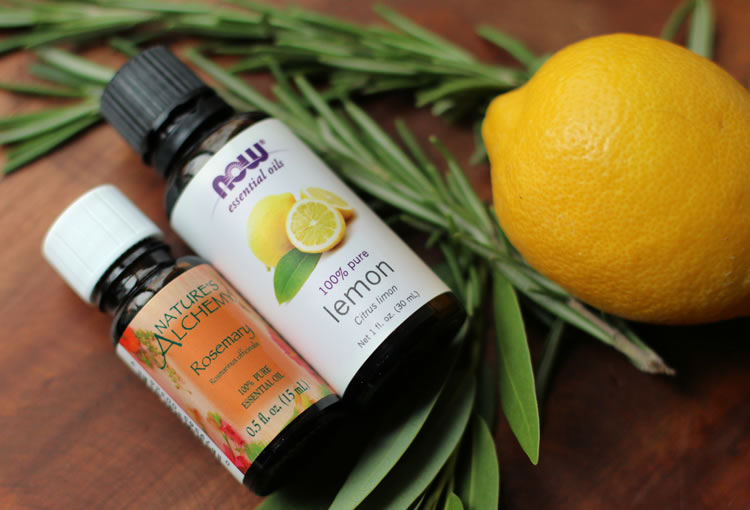 Rosemary
Rosemary essential oil has an earthy woody fragrance that can be quite invigorating, but it can also help relieve the symptoms of seasonal allergies like stuffy nose, cough and congestion. Rosemary essential oil also has antibacterial and anti-fungal properties that can give your immune systems a much needed boost. It can also relieve throat and nasal congestion by clearing the respiratory tract which is something we desperately need during spring allergy season. Rosemary essential oil also has an antihistamine like effect on the body which can assists in easing allergic reactions.
Recommended: Nature's Alchemy Rosemary Essential Oil
Lavender
Lavender is one of the most popular essential oils not only because it smells good but because it provides so many helpful healing benefits. It's a little bit of magic in a bottle. When it comes to soothing skin inflammation, reducing pain, speeding up recovering time and enhancing the body's general ability to handle stress lavender is your oil.
A natural antihistamine, lavender essential oil is known to promote calm and relaxation while relieving symptoms caused by seasonal allergies like coughing, wheezing and inflammation. One study showed that lavender essential oil even has the ability to prevent inflammation and the enlargement of mucous cells.
Recommended: Now Foods Lavender Essential Oil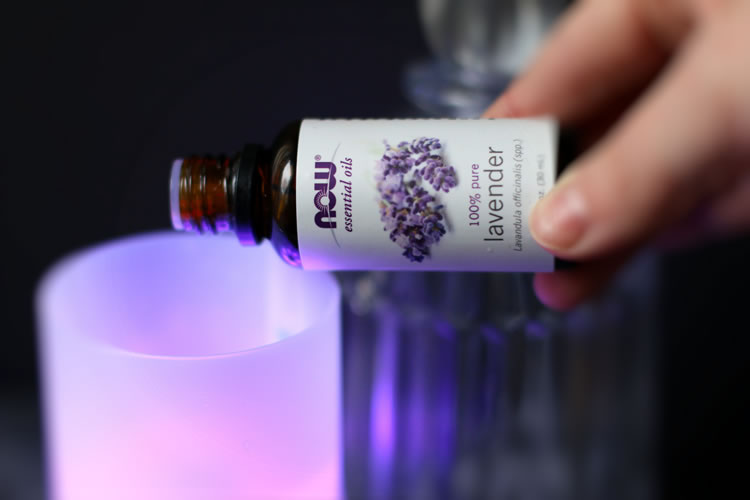 Bay
Bay essential oil is a great oil to diffuse for the low energy and fatigue that allergies can cause. Bay is also an effective decongestant an can help treat symptoms like coughs and bronchitis while providing pain relief. Although bay essential oil is an effective antiseptic and decongestant for the respiratory system, it contains a compound called eugenol that can for some people irritate the mucous membranes. Bay essential oil should always be used in very small amounts.
Recommended:  Aura Cacia, 100% Pure Bay Essential Oil, Animating
Helichrysum
Helichrysum essential oil is a sweet, floral and fruity smelling essential oil made from the yellow flowers of this incredibly healing plant. It has been revered for centuries for its amazing healing properties. Helichrysum essential oil is wonderfully effective in calming inflammation and promoting the body to heal. Its oil contains compounds that are naturally anti-bacterial, anti-fungal and antimicrobial and can help to boost the immune system.  In times when you're congested helichrysum essential oil can clear excess mucus from the respiratory tract. It also promotes the detoxification processes of the body which speed up the elimination of allergens and their byproducts from the body.
Recommended: Aura Cacia Helichrysum Essential Oil, Restoring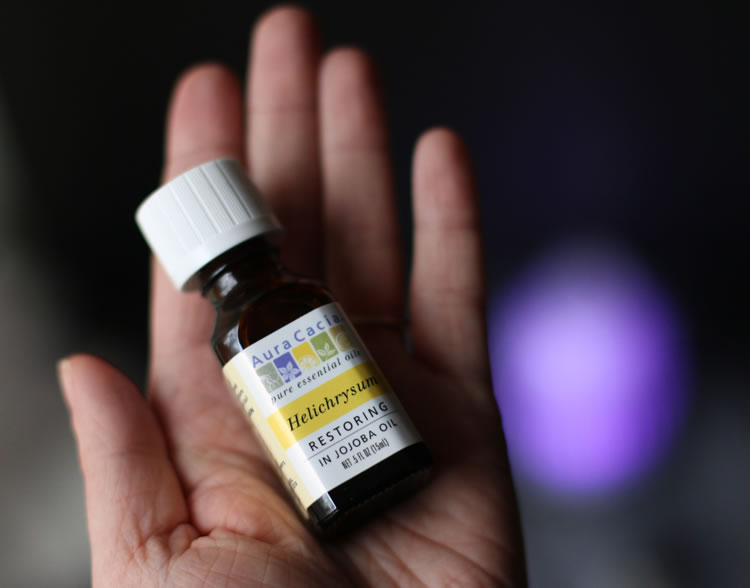 Chamomile
Chamomile essential oil is an amazing essential oil for those who struggle with seasonal allergies. Not only is chamomile excellent in topically soothing allergic skin reactions, but chamomile is also beneficial for allergies if inhaled with a diffuser as well. Chamomile essential oil can calm and soothe respiratory passages that are irritated and inflamed from the effects of allergens. It's perfect for when your nose and throat are feeling swollen and irritated from all that pollen.
Recommended: Now Foods Roman Chamomile Essential Oil
Red Thyme
Red thyme essential oil has been traditionally used as a remedy for cough and respiratory infections. This makes it perfect to use when allergies rear their ugly heads. Red thyme essential oil also has strong antiseptic and antibacterial properties which help to drain and heal congestion in the chest and throat. It can speed up healing by stimulating circulation and the metabolic boost provided by thyme oil. If you regularly suffer from fatigue during the day, especially during allergy season red thyme essential oil may give you a nice little energy boost.
Recommended: Nature's Alchemy Red Thyme Essential Oil
Basil
Basil isn't just for your pesto recipes anymore. Basil essential oil can actually reduce your body's response to allergens. Studies show that basil is not only anti-bacterial and anti-viral, but it also acts as an expectorant when respiratory congestion is present. Basil essential oil can also help to detoxify the body of bacteria and viruses, while fighting inflammation, pain and fatigue. Basil oil may also provide relief from sinus headaches and reduce your body's inflammatory response in the presence of allergens.
Recommended: Now Foods Basil Essential Oil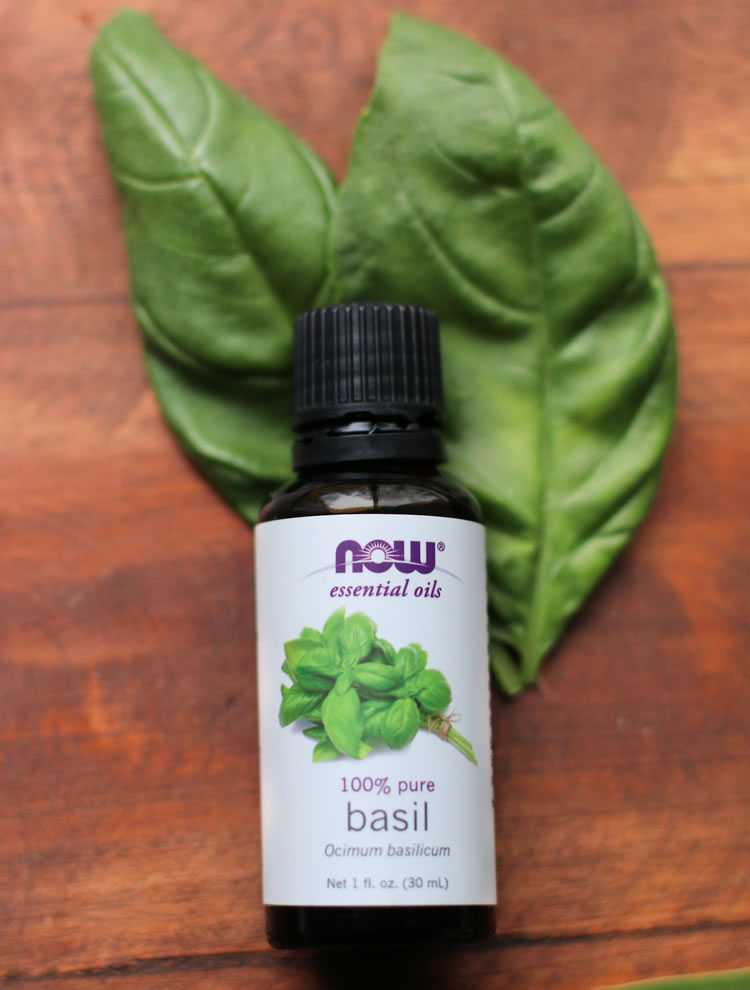 Balsam Fir
Balsam fir is an evergreen type fir tree native to eastern North America and its light, grassy-smelling essential oil is extracted from its fir needles and the twigs. Although you may not realize it you're probably already familiar with balsam fir. It's the most popular tree sold as the classic Christmas tree with the beautiful aroma to match.  Balsam fir is a powerful essential oil that can encourage coughing to loosen and release mucous to relieve congestion. It also acts as an anti-inflammatory as it soothes the lungs, throat and airways. Make sure not to ingest the oil.
Recommended: Aura Cacia 100% Pure Essential Oil, Balsam Fir Needle, Elevating
Allergy Fighting Recipes To Diffuse
While diffusing essential oils individually can help to ease allergy symptoms a blend can work wonders. Try one of these essential oil recipes in your oil diffuser next time you need some relief from spring allergies. Each of these essential oil recipes will help to boost the immune system, sooth irritation, relieve congestion and fight inflammation. They'll also help to reduce your body's overreaction to spring allergens like pollen and mold.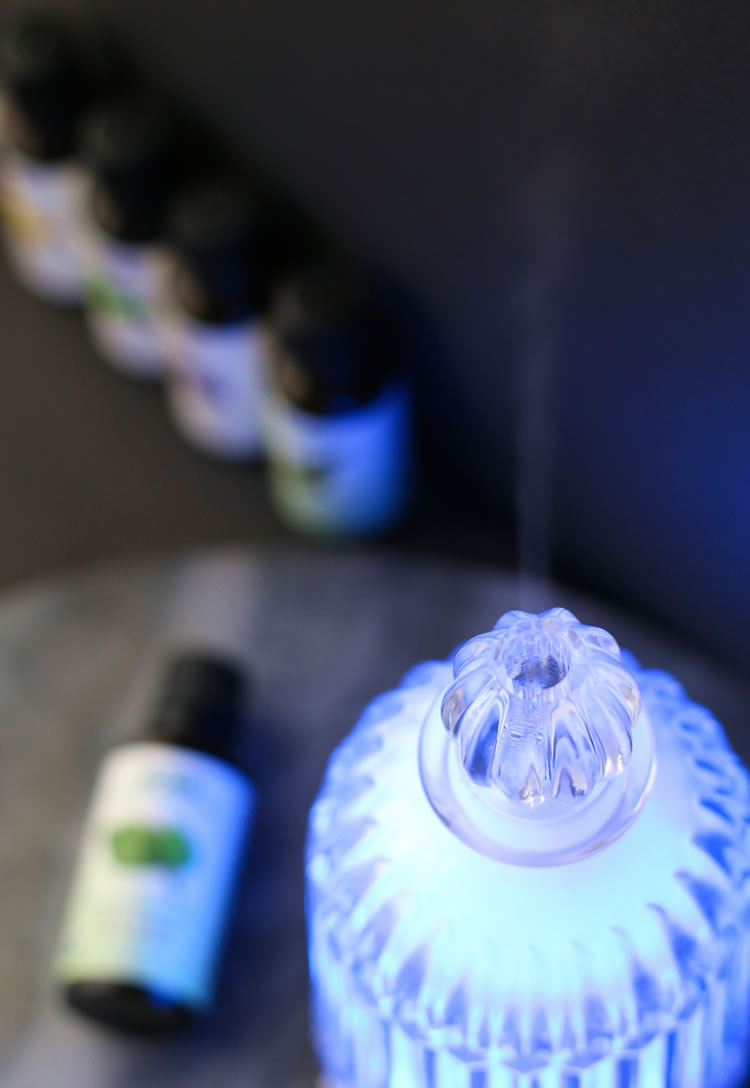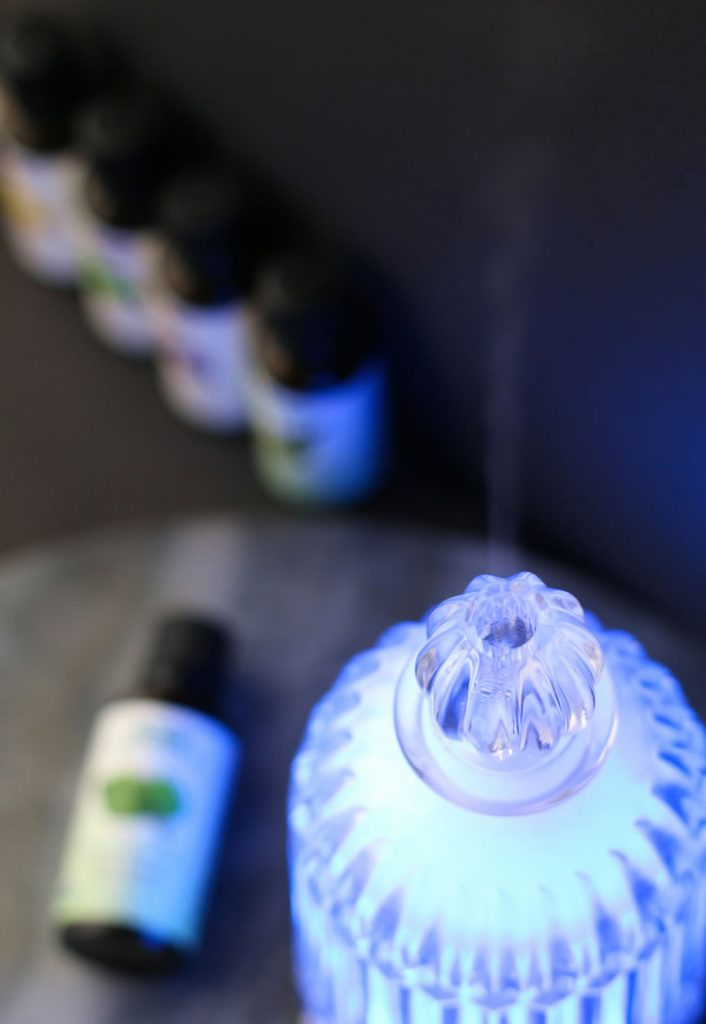 Although allergies are no fun, it can be fun experimenting with and smelling different essential oils. Try creating your own blend from some of the essential oils mentioned above to see which ones give you the most relief. Adding a new essential oil or two into your arsenal can completely change your allergy fighting game. Here are the spring allergy fighting recipes you can use with your diffuser:
Breathe Easy Diffuser Recipe Blend   
3 drops  Lavender essential oil
3 drops  Peppermint essential oil
3 drops  Lemon essential oil
Allergy Soother Diffuser Recipe Blend
2 drops  Peppermint essential oil
2 drops  Lemon essential oil
2 drops  Lavender essential oil
2 drops  Chamomile essential oil
Congestion Fighter Diffuser Recipe Blend
2 drops  Balsam Fir essential oil
3 drops  Peppermint essential oil
2 drops  Bay Leaf essential oil
1 drops  Red Thyme essential oil
Sinus Soother Diffuser Recipe Blend
2 drops  Eucalyptus essential oil
2 drops  Peppermint essential oil
2 drops  Helichrysum essential oil
2 drops  Lemon essential oil
Breathe Clear Diffuser Recipe Blend
3 drops  Helichrysum essential
2 drops  Rosemary essential oil
2 drops  Lavender essential oil
2 drops  Basil essential oil
Allergy Relief Diffuser Recipe Blend
3 drops  Tea Tree essential oil
2 drops  Balsam Fir essential oil
2 drops  Chamomile essential oil
1 drop    Bay Leaf essential oil
Things to note when using essential oils:
Essential oils can be harmful to pets and young children so if you are using an essential oil diffuser be sure to keep them out of the room. You can check here for a list of essential oils that may cause your pet to have an adverse reaction. If you are unsure if a certain essential oil may be harmful to your pet or child be sure to consult your veterinarian or pediatrician for advice.
Undiluted essential oils can cause skin irritations. All essential oils should be first mixed with a carrier oil, such as jojoba oil, almond oil, coconut oil, or olive oil and skin tested to determine if you're allergic or not.
For best and safest results when using essential oils, be sure to consult a doctor or a qualified aromatherapist before treatment. Especially if you currently have a known health condition or are on any medications.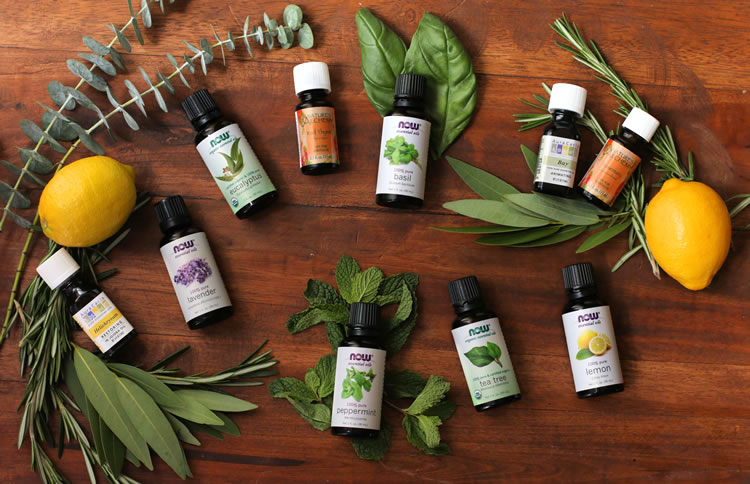 Do you have a favorite essential oil to use for spring allergies? We want to hear it! Let us know in the comments which essential oil or blend is your favorite. 
iHerb Fun Facts!
We love shopping at iHerb! iHerb's prices are amazing and they ship quickly too! Here are some cool things to know:
iHerb sells over 35,000 products and ships to over 160 countries!
iHerb is a Google Trusted Store and their customer service team provides support in 10 different languages!
iHerb Offer: NEW iHerb customers can get a discount off their first order by clicking here! And if they add Promo Code, WELCOME5 to their shopping cart, they can get an additional $5 off their order of $40 or more!