Better Living uses affiliate links. If you make a purchase through them, we may receive a small commission (for which we are deeply grateful) at no cost to you.
One of the best parts of spring and early summer is the arrival of fresh ripe strawberries. When you think strawberries you might think of things like strawberry shortcake, strawberry cheesecake, freshly sliced strawberries over a salad or maybe a fresh strawberry smoothie. But if you've never tried using strawberries in your salsa you're definitely missing out.
This salsa is fruity, spicy and tangy. If you're looking for a new way to enjoy strawberries we think you'll love it. Let's get started!
Ingredients You'll Need For This Easy Strawberry Jalapeño Salsa:
Strawberries – Stick to fresh ripe strawberries for this salsa recipe. Frozen won't work. Be sure to thoroughly wash them and remove their tops.
Jalapeños – Jalapeños can vary widely in their level of heat. Many I've been getting recently can be as mild as a bell pepper whereas others may have enough heat to shoot steam out of your ears. You just won't be able to know until you give it a nibble. It's like nature's way of playing a little joke. Just remember to wear gloves when you de-seed your jalapeño peppers so you don't burn your hands if they happen to be a spicy batch. Serrano peppers can be substituted in this recipe and they will definitely be spicy.
Red Onion– I love the gentle sweetness that red onions lend to this salsa. Spanish or white onions would work just as well. Yellow onions might be a bit strong but if that's all you have work with it.
Limes – The juice of two or three fresh limes should do. Use more if your limes are on the dryer side and aren't giving you enough juice. When shopping for limes I find the juiciest ones have a thinner smoother skin and are often lighter in color. If it seems tough or doesn't give when you give it a squeeze you might want to grab another
Cilantro – A member of the parsley family and also referred to as Mexican parsley or coriander to our friends in the U.K.,  cilantro adds a layer of fresh brightness to salsas that can't really be replicated. While I'm definitely #teamcilantro I know some of us are genetically programmed to kind of hate it. If you don't care for it you can leave it out. We highly recommend though. Wash the leaves to remove sand and dirt and then pat the leaves dry before chopping.
Orange Zest – Orange zest lends another lovely layer of citrusy orange flavor and fragrance to this salsa that pairs perfectly with the lime juice and strawberries. If you don't have an orange on hand you can just omit this ingredient as it's not a recipe breaker. If you want your salsa on the sweeter side you can add some of the orange juice as well. Adding the orange juice can also help if your strawberries aren't too sweet or you're making this out of strawberry season.
Salt & Pepper – This dynamic duo will bring all the flavors in this salsa together.

MAKING THE STRAWBERRY JALAPEÑO SALSA!
Grab your cutting board and give all your ingredients a dice. Throw it in a bowl and toss. That's it! Refrigerate it until ready to serve.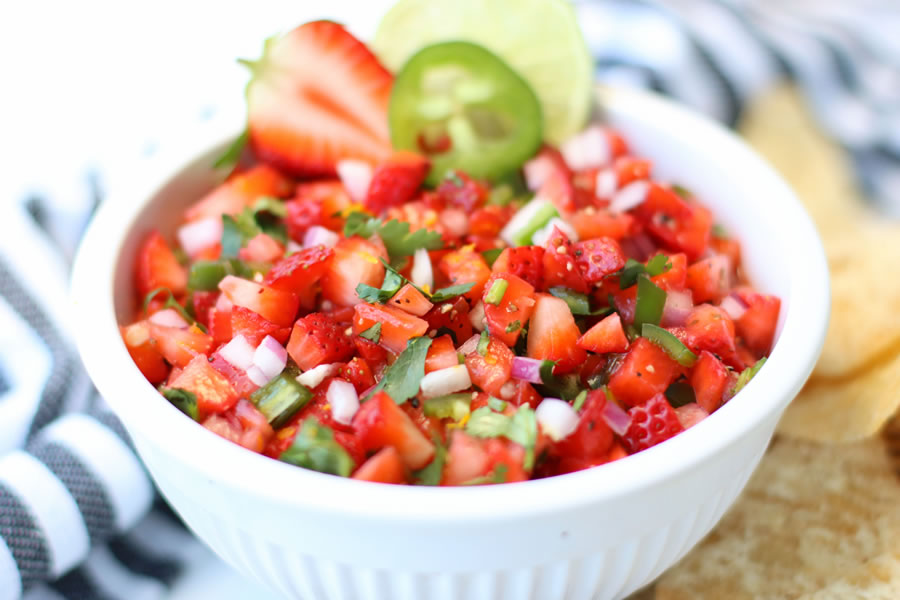 SERVING YOUR SALSA
This salsa is absolutely delicious with tortilla chips and guacamole! But it's also perfect for spooning over grilled or seared fish like salmon, tuna mahi-mahi, cod, trout. Try it with our Baja fish taco recipe, in a warm corn tortilla and a little crumble of goat cheese. This salsa is best enjoyed and served the same day made but can be enjoyed within 2 days.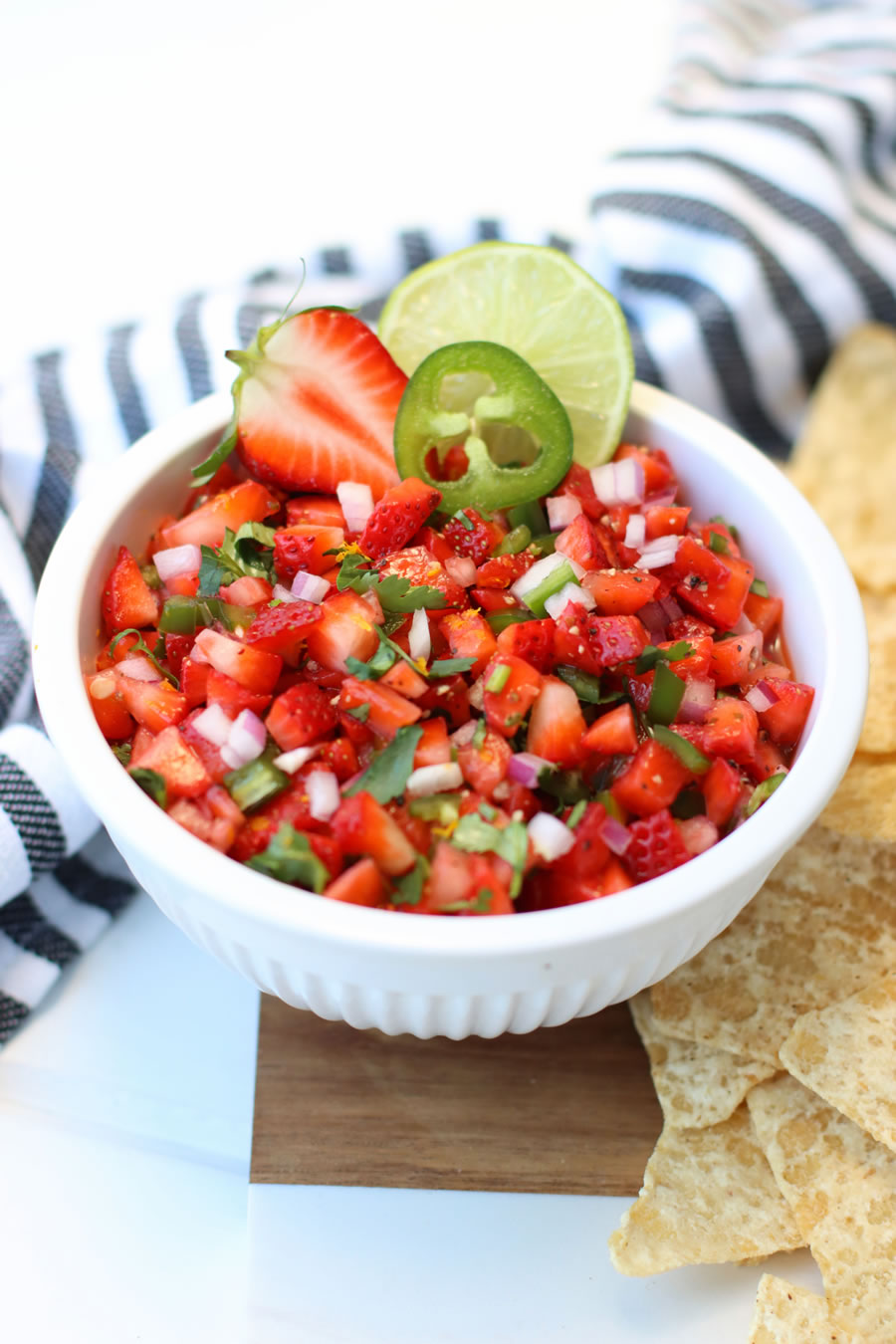 GET THE RECIPE!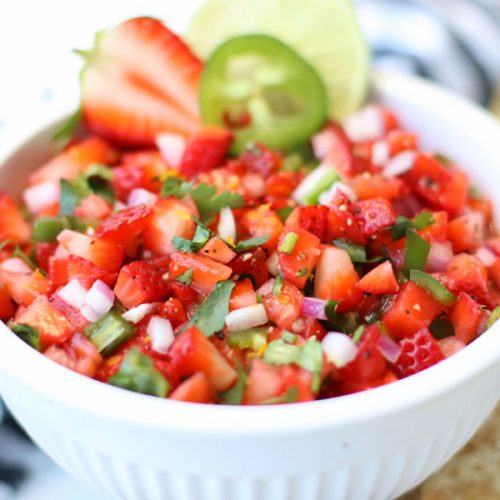 Fresh Strawberry Jalapeño Salsa
Sweet and spicy and perfect for when strawberries are in season, this is the perfect fruity salsa to dip with tortilla chips or spooned over goat cheese rounds, grilled fish or tacos. You'll be surprised how delicious it is!
Ingredients
1

pint

strawberries, diced

1-2

jalapenos, deseeded and minced

red onion, minced (white onion works too)

fresh lime juice

1

small handful fresh cilantro, chopped

zest of one medium orange

salt and pepper, to taste
DIRECTIONS
Mix all ingredients in a medium bowl. Season to taste with pepper and salt and add more lime juice if needed. The salsa will keep for up to 3 days in the refrigerator.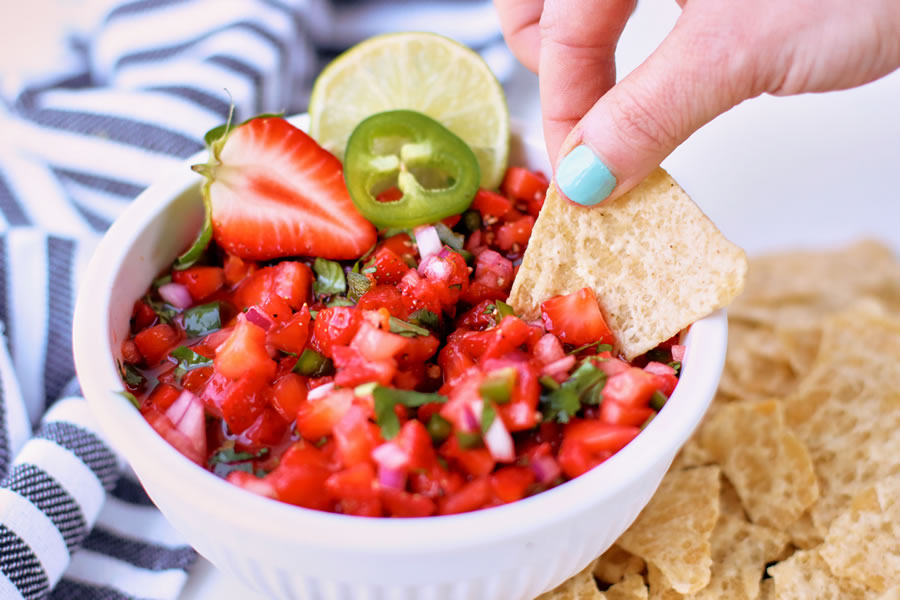 Created by OnBetterLiving.com