Better Living uses affiliate links. If you make a purchase through them, we may receive a small commission (for which we are deeply grateful) at no cost to you.
When it's cold outside there's really nothing more satisfying than a delicious cup of hot chocolate. Sure, you could always rip open a packet of the store-bought stuff, throw in some hot water and you've got yourself a cup of cocoa. But believe me when I tell you, if you love hot chocolate, make your own and you'll never open up another packet again. For this recipe, we use a combination of milk, half & half, dark chocolate, brown sugar, and vanilla. Depending on what percent dark chocolate you use you may have to adjust the sugar. Dark chocolates with higher percentages of cocoa may need more sugar and you can simply adjust according to your taste. If using milk chocolate instead of dark add the sugar gradually to taste so you don't end up with a cup that's too sweet.
As for topping your hot chocolate, marshmallows are a sweet touch that pairs perfectly. There's a reason why they're a classic addition to hot chocolate. Instead of just throwing the marshmallows on top of the hot chocolate, try toasting them to add another layer of flavor that will make your cup over the top delicious. To toast the marshmallows you can use either a creme brulee gun (if you have it) or for those of us without that fancy kitchen gadget put them on a baking sheet and pop under the broiler. After 1 minute or 2 minutes, they'll be a delicious toasty brown that will make your kitchen smell amazing. After the first side is done, remove them from the oven and turn them over to toast the other side for another minute. You can also just do one side. The choice is yours.
This dark hot chocolate recipe calls for milk and half & half as its base. If you're dairy-free or just looking to avoid it, substitute with your favorite non-dairy milk like coconut, almond or cashew and follow the recipe as written adjusting the sugar if the milk already has sugar added. Enjoy!
Get The Recipe!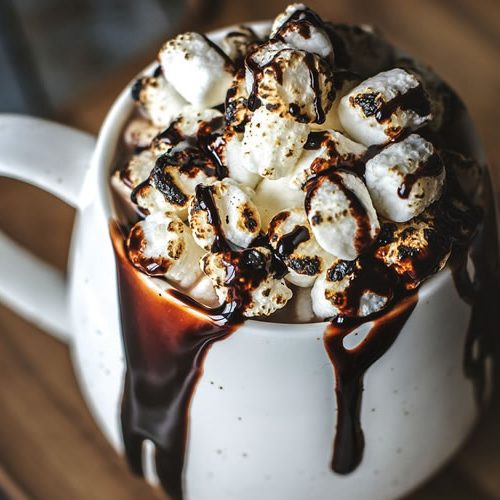 Dark And Creamy Toasted Marshmallow Hot Chocolate
This one pot hot chocolate recipe is made with fresh ingredients like milk, half & half and dark chocolate. Top it off with whipped cream or toasted marshmallows for a sinfully delicious treat. Make this hot chocolate recipe on a cold winter night and you'll find yourself not hating the cold quite so much.
Ingredients
3

cups

milk

1

cup

half and half

8

ounces

dark chocolate, finely chopped

1/8

cup

brown cup sugar ( or more to taste)

1

tsp

vanilla extract

1/8

teaspoon

salt
Suggested Toppings
marshmallows

whipped cream
DIRECTIONS
Making The Dark & Creamy Hot Chocolate
Add the milk and half & half in a saucepan over medium heat for 3 to 4 minutes or until it is just about to boil. Then add the brown sugar and dark chocolate. Whisk in until melted and fully incorporated.

Once the chocolate and sugar are melted into the milk add the vanilla extract and salt. Give the hot chocolate a good stir and cook for 30 seconds more.

Remove the saucepan from the heat. Taste and add more sugar if you feel like it needs it.




To Serve: Ladle the hot chocolate into mugs. Top with toasted marshmallows or whipped cream or both.
Making Toasted Marshmallows
Put the oven on broil. Place marshmallows on a baking sheet and place under the broiler for 1-2 minutes or until lightly brown and toasted. Remove from the oven and flip marshmallows over to toast on the other side for another minute. Watch them closely as they can quickly burn. Once finished, add as many as you like to your hot chocolate.