Better Living uses affiliate links. If you make a purchase through them, we may receive a small commission (for which we are deeply grateful) at no cost to you.
Do you find yourself tossing and turning at night, unable to shake off the anxious thoughts that keep racing through your mind? Do you dread going to bed because you know it will only lead to another sleepless night filled with panic attacks? If so, you are not alone. Many people struggle with anxiety at night, and it can be a difficult cycle to break. But don't lose hope just yet. In this blog post, we will explore some effective strategies that can help you calm your anxiety and get a restful night's sleep. So, if you're ready to take back control of your nights and finally get some much-needed rest, keep reading!
Understanding Anxiety and Its Effects on Your Sleep
Anxiety can have a significant impact on your sleep quality, making it difficult to fall asleep or stay asleep throughout the night. When the mind is racing with worry and stress, it becomes challenging to calm down and relax enough for sleep. Anxiety can also cause physical symptoms such as restlessness, tense muscles, and heart palpitations that make it nearly impossible to drift off into a peaceful slumber.
Not getting sufficient or good-quality sleep can exacerbate anxiety symptoms during the day, leading to a vicious cycle of poor sleep and increased anxiety. It is crucial to understand how closely linked these two are when seeking solutions for bettering health.
If you struggle with nighttime anxiety, know that you are not alone in this; many people experience this problem daily. With some simple strategies and lifestyle changes addressing personal triggers head-on –  it's possible to combat anxious thoughts effectively before bedtime and get an adequate amount of restful slumber every night!
Identifying Triggers That Cause Nighttime Anxiety
Anxiety can be triggered by a variety of factors, and it's important to identify what triggers your anxiety specifically at night. Some common triggers include stress from work or personal life, financial worries, health concerns, and relationship issues. Additionally, certain medications or substances like caffeine and alcohol can also contribute to nighttime anxiety.
To identify your triggers, keep a journal of your thoughts and feelings before bed. Note any stressful events or situations that occurred during the day. You may also want to consider talking to a therapist or counselor who can help you identify patterns in your anxiety.
Once you've identified your triggers, you can take steps to avoid or manage them. For example, if work stress is a trigger for you, try to leave work at the office and focus on relaxation techniques in the evening. If caffeine is a trigger, avoid consuming it in the afternoon and evening. By identifying and managing your triggers, you can reduce nighttime anxiety and improve the quality of your sleep.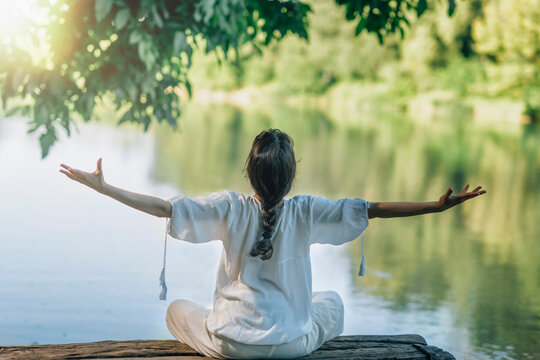 Breathing Techniques to Help Calm Your Mind and Body
Breathing Techniques are a powerful tool to help calm your mind and body when dealing with anxiety at night. One effective technique is the 4-7-8 breathing method. Start by exhaling completely through your mouth, then inhale through your nose for a count of
Hold your breath for a count of 7, then exhale completely through your mouth for a count of

Repeat this cycle at least three times or until you feel more relaxed.
Another breathing technique is diaphragmatic breathing, also known as belly breathing. Lie down on your back with one hand on your chest and the other on your belly. Inhale deeply through your nose, allowing your belly to rise while keeping your chest still. Exhale slowly through pursed lips, feeling your belly fall as you release the air. This technique helps slow down your heart rate and relaxes tense muscles.
Remember to focus on slow, deep breaths and try to clear your mind of any distracting thoughts while practicing these techniques.
Relaxation Exercises for a Better Night's Rest
Progressive muscle relaxation is a technique that involves tensing and releasing different muscle groups in your body, one at a time. This exercise helps release tension from your muscles and promotes relaxation.
Visualization or guided imagery can help create calming mental images that soothe the mind and reduce anxiety. Picture a peaceful scene like the beach, mountains, or any place where you feel calm and serene.
Mindfulness meditation, which involves focusing on the present moment without judgment, can help quiet racing thoughts. Sit comfortably and focus on your breath as it moves in and out of your body. Do not try to control or judge your thoughts; just observe them as they come and go.
Try practicing these techniques regularly before bedtime to promote better sleep quality. Remember to take deep breaths throughout each practice session to maximize their benefits.
The Connection Between Diet and Sleep Quality with Anxiety
The Science Behind How Diet Affects Anxiety at Night
Research has shown that there is a strong connection between diet and anxiety. Consuming foods high in sugar, caffeine, and processed foods can worsen anxiety symptoms, especially at night. These foods can disrupt sleep quality, increase heart rate, and cause fluctuations in blood sugar levels. On the other hand, a diet rich in whole foods such as fruits, vegetables, and lean proteins can help reduce anxiety symptoms and promote better sleep quality. Incorporating magnesium-rich foods such as spinach and almonds can also help calm the nervous system and reduce anxiety. Making small changes to your diet can have a significant impact on your overall mental health and well-being.
Foods to Avoid Before Bedtime for Better Sleep and Reduced Anxiety
Certain foods can worsen anxiety symptoms and disrupt your sleep quality. It's important to avoid consuming caffeine, alcohol, and sugary or fatty foods before bedtime. These stimulants can keep you awake, make it difficult for you to fall asleep, and trigger night-time anxiety episodes. Instead, try incorporating magnesium-rich foods like leafy greens, nuts, and whole grains into your diet as they have calming effects on the body. You should also eat light meals at least 2-3 hours before bed to prevent indigestion which could also hinder restful sleep. By making dietary changes in line with a healthy lifestyle approach; you reduce anxiety symptoms while promoting better sleep health naturally.
Nutrients to Incorporate in Your Evening Meal for a Calmer Mindset
Incorporating certain nutrients in your evening meal can help promote a calmer mindset and improve sleep quality, which is crucial for managing anxiety. Foods rich in magnesium such as spinach, almonds, and avocado can help relax muscles and reduce stress hormones. Omega-3 fatty acids found in fatty fish like salmon and nuts like walnuts have been shown to reduce anxiety symptoms. Avoiding caffeine, alcohol, and processed foods before bed can also improve sleep quality. Remember to consult with a healthcare professional before making any significant changes to your diet.
How to Establish a Healthy Eating Routine to Combat Nighttime Panic Attacks
Establishing a healthy eating routine can help combat nighttime panic attacks and improve sleep quality for those with anxiety. Avoiding caffeine and alcohol before bedtime is crucial as they can disrupt sleep patterns and increase anxiety symptoms. Incorporating magnesium-rich foods such as leafy greens, nuts, and whole grains can also help reduce anxiety levels and promote relaxation. Additionally, consuming foods high in tryptophan such as turkey, chicken, and bananas can increase serotonin levels, which can improve mood and reduce anxiety. By making small changes to your diet, you can improve your overall well-being and alleviate nighttime anxiety symptoms.
Importance of Setting Up A Bedtime Routine When Dealing With Anxious Thoughts
The Role of Bedtime Routine in Managing Panic Attacks at Night
A consistent bedtime routine is crucial for managing anxiety and panic attacks at night. Routine and consistency provide a sense of security that can be extremely beneficial for individuals dealing with anxious thoughts. A well-planned bedtime routine can help signal the mind and body that it's time to relax before sleep, making it easier to fall asleep faster. Incorporating relaxation techniques such as journaling, meditation or gentle yoga into the nightly routine can also help alleviate stress levels before bed. Remember to keep a regular sleep schedule by going to bed and waking up at the same times each day, even on weekends; this will help regulate your body's natural clock and make falling asleep less stressful when night falls again.
Tips for Creating a Soothing Bedtime Routine to Calm Anxiety
Incorporating self-care activities that promote relaxation and calmness can help prepare your mind and body for sleep. Aromatherapy using essential oils such as lavender or chamomile, taking a warm bath, listening to calming music or guided meditations, and engaging in gentle stretching exercises are all effective techniques to include in your bedtime routine. Avoiding screens, caffeine, and alcohol before bed also greatly contribute to better sleep quality. By sticking with a soothing routine each night, you train your brain to associate these activities with relaxation and may find yourself drifting off into peaceful slumber more easily despite anxious thoughts.
Benefits of Consistency in Your Bedtime Routine for Managing Anxious Thoughts
Consistency in your bedtime routine can be a powerful tool for managing anxiety. Establishing and sticking to a regular sleep schedule helps regulate your body's circadian rhythms, promoting better quality sleep. This also means avoiding caffeine or alcohol before bed as they can disrupt the natural sleep cycle. Additionally, incorporating relaxation techniques such as meditation, yoga or deep breathing exercises into your routine can help reduce symptoms of anxiety at night. Maintaining consistency in your bedtime habits sends signals to the brain that it's time to wind down and promotes feelings of calmness and relaxation, further alleviating anxious thoughts and promoting restful sleep.
How to Incorporate Relaxation Techniques into Your Nightly Routine to Combat Panic Attacks
Incorporating relaxation techniques into your nightly routine can be a powerful tool in combating anxiety and panic attacks. Deep breathing is one technique that can help calm both the mind and body, promoting relaxation and reducing stress levels. Another effective technique is progressive muscle relaxation, where you systematically tense and relax different muscles throughout the body, releasing tension and promoting overall relaxation.
By incorporating these techniques into your bedtime routine, you signal to your brain that it's time to wind down for the night, helping reduce anxious thoughts or feelings before bed. It may also help improve sleep quality by calming the nervous system and promoting deeper restorative sleep. Experiment with various techniques to find what works best for you in reducing nighttime anxiety symptoms.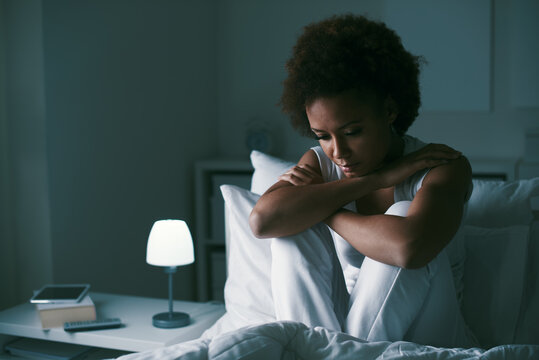 Natural Remedies To Alleviate Anxiety Symptoms at Night
Dealing with anxiety at night can be challenging, but there are many natural remedies that can help you relax and sleep better. One of the most popular options is using essential oils such as lavender or chamomile. They have calming properties that encourage relaxation and calmness.
Another effective remedy is drinking tea made from valerian root or passionflower. These herbs contain compounds that reduce anxiety levels by relaxing your muscles and soothing your nerves.
Exercise is also an excellent way to combat anxiety symptoms at night as it helps release endorphins, which improve mood and promote relaxation throughout the day. Stretching before bedtime will also relieve muscle tension caused by stress or worry.
Lastly, consider taking a warm bath with Epsom salts, which lowers cortisol levels associated with stress while replenishing magnesium in your body for better sleep quality.
These remedies can help ease nighttime anxiety symptoms without any harmful side effects so you can wake up feeling refreshed and ready to tackle the day ahead.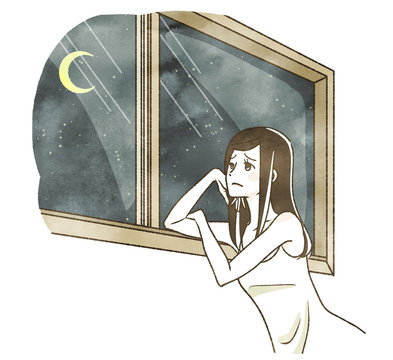 Coping Strategies: How to Cope with Night-time Worrying
Coping strategies are essential for those who suffer from anxiety at night. One approach is to practice mindfulness, which involves staying present in the moment and focused on what's happening now. Meditation or taking a yoga class can help improve your mental state and reduce stress levels.
Another key strategy is cognitive-behavioral therapy (CBT), which helps identify negative thought patterns that lead to anxiety and teaches you how to change them. It can be done individually or in group settings with a licensed therapist.
Distraction techniques such as reading a book, listening to calming music, or taking a warm bath can also help alleviate anxious thoughts before bed.
Getting enough exercise during the day may also make it easier for you to relax when it comes time for sleep. Make sure to avoid caffeine and alcohol before bedtime as they can disrupt sleep quality.
Remember that coping with nighttime anxiety is not about eliminating it completely but rather learning how to manage symptoms so that they don't interfere with your ability to get restful sleep.
Creating a Safe, Soothing Environment for Optimal Sleep
Eliminating distractions is crucial when it comes to creating a calming environment for sleep. Make sure your bedroom is quiet, cool and dark. Consider using earplugs or an eye mask if needed.
Investing in comfortable bedding, the right mattress, and pillows can also make all the difference in promoting restful sleep free from anxiety.
It's important to ensure that your sleeping area feels safe and secure. Installing door locks or security cameras may help you feel more at ease before falling asleep.
Try incorporating calming scents into your bedtime routine by using essential oils such as lavender or chamomile. These scents have been shown to promote relaxation and reduce anxiety levels.
Lastly, limit screen time before bed as blue light exposure can interfere with melatonin production causing difficulties with falling asleep. Instead try reading a book or listening to soft music to relax both mind and body which promotes quality sleep without any anxious thoughts interfering.
In conclusion, dealing with anxiety and panic attacks at night can be a daunting task. However, armed with the right tools and knowledge, you can conquer your fears and get a good night's rest. Be mindful of your triggers, practice relaxation techniques such as deep breathing exercises or meditation, eat a healthy diet and invest in creating a soothing environment. Also, don't forget the importance of developing bedtime routines that work for you personally. With these tips in mind, you are well on your way to conquering nighttime anxiety for better sleep and overall quality of life. Remember to consult with healthcare professionals when necessary for additional support towards managing anxiety symptoms effectively.
Frequently Asked Questions
Who can experience anxiety?
Anyone can experience anxiety, regardless of age, gender, or background.
What causes anxiety?
Anxiety can be caused by various factors, such as stress, trauma, genetics, or chemical imbalances.
How can anxiety be managed?
Anxiety can be managed through therapy, medication, mindfulness, exercise, and lifestyle changes.
Isn't anxiety just a normal part of life?
While some anxiety is normal, excessive anxiety can interfere with daily life and require treatment.
What are the symptoms of anxiety?
Symptoms of anxiety can include excessive worry, restlessness, fatigue, and physical symptoms such as headaches or nausea.
How can I help someone with anxiety?
You can help someone with anxiety by offering support, listening without judgment, and encouraging them to seek professional help if needed.