Better Living uses affiliate links. If you make a purchase through them, we may receive a small commission (for which we are deeply grateful) at no cost to you.
Who can resist a taco?  I know I can't. Well, here's a perfect recipe for when you're in the mood for a delicious shrimp taco and you want it fast. Perfect for an easy, no-fuss weekday dinner this BBQ shrimp taco recipe tastes just as good as it looks.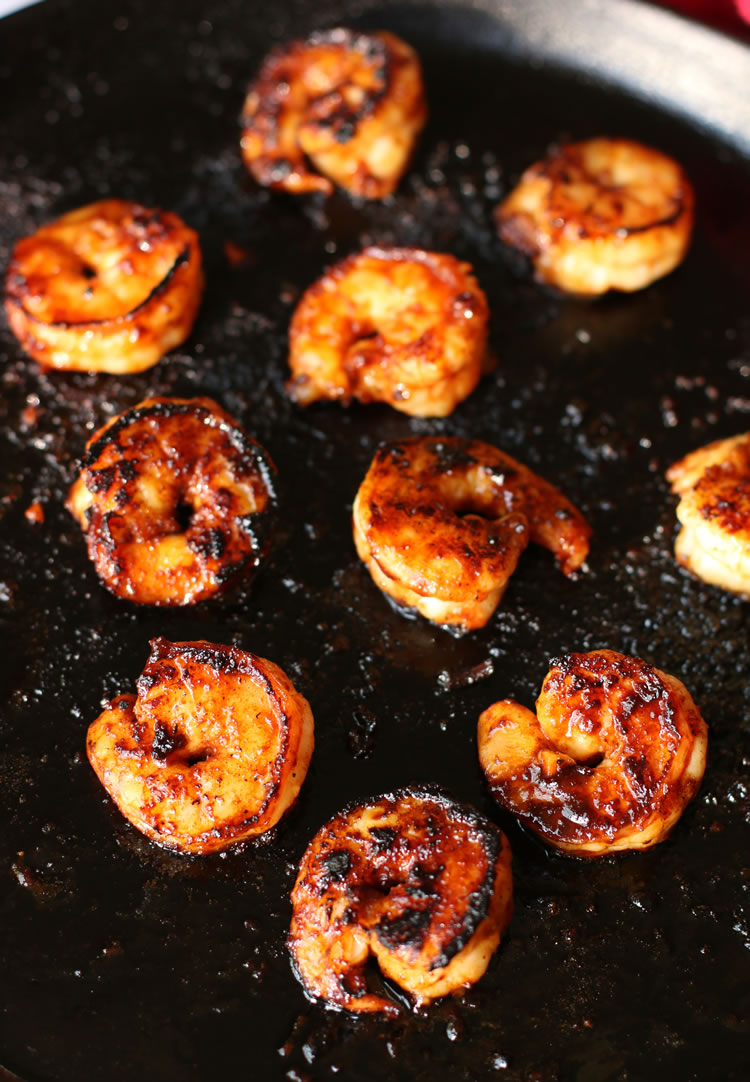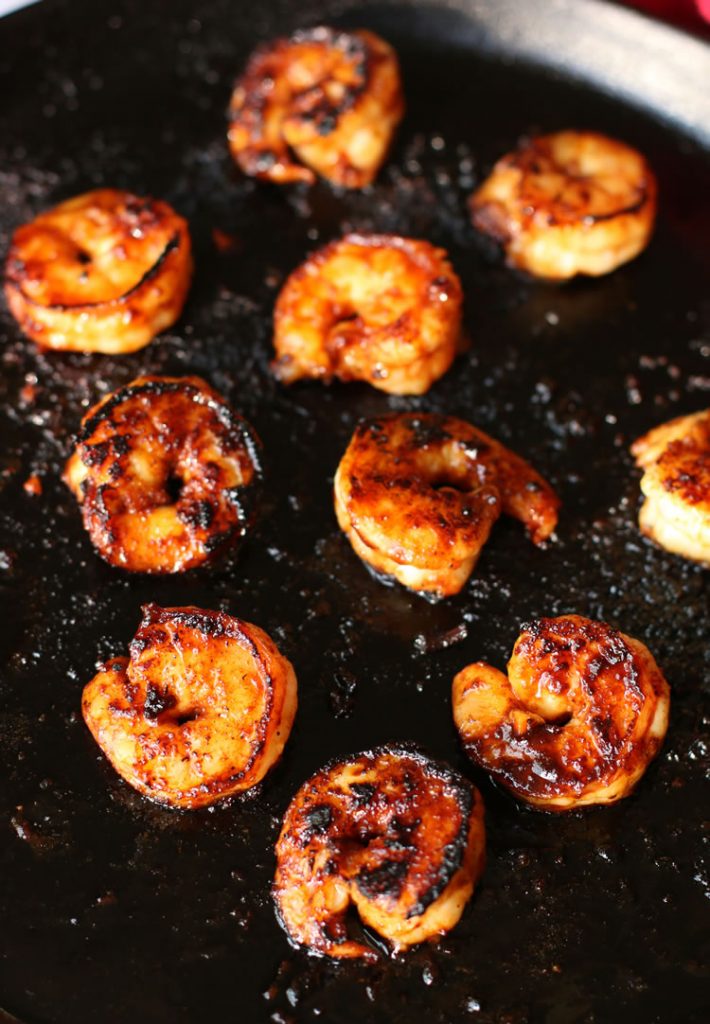 There's not much to it. Just toss some shrimp with your favorite prepared BBQ sauce, add in a few spices and cook them up on your indoor stovetop. You could even cook these outside on your grill if you're in the mood.
Top them a quick slaw (finely shredded cabbage tossed with lime juice, salt, and pepper), a little fresh cilantro and diced onion which balances the sweetness of the BBQ sauce nicely. We finish these BBQ shrimp tacos with a drizzle of a smoky and spicy chipotle cream sauce and a squeeze of fresh lime. Now take a bite. Pure shrimp taco heaven. Who wants a beer?
If you've never made a chipotle cream sauce it's not only easy but gives these tacos a nice warm smokey heat.  Chipotles are just dried and smoked jalapenos. You'll most commonly find them in cans labeled as "chipotles in adobo" in the Latin American or Mexican section of your grocery store. The adobo is simply a slightly sweet red sauce that takes on the flavor of the chipotles. When making the chipotle cream here you can simply take a teaspoon or two of the adobo and mix it in the with other cream ingredients. Taste it and then see if you want more heat.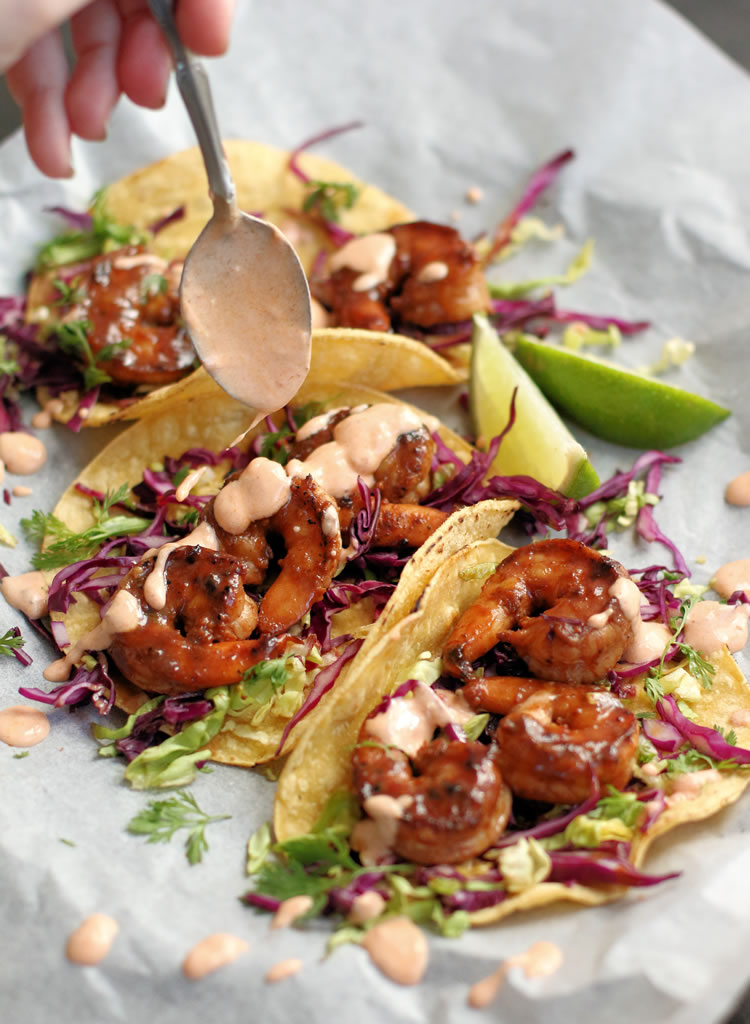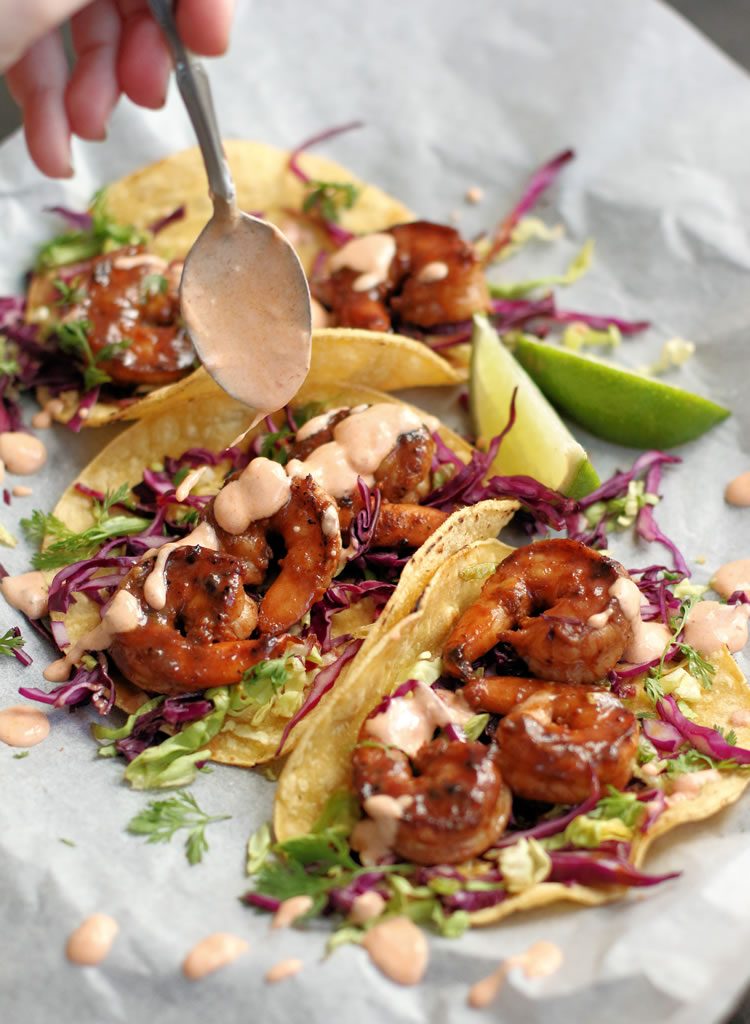 Want more heat? You can also take one of the chipotles and finely dice it and combine it with the ingredients as well, adding little by little to get to your preferred level of heat. Either way, chipotles are very spicy and a little may go a long way for you. Add slowly, tasting as you go. Any left overs from the can be divided, frozen and used in future chilis, marinades, stews, and dressings. If you can't find the cans of chipotles you can always substitute a chipotle based hot sauce instead. Cholula brand hot sauce makes a delicious chipotle flavored hot sauce and you should be able to find it easily in the hot sauce section of your grocery store.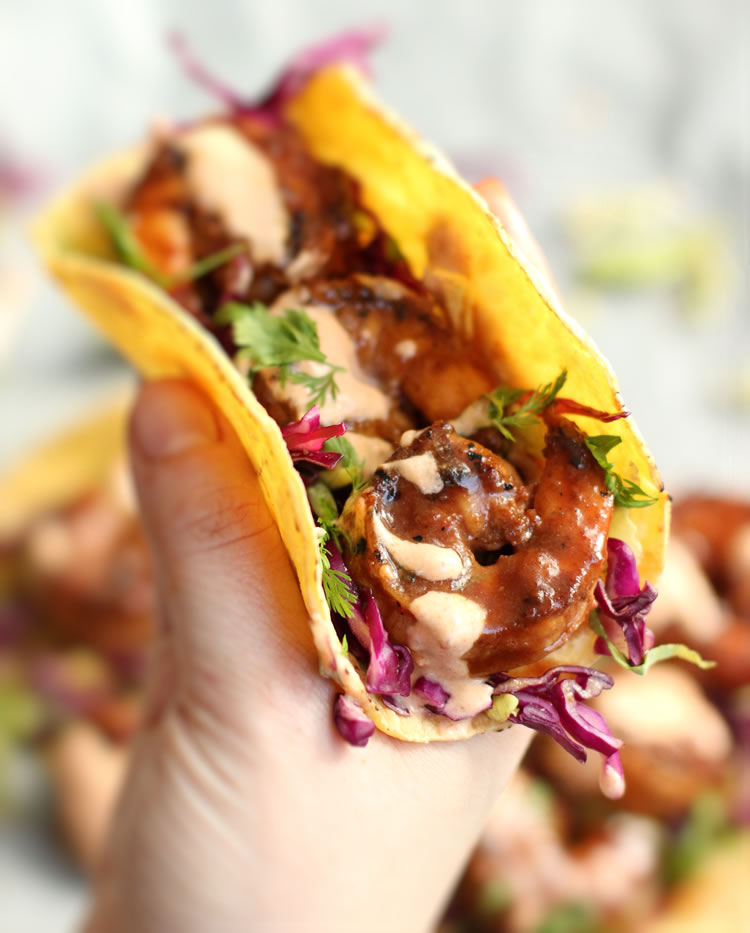 Warmed corn tortillas are an amazing match for these BBQ shrimp tacos, but please substitute flour tortillas if that is what you prefer. This is the land of tacos. And in the land of tacos, you may use whatever kind of tortilla you enjoy. You may also top your tacos with all that your heart desires. Things like diced avocado, queso fresco and pico de gallo would also make nice accompaniments.  We'll leave that up to you.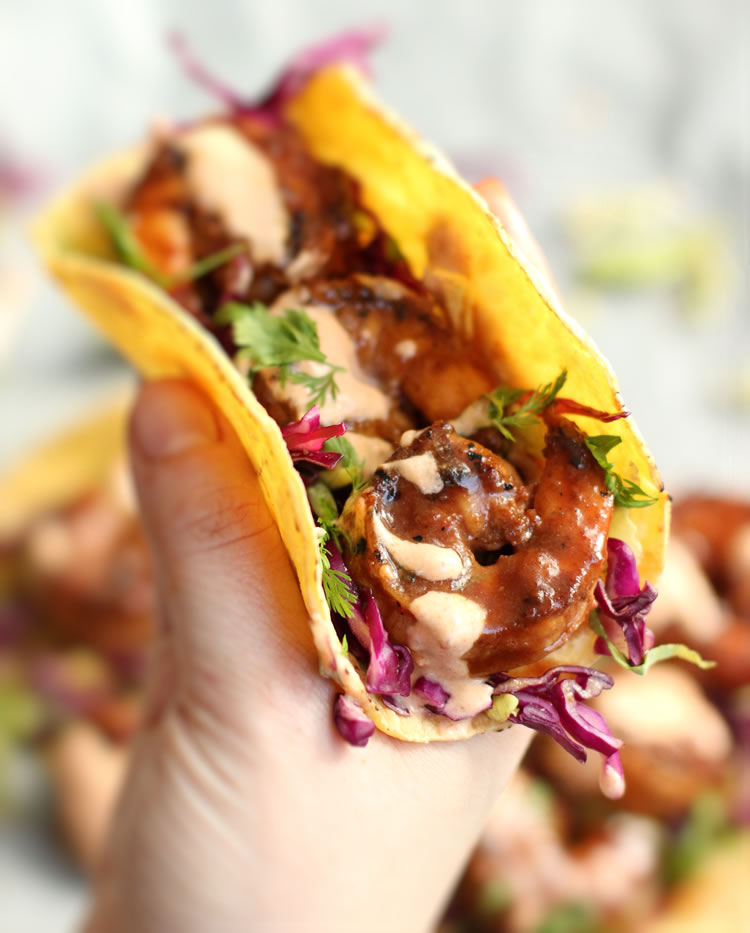 BBQ Shrimp Tacos
A perfect taco recipe for when you're in the mood for a delicious shrimp taco and you want it fast. Perfect for an easy no fuss weekday dinner this BBQ shrimp taco recipe tastes just as good as it looks.
Ingredients
The BBQ Shrimp
1

pound

shimp, cleaned, peeled and deveined

2/3

cup

prepared BBQ sauce

2

teaspoons

chili powder

2

teaspoons

cumin

1

teaspoon

garlic powder

1-2

teaspoons

hot sauce, we like Mexican style habanero
The Chipotle Cream
1/2

cup

plain yogurt or Mexican crema

2

tablespoons

mayonnaise

1-2

cloves

garlic, minced

1

lime, juice of

salt, to taste

1

tablespoon

sauce, from 1 can chipotles in adobo *** see note
For The Tacos
tortillas, corn or flour, warmed

finely shredded cabbage, tossed with lime juice, salt & pepper

fresh cilantro, chopped

onion, finely chopped
DIRECTIONS
Making The BBQ Shrimp
Toss the shrimp, BBQ sauce, chili powder, cumin, garlic powder, and hot sauce. Set in the fridge to marinate 15-20 minutes. When ready to cook, heat a grill pan, griddle, or other heavy bottomed pan over medium-high heat. Grease with oil and add the shrimp a few at a time. Don't crowd the pan or the shrimp will steam and not get a nice sear. Cook about 2 minutes per side and set aside on a plate. Continue with the rest of the shrimp, oiling the pan as needed.

Mix the yogurt, mayo and lime in a small bowl. Add the sauce from the can of chipotles 1-2 teaspoons at a time, tasting as you go. Stop when you find the heat and flavor to your liking. For extra heat take 1 of the chipotle chilis, finely mince it and then add it to the sauce. Do all this slowly, taste as you go. Season with salt and refrigerate until needed.

To assemble the tacos: Line the tortillas with the lime tossed cabbage, 3 shrimp, cilantro, onion and finish with a drizzle of chipotle cream. Serve with slices of fresh lime. Enjoy!