Better Living uses affiliate links. If you make a purchase through them, we may receive a small commission (for which we are deeply grateful) at no cost to you.
This is a sponsored conversation written by me on behalf of Bertolli. The opinions and text are all mine.
No matter what you're whipping up in the kitchen olive oil is truly a star ingredient. But does it get the credit it deserves? Whether you're sauteing, grilling, braising, baking, making sauces or marinades, olive oil is there to no only make foods richer and more flavorful, but healthier as well. Extra virgin olive oil, rich in super healthy monounsaturated fatty acids, have been shown in studies to lower bad cholesterol, decrease cardiovascular disease, prevent cancers and feed the brain. They can even strengthen your immune system. The Mediterranean diet, a healthy diet rich in whole grains, fresh fruits, legumes and vegetables also advocates for the use olive oil. Lots of it. In areas where the Mediterranean diet is the standard of living, people are less obese, less prone to type II diabetes and generally live longer. All in all they are just healthier. And when you're healthier, you're happier. Bertolli, America's oldest olive oil brand, recently challenged Better Living to come up with a simple summer recipe that makes their Organic Extra Virgin Olive Oil the star of the dish. We also had to use all 4 of these key ingredients: chicken, kumquats, a purple veg and basil. Here's the catch. We could only pick one more ingredient not including our little friends salt and pepper. That's right. Only one. Quite the little conundrum.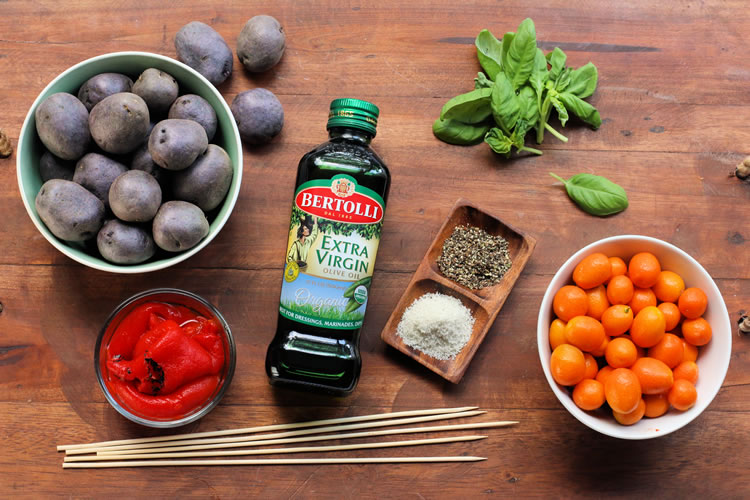 Now some of you may say that's easy. Why not try it for yourself? Grab a notepad and a pen and see what you come up with. Only one extra ingredient though. No cheating! No, "but what about garlic?"! Just one. We'd love to know in the comments what your 1 ingredient would be! Try it. It's fun! When I started thinking about what recipe to make I figured there's no better season than summer for a chicken kebabs. Why not pair the chicken up with those adorable mini purple potatoes I keep seeing at the food markets?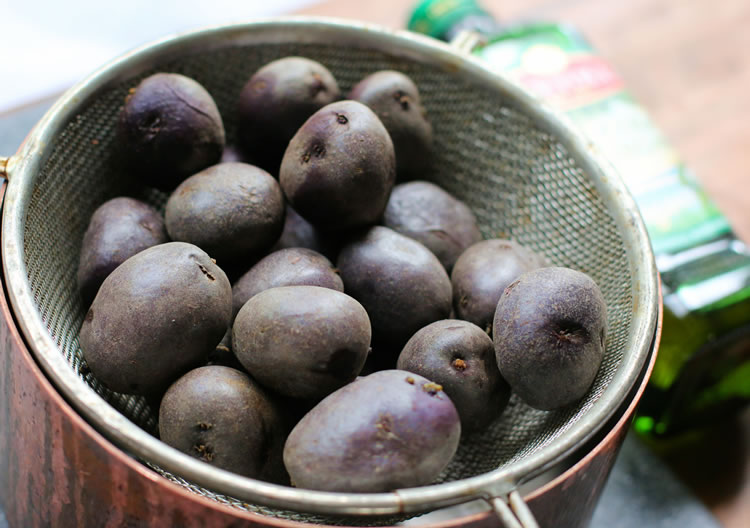 Kebabs are usually marinated for extra flavor. That's where the basil, kumquats and especially the extra virgin olive oil would come in. I simply cut the chicken into approximately 1 inch square pieces.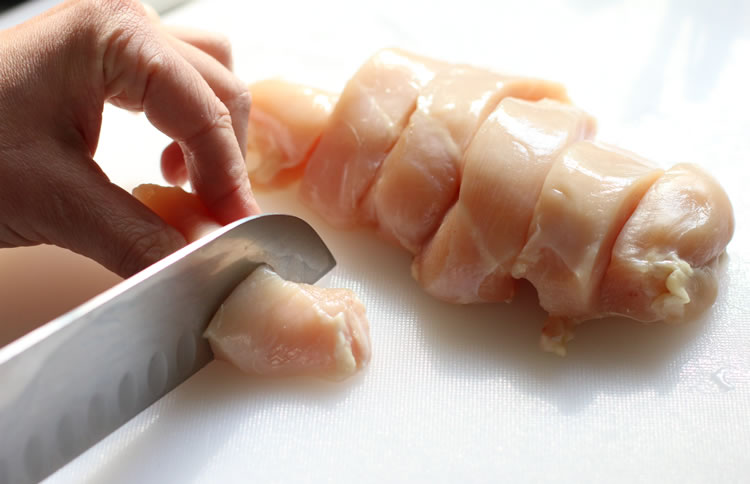 I then placed the chicken in a glass container and added fresh chopped basil, pureed kumquats, salt, pepper and the Bertolli Extra Virgin Olive Oil to marinate.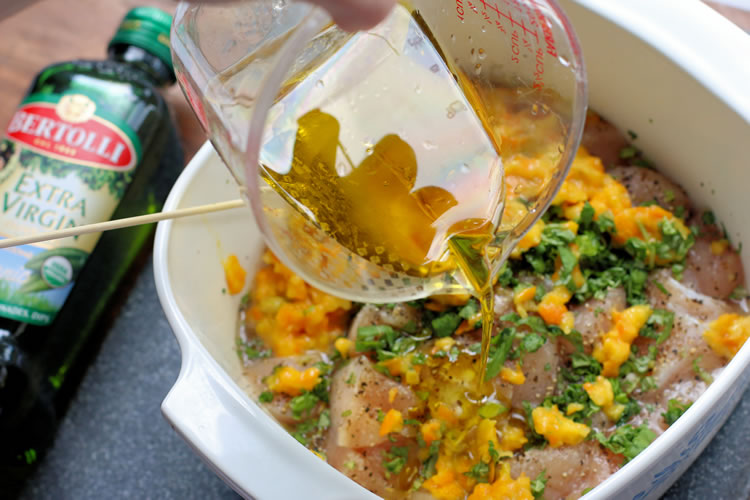 While the chicken marinated I parboiled the potatoes, cut them in half and then drizzled them in the Bertolli Organic Extra Virgin Olive Oil. They were also seasoned with some good old salt and pepper. Isn't the color seriously gorgeous?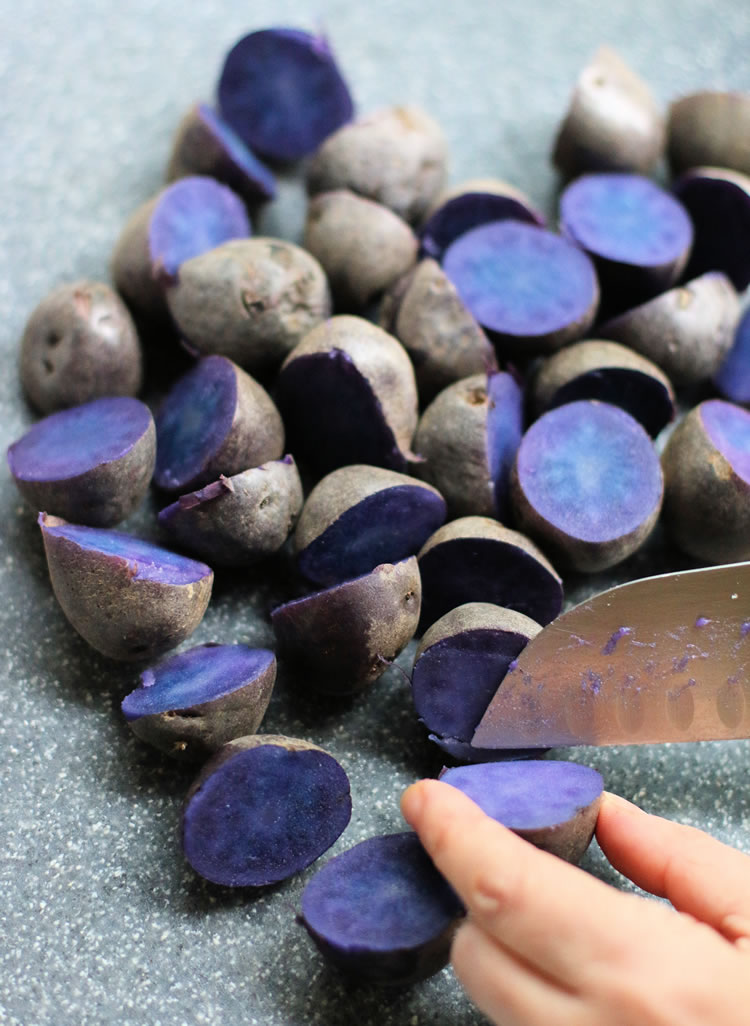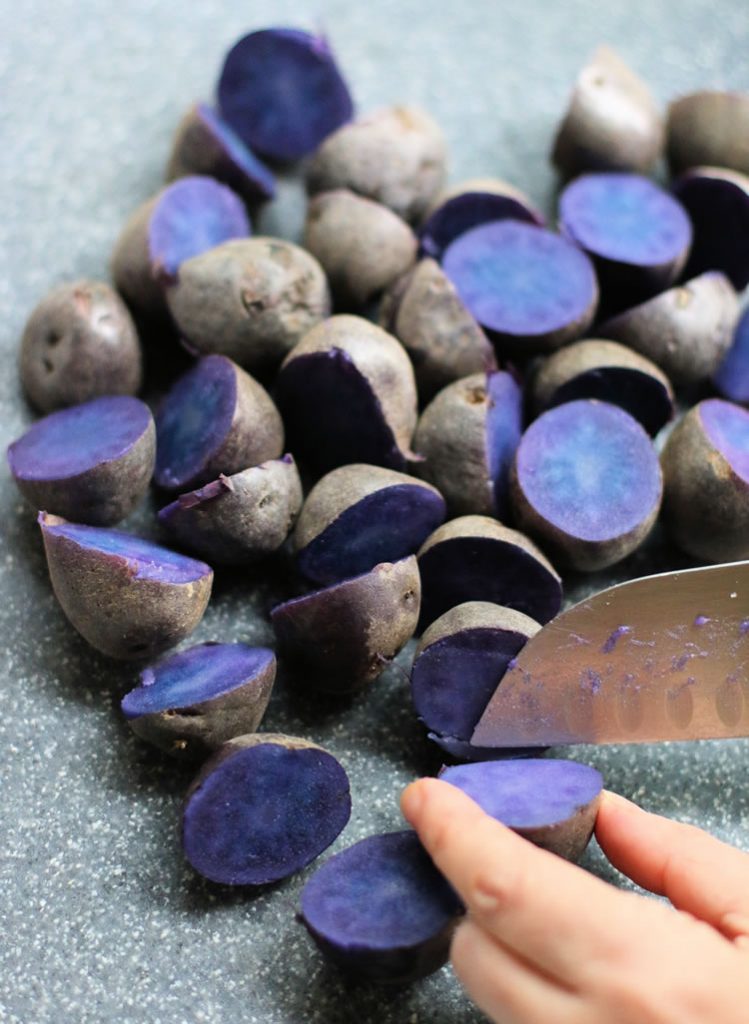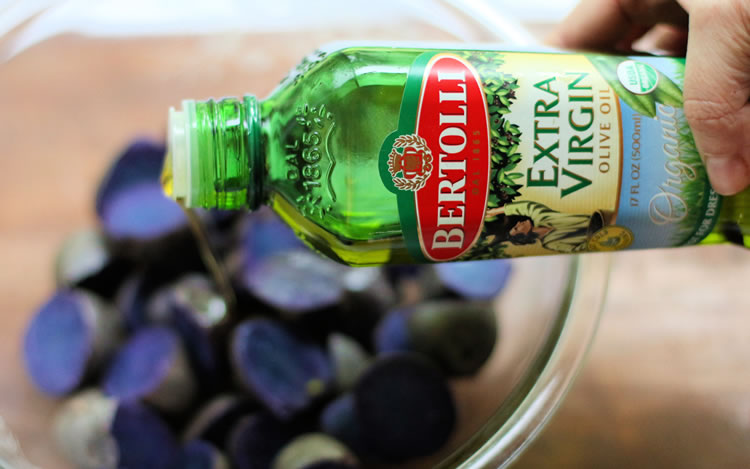 Everyone loves a kabob. It's food on a stick. And it's common knowledge that food on a stick is awesome. And there is only one way to make it even more awesome… a dipping sauce. So what extra ingredient did we choose? Roasted red peppers!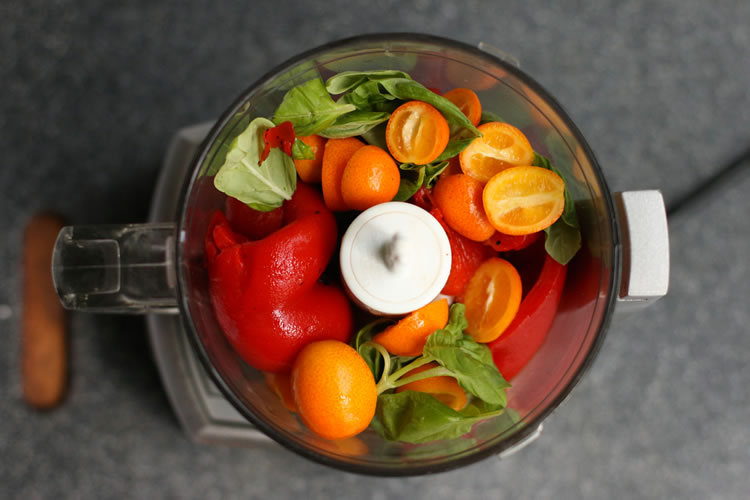 Ages ago I worked at a little Italian restaurant in NY that made the most delicious roasted red pepper dipping sauce to serve along with their paninis. I thought I could come close to that sauce with by blending the roasted red peppers with the Bertolli Organic Extra Virgin Olive Oil, fresh basil and kumquats. I did it and guess what? It came out pretty darn delicious.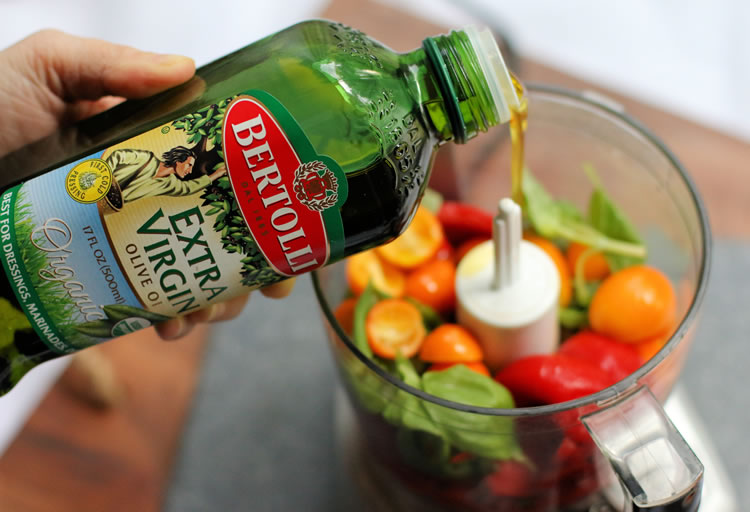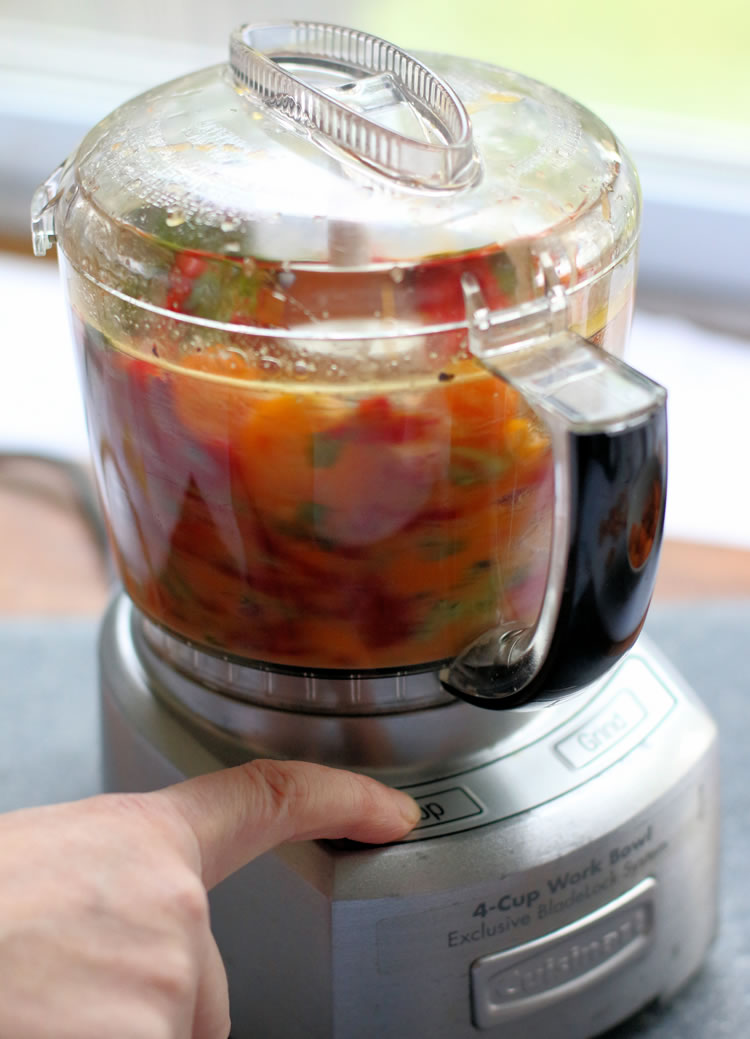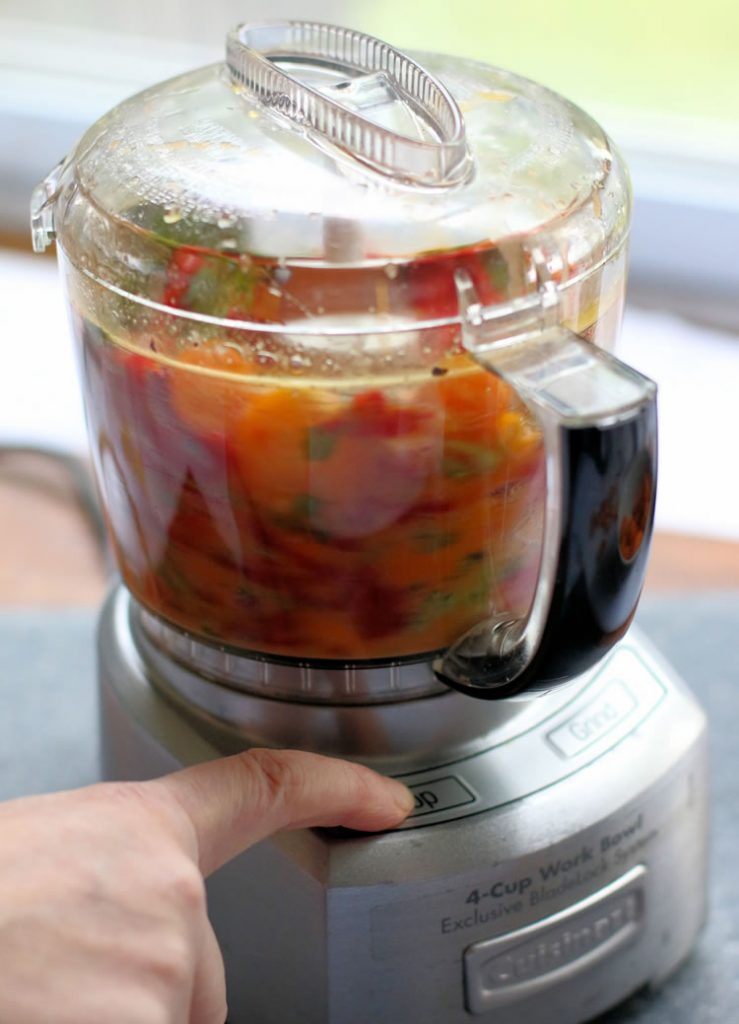 Any of you wondering what the heck is a kumquat? I was actually doing the same thing. Kumquats are small grape sized citrus fruits that have a tart flavor on the inside and a thin sweet peel you can eat. Kind of like if a tangerine and a lemon had a tiny edible fruit baby. You can just pop the whole fruit in your mouth and there's no peeling required. They can get pretty addicting and let's just say I had to go out and buy a new bag.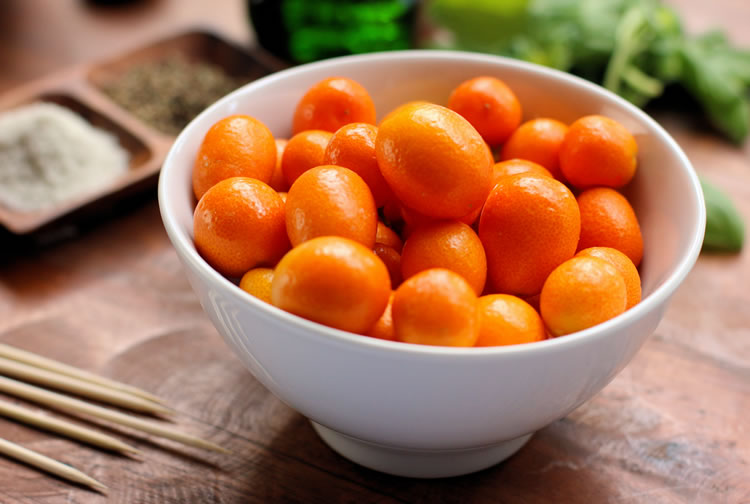 If you love anything sour you'll love kumquats. Next time you spot them at your local market give them a go. You can use a kumquat anywhere you'd use lemon or lime juice, thinly slice them into salads or even candy them. Cocktails, jams, jellies and baked goods would also benefit from a few kumquats.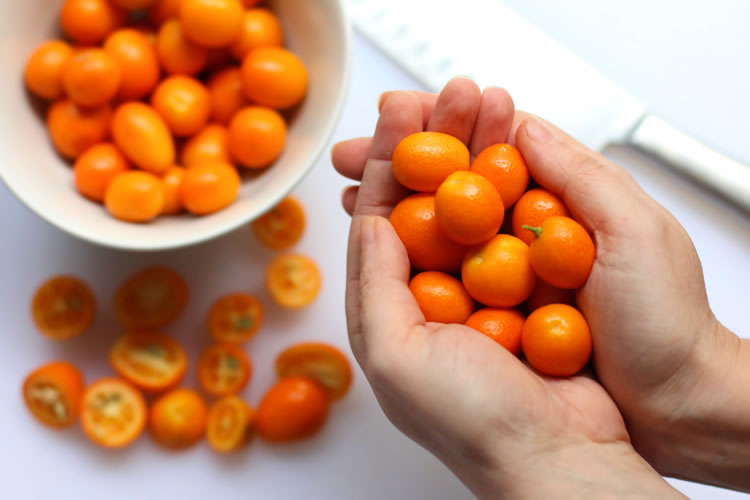 When the chicken was done marinating I threaded it onto the soaked wooden skewers alternated with the purple potatoes. Torrential rains came in as soon as I wanted to grill these guys. So I just threw them under the broiler, flipped them to brown both sides and they came out perfect!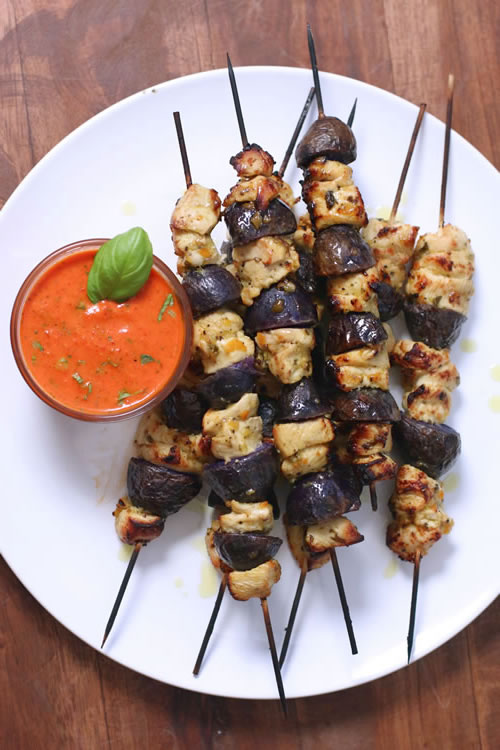 The roasted red pepper-kumquat dipping sauce was better than I ever expected. I even added a few tablespoons of the pan drippings from the kebabs to the sauce. It really gave the sauce a richer more savory flavor. So delicious!
 Tip: This roasted red pepper-kumquat dipping sauce is really versatile and can be made all on it's own. Use it as a dressing for salads, spread onto sandwiches or stirred into soups when you want a burst of summer flavor.
Final Thoughts This recipe is perfect if you're looking for an easy summer dish that's not only delicious, but healthy. It's also extremely versatile and great for parties! When preparing the skewers you may also want to add veggies like:
Zucchini
Bell Peppers
Mushrooms
Red onions
Tomatoes
Eggplant
Simply slice them, toss them with the extra virgin olive oil and of course season them with a bit of salt and pepper.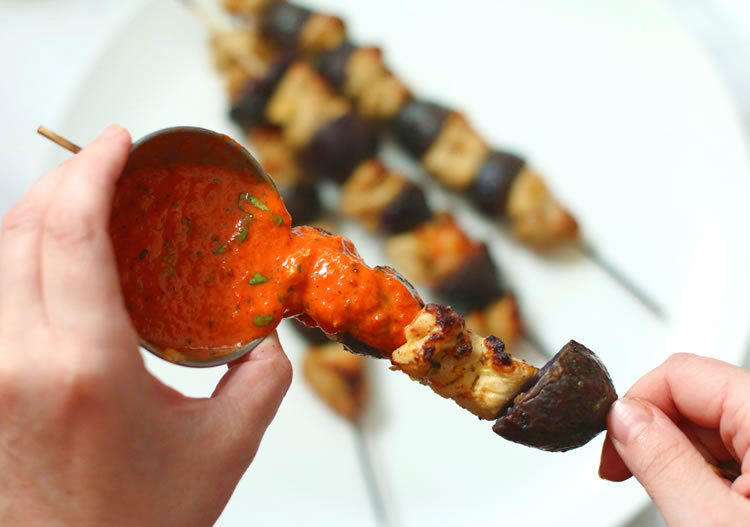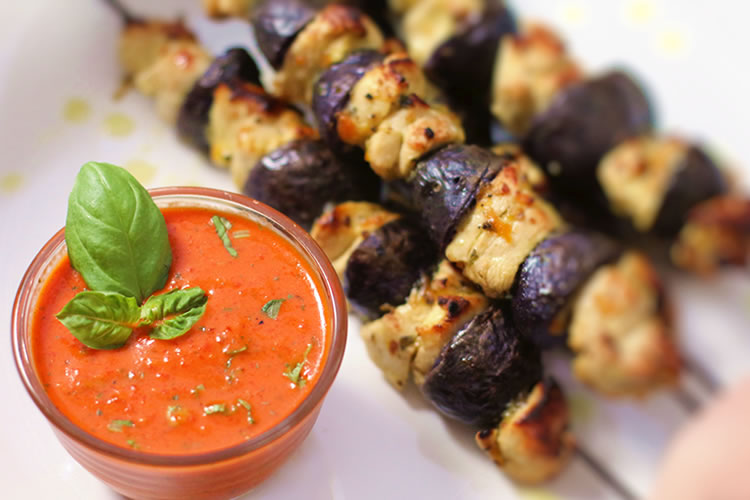 Basil-Kumquat Chicken Kababs with Roasted Red Pepper-Kumquat Dipping Sauce
Ingredients
For The Kabobs
1/3

cup

Bertolli Organic Extra Virgin Oil

1 1/2

lbs

chicken, breast, thighs, or a mix of both

1

lb

purple or red potatoes, small

1

cup

kumquats

1

handful

basil, fresh

1

Salt & black pepper

skewers, soaked in water for at least 20 min
For The Roasted Red Pepper Dipping Sauce
1

(12 oz.)

jar of roasted red peppers

1

cup

kumquats, deseeded

1

handful

basil, fresh

1/3

cup

olive oil

salt & pepper, to taste
DIRECTIONS
Making The Basil-Kumquat Chicken Kababs
In a blender add the olive oil, kumquats, basil, 1 teaspoon of pepper and 1 teaspoon salt and blend until smooth. Cut chicken into about 1 inch square bites and put in a glass container. Coat with the kumquat-basil marinade. Place in the refrigerator for up to 2 hours.

While chicken is marinating, parboil the potatoes for 6-8 minutes or until just fork tender. Drain and let all the water evaporate. This can be done the night before. Just before assembling kabobs. Drizzle them in olive oil, season with salt and pepper and toss to coat evenly.

To Assemble The Kabobs: Thread 2-3 pieces of chicken to one piece of potato. If the potatoes are too large cut them in half to match the size of the chicken pieces. Fill skewers no more than 3/4 of the way. Continue until you run out of chicken.

Cooking The Skewers:

Under The Broiler: Place kabobs under the broiler until nicely browned and juices are running clear. You'll want to turn after about 6 minutes to cook both sides evenly.

On a preheated grill, place the skewers turning frequently until nicely browned on all sides (about 8 minutes per side). You may also cook the kebabs under the broiler. Serve along side the Roasted Red Pepper Dipping Sauce.
Making The Roasted Red Pepper Dipping Sauce
In a blender add the olive oil, kumquats, basil, 1/2 teaspoon of pepper and 1 teaspoon salt and blend until smooth. For extra flavor add a few tablespoons of the pan drippings from the skewers before you add the salt. Taste and adjust seasoning if needed.
Did you know? Bertolli's Organic Extra Virgin Olive Oil is non-GMO and verified USDA Organic, made from organic olives and produced using organic farming standards Want your own bottle? Visit villabertolli.com to find where you can grab a bottle of Bertolli's Organic Extra Virgin Olive Oil available near you!