Better Living uses affiliate links. If you make a purchase through them, we may receive a small commission (for which we are deeply grateful) at no cost to you.
*We've partnered with Aprati Candy, the makers of Frutati and Mocati Hard Candies to bring you this sweet post!
If there's one thing you're never too old for, it's candy. Candy is fun and colorful and wrapped in adorable little packages with something sweet and tasty on the inside. And when candy touches your tongue, for just a moment you can revel in its delightful fruity flavors and forget about all your troubles and woes. It's like a happy meditation for your tastebuds. And don't you just love trying new candy? Me too!
Well, if you're a hard candy lover here's some news you'll definitely want the 4-1-1 on.
American Licorice Company, manufacturers of Red Vines and Sour Punch brand candies, is proud to introduce the Aprati candy brand. Named Aprati from the ancient Sanskrit word meaning "Irresistible," Aprati hard candies deliver an East-meets-West fusion of flavors that will take your tastebuds on a trip around the world. Sourced in Cambodia, a cultural mecca of Southeast Asia, Aprati Candy was inspired by a celebration of global flavors for a candy experience like no other.
Aprati Candy comes in two different fun varieties – Frutati™ and Mocati™ – each with three different flavors. Non-GMO Project certified (thank you!) and less than 2 grams of sugar per piece, I love keeping these in my bag for when I need a little something sweet.
Keep scrolling to check out the Coffee Mug Cookie recipe we made with Aprati Mocati Candies!
What Are the Aprati Candy Flavors?
Frutati Candy flavors are exotic fruit-inspired. They are:
Pineapple-Passionfruit: A sweet and tart tropical blend. This one is the perfect flavor for when all you want to do is lay on a beach and your next vacation is still 6 months away.
Green Apple-Mango: Tropical mango is combined with the flavors of tart, crisp green apple for a refreshing combo.
Blueberry-Yuzu: Classic blueberry is teamed up with the sour citrus exotic flavor of Yuzu for a candy that's a little sweet, a little sour with a ton of flavor!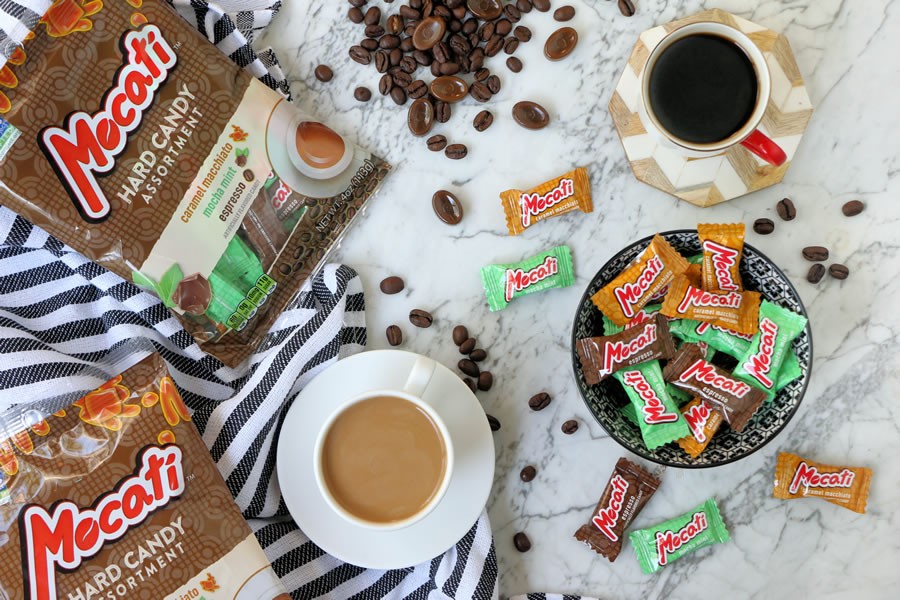 Mocati Candy's yummy coffee house inspired flavors are:
Espresso Mocati: Robust just like espresso with a hint of sugar, this candy is nice for a sweet afternoon pick-me-up.
Caramel Macchiato Mocati: Caramel, coffee, and cream condensed in a little candy will have you enjoying it like your favorite specialty coffee, without ever having to leave your desk.
Mocha Mint Mocati: Think mocha cappuccino meets cool mint chocolate chip. A sophisticated flavor that's perfect after dinner.
Want to try Aprati – Frutati or Mocati – for yourself?
Visit www.shop.amerlic.com or Amazon.com to purchase!
Try This Stained Glass Coffee Mug Cookie Recipe Made With Mocati Candy!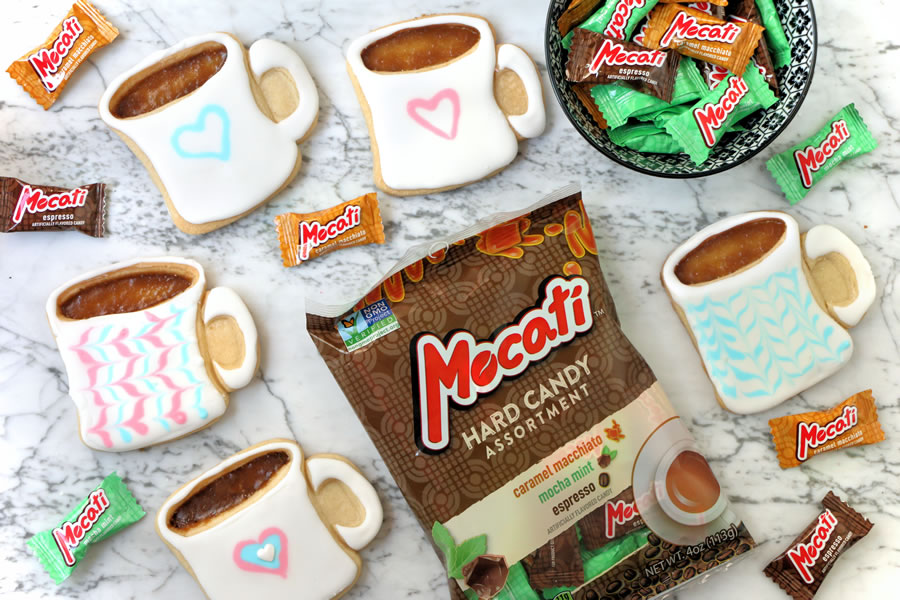 Looking for a fun recipe to make for your next coffee break? We loved Mocati Candy so much, we thought they would be perfect in a stained glass style cookie. Using an adorable cookie mug cookie cutter we found on Etsy and a sugar cookie cut-out recipe, we crushed up both espresso and caramel macchiato Mocati flavor candies and sprinkled them inside the open mug part of the cookie mug and baked them.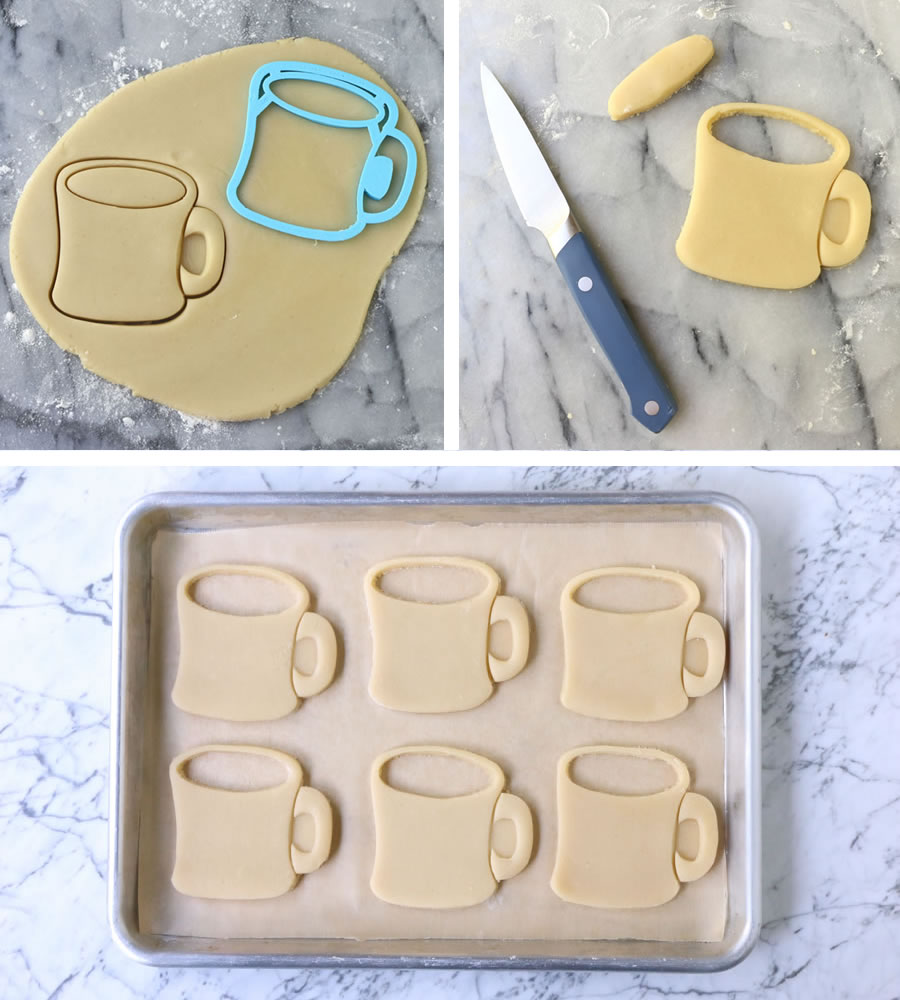 The crushed Mocati candies melt inside the cookie cutout and create the "coffee" inside the cookie mug. Royal icing was used to decorate the outside of the cookie mug. Adorable and delicious!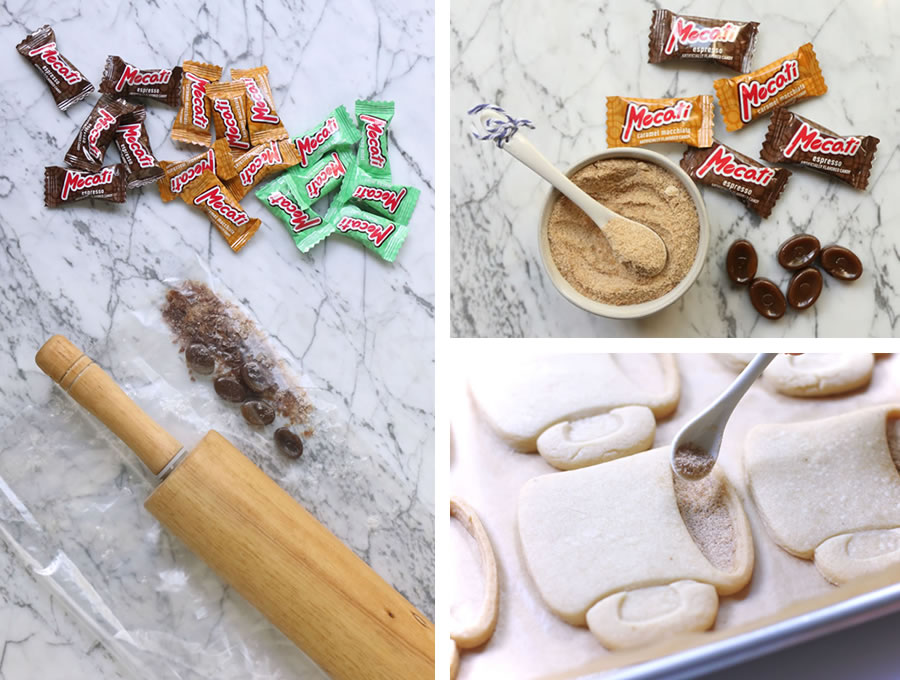 Crushing the candies is easy. Just put them (unwrapped) in a small food processor and pulse until fine. You can also put them in a plastic baggie and beat them with a rolling pin or hammer until crushed. This method is great if you're feeling kind of stressed out. Fill the centers about ⅔ to ¾ full. Since it is coffee-flavored the more candy you put in, the darker the center.
Here's what the coffee mug cookies look like undecorated: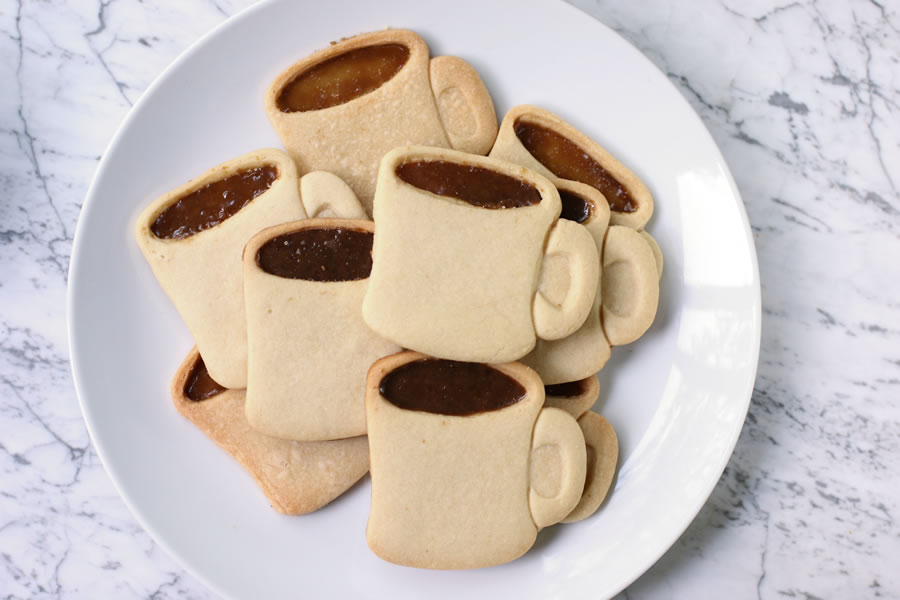 If you've never worked with royal icing before I suggest you hop on Youtube to get help with consistency. Too thick and it can be hard to work with and too thin it can drip off the sides of your cookie for a not so pretty look. It's also crucial you give them at least 6 hours drying time or the icing may dent when stacked.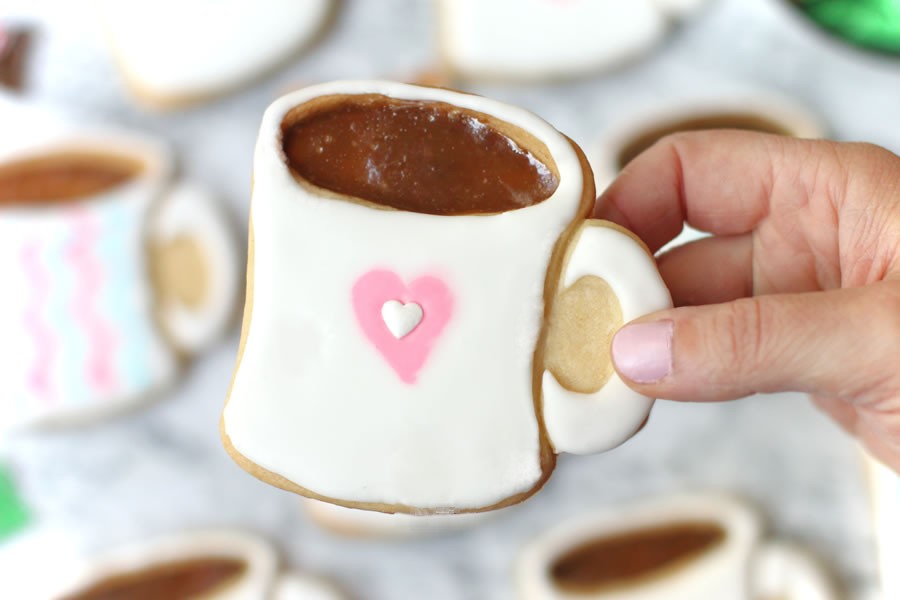 GET THE RECIPE!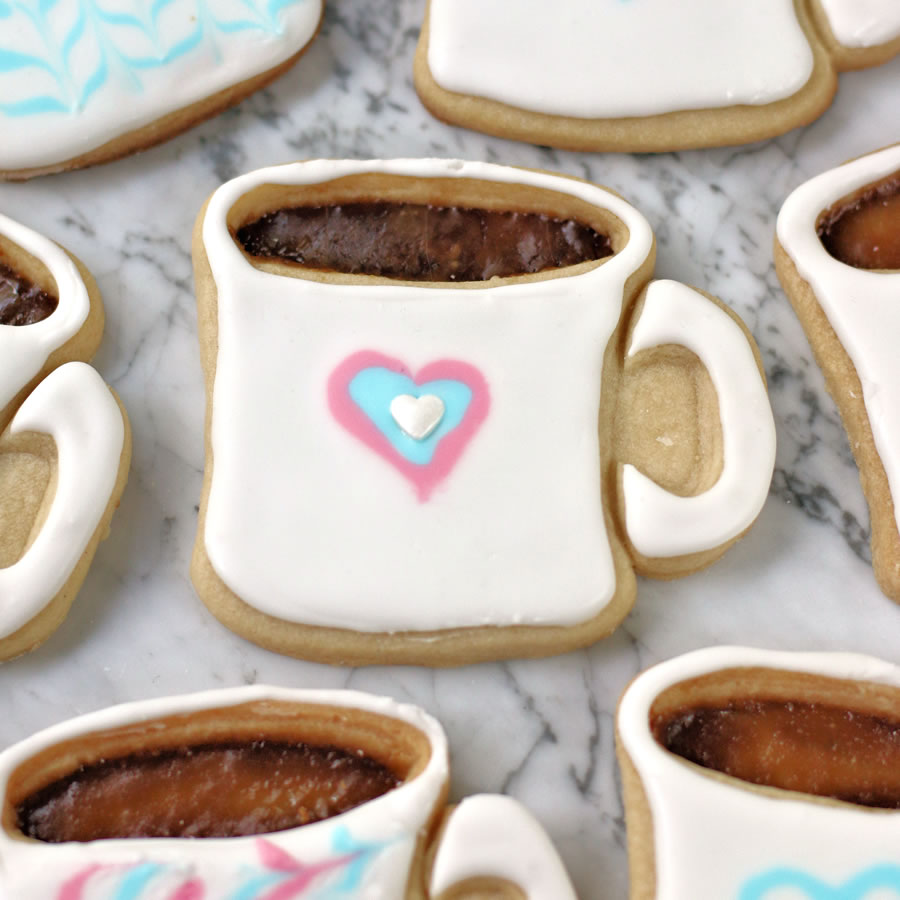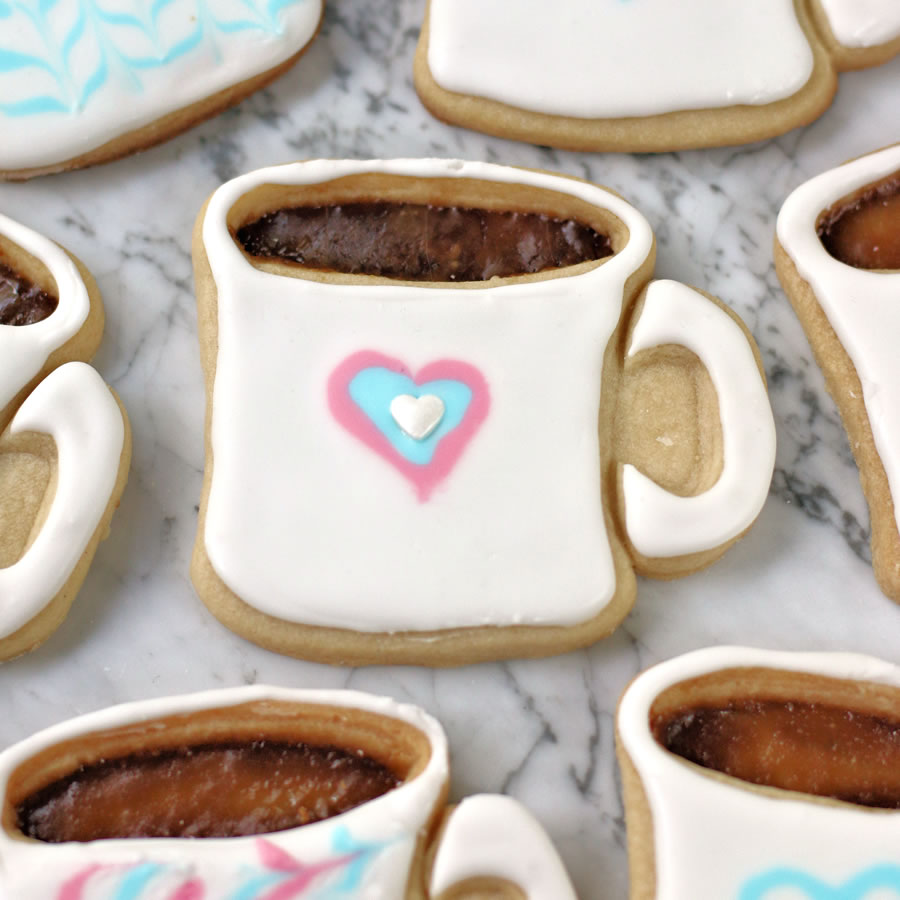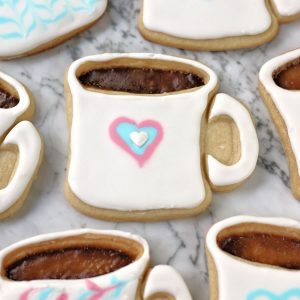 COFFEE MUG CUT-OUT COOKIES With MOCATI CANDY (Stained Glass Cookies)
Adorable coffee mug shaped sugar cookie cut-outs are baked with espresso and caramel macchiato flavored Mocati Candies to give the illusion and taste of coffee inside the cookie mug! Decorated with royal icing, they're the perfect treat for any coffee lover's cookie tray!
Ingredients
CUT-OUT COOKIE INGREDIENTS
2 3/4

cups

flour (+ 2 tablespoons if needed)

1

tsp

baking powder

1/2

tsp

salt

1

cup

butter (2 sticks), room temp

1

cup

sugar

1

egg

1

tbsp

vanilla

25

Aprati Mocati Candies, crushed
ROYAL ICING
3/4

cup

warm water

5

tbsp

meringue powder

2

lbs

powdered sugar

1

tsp

cream of tartar

1

tsp

clear vanilla extract or flavoring
DIRECTIONS
MAKING THE COFFEE MUG COOKIES
In a medium bowl mix the flour with the baking powder and salt. Give a stir and set aside. In your stand mixer fitted with a paddle, cream the butter with the sugar. Then add the egg and vanilla. Finally, slowly add the flour mixture. Beat until thoroughly mixed. The dough shouldn't be sticky or hard to handle. If it is, add a tablespoon of flour at a time while mixing until the dough comes together.

Roll out cookie dough to about 1/8th inch thick and cut with your coffee mug shaped cookie cutter. Slightly chilled dough will give the cookies and more structured shape. Transfer the cookies to a baking sheet lined with parchment paper. Chill for at least 30 minutes. The cookies should be hard to touch. This will help the cookies hold their shape while baking. Preheat oven to 350° F (175° C).


Bake the cookies for about 8-10 minutes. They should look set, with a dull light-colored surface. Take the cookies out of the oven and place on a heat-safe surface to fill with the candy.


Working carefully fill the cut-out part of the coffee mug shape with the crushed candies to about 3/4 full. Use a toothpick to spread the pieces into the corners so the candy spreads evenly. Keep Watch! Put the cookies back in the oven for about 2-3 minutes or until the candy center is melted, but not bubbling.

Cool the cookies completely on the baking sheet and then remove to start decorating with the royal icing. Place icing in a piping bag and decorate the cookie mug.


MAKING THE ROYAL ICING

In the bowl of your stand mixer add the warm water and the meringue powder and hand-stir with a whisk until thoroughly incorporated. Add the other ingredients and beat all ingredients on low for about 8-9 minutes until the royal icing forms peaks. If the icing is too thick add water 1 teaspoon at a time until you reach the right consistency. If it's too watery it will flow off the cookie and too thick it will be hard to decorate with. Divide into bowls and add a drop or two of food coloring if using colors. Pour icing into a pastry bags and pipe onto the cookies to make the mug. Handle the cookies carefully to avoid dents in the icing surface. Once done decorating allow them to dry for at least 6 hours. A fan can help speed up dry time.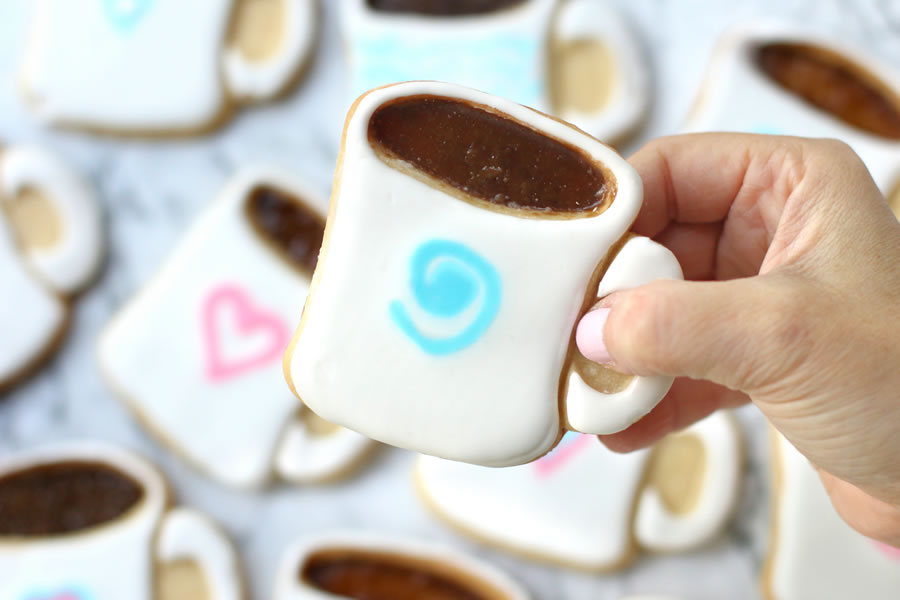 Want to try Aprati – Frutati or Mocati – for yourself?
Visit www.shop.amerlic.com or Amazon.com to purchase!
Created by: OnBetterLiving.com