Summer is a time for eating lighter and fresher. And with the summer's sometimes unpleasantly hot weather, I tend to go for recipes that will have me spending less time in the kitchen. There's nothing worse than turning your house into a hot-box. Quick and fresh is where it's at when it comes to summer flavors and summer cooking. And with tomatoes in peak season is there anything better than a Greek Salad?
A Greek salad is usually a combination of bell peppers, tomatoes, cucumbers and Kalamata olives served over lettuce and finished with a nice hunk of savory feta cheese and some fresh pita bread if you're lucky. But this week I was in the mood for something just a little different. Something more appetizery. So I decided I would use inspiration from a Greek salad and tzatziki sauce but make a dip instead. I ended up with a feta rich yogurt and cucumber dip loaded with everything you could ever want on your Greek Salad. Kind of fun, right?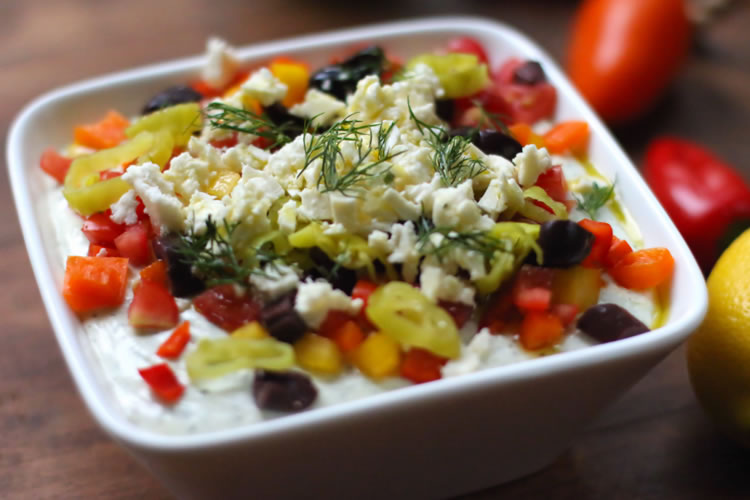 Let me tell you this stuff is good and would make a great addition to any party. Not only is it fresh and colorful, but it's perfect for dipping pita chips, potato or veggie chips or even grilled meats. Try spreading leftovers on your sandwich the next day or using as the base for a chicken salad. The key is using a really good quality feta which will blend smoothly. Sheep's milk feta will yield the best results. Avoid feta that has already been crumbled as it tends to be dry and result in a less than smooth dip.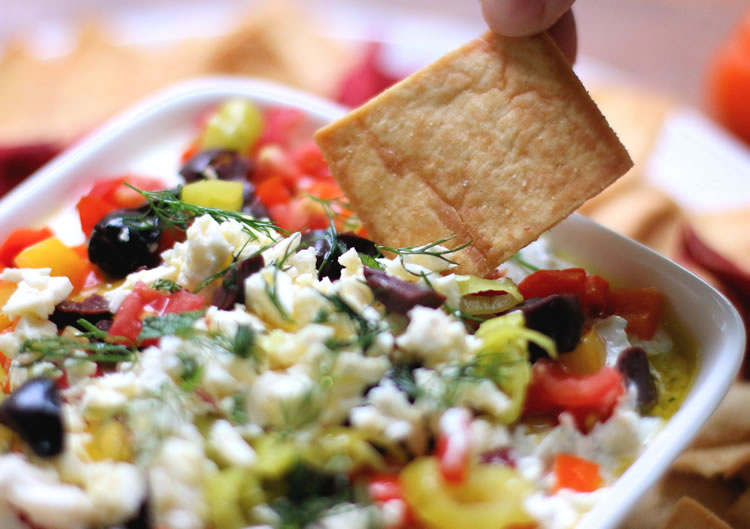 If you're like me you're always looking for that next great kitchen tip or hack. Anything to get that food on the table faster while keeping the kitchen cleaner. As long as it's healthy of course. And whether it's summer, fall, winter or spring there's no reason why we can't eat yummy delicious things while spending less time preparing and cleaning the kitchen. Are you with me?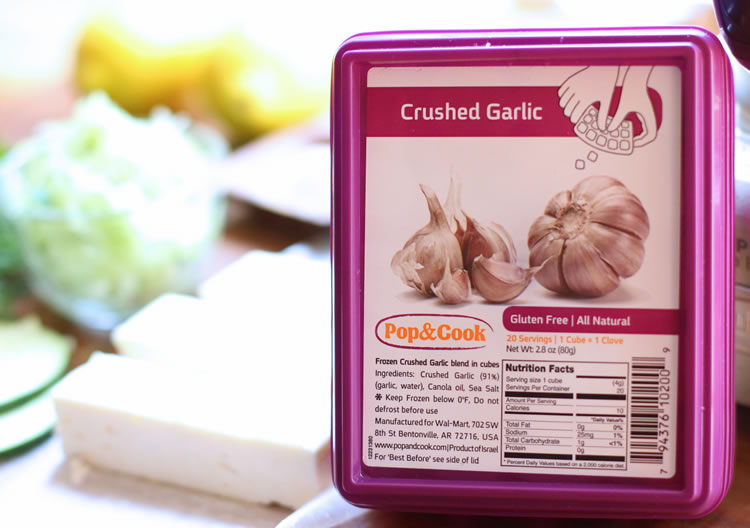 So when I learned about Pop & Cook, a company that makes fresh flash frozen ingredients like garlic, ginger and herbs in pre-portioned servings I knew they were on to something. Pop & Cook not only saves you trips to the grocery store (yes please!), but makes cooking a breeze.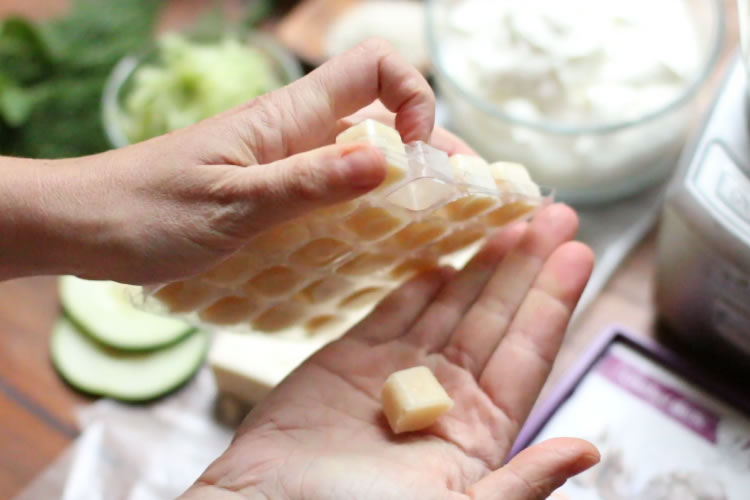 There's no chopping, mincing, prepping or cleaning required.  Just "pop" a cube or two in your recipe and you're done. You don't even have to measure. Each variety lets you know on the package just how much you need.
For example, with the crushed garlic, one cube is equivalent to one clove of garlic. How easy is that?  No more wasted trips, no more running around and best of all no extra cleaning. Plus they're all natural and free of preservatives or anything artificial.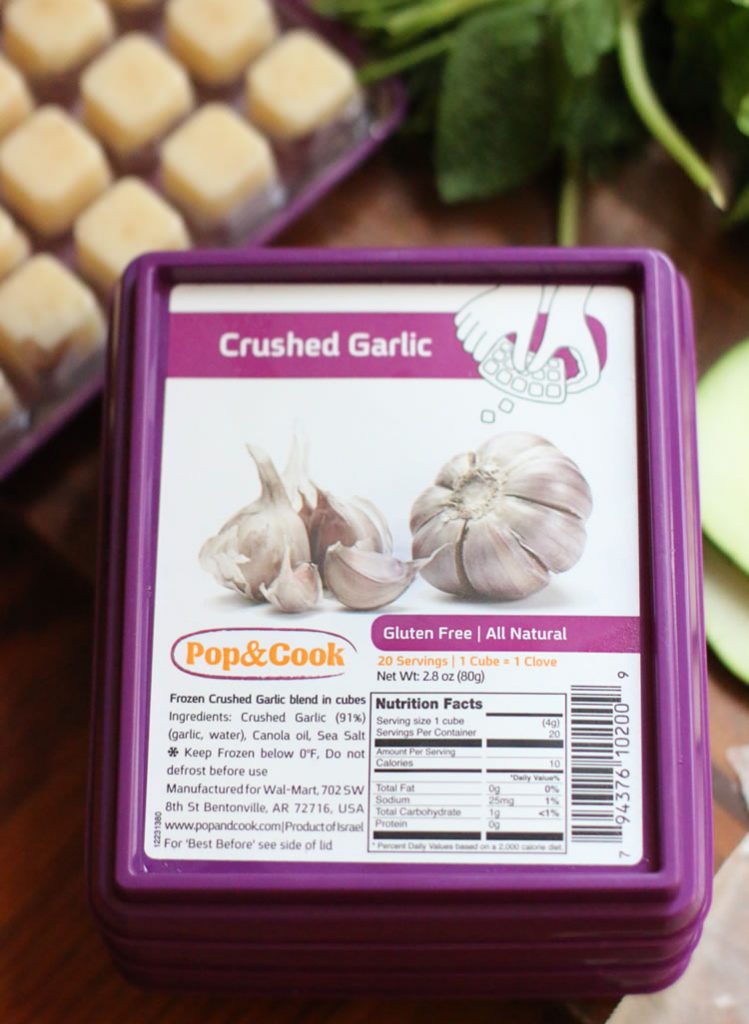 Pop & Cook offers cubes in crushed ginger, crushed ginger, sauteed glazed onions, chopped basil and chopped cilantro. I can't even count the number of times I could have used a little fresh basil or cilantro when cooking a dish and had to do without.
With a 2 year shelf life and each Pop & Cook can save you time and money. Have you ever shopped for fresh herbs and thought to yourself there is no way I'm going to use all this. With Pop & Cook you'll always have just what you need. I love a product that reduces food waste. These guys are really worth trying.
When we visited our local Walmart to pick up a bunch the shelf was basically cleaned out. I thought, "Wow, these things are popular!" Luckily we were able to grab a few packages of the crushed garlic.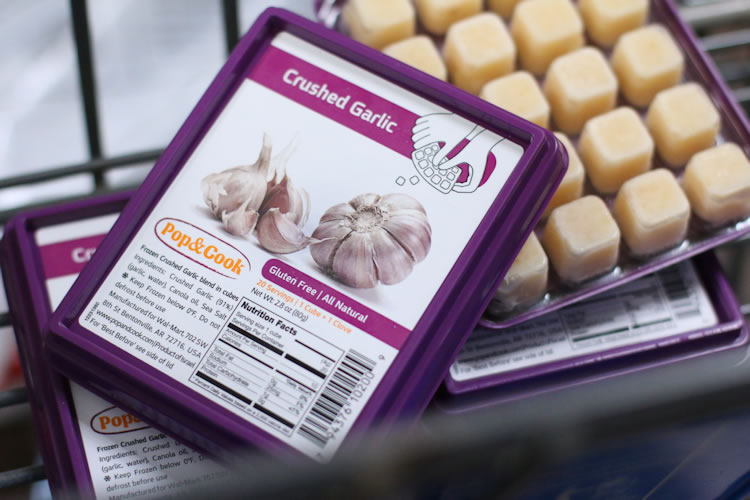 You can never have enough garlic on hand. I'll be using these for all sorts of sauces, dressings and marinades. Hello garlic butter! Or garlic bread? Yes that too!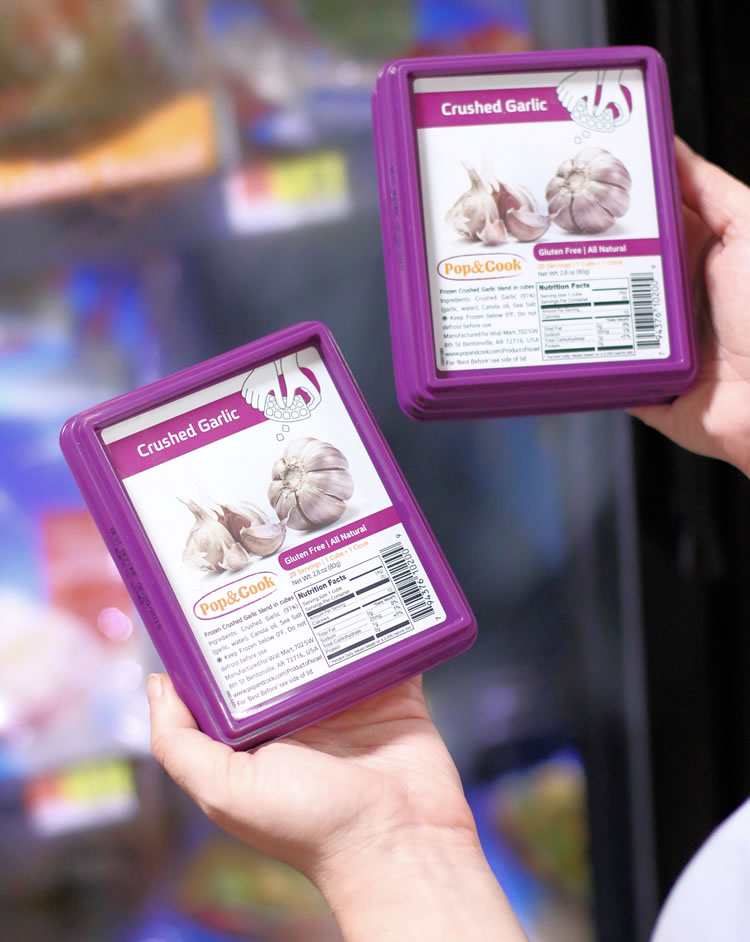 So how do you know what each Pop & Cook cube is equivalent to?
Crushed Garlic: 1 cube = 1 garlic clove
Sautéed Glazed Onions: 1 tray = 3 chopped onions
Crushed Ginger: 1 cube = 1 teaspoon
Chopped Basil: 1 cube = 1 teaspoon
Chopped Cilantro: 1 cube = 1 teaspoon
And you can always find the information on each package for reference.
😀 🌿Pop & Cook is also:
All natural, raw and vegan.
Non-GMO.
Gluten -free, dairy-free, nut-free and soy-free.
Want to know where can you stock up on Pop & Cook cubes?
☀ Pop & Cook flash frozen herbs are carried exclusively at Walmart.
Visit the Pop & Cook website linked –> here!!! to learn more and locate Pop & Cook  products near you.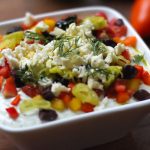 Greek Salad Feta Dip
A Greek style yogurt dip blended with garlic, cucumber, feta, dill and topped with all the flavors of a fresh Greek salad with Kalamata olives, tomatoes, pepperoncini peppers and bell peppers. Easy to make and perfect for entertaining, this Greek Salad Dip is great with pita chips and will have you going back for more.
Ingredients
1

16 ounce container

Greek yogurt

1

small

cucumber, grated and strained of excess water

8

ounces

feta cheese, divided

2

cubes

Pop and Cook garlic (equal to 2 cloves of garlic)

1

lemon, juice of

1/4

cup

extra virgin olive oil

1/4

cup

fresh dill, chopped ( you can substitute 4 cubes of Pop and Cook Basil)

optional
Dip Toppings
1/3

cup

bell pepper, diced

1/3

cup

tomatoes, diced

1/4

cup

pepperoncini peppers, sliced into rings

optional

1/4

cup

Kalamata olives

Feta cheese, reserved from above
Instructions
Making The Bottom Dip Layer
Add the Greek yogurt, cucumber, 6 ounces of feta cheese (or 3/4 of an 8 ounce block of cheese), olive oil, Pop and Cook garlic cubes, dill and freshly ground pepper in a food processor and blend to combine well to a really smooth consistency. Season with salt to taste and place in the refrigerator to chill. This can be made the night before.
Plating The Dip
In a serving dish spoon the chilled yogurt layer evenly on the bottom. Then sprinkle and layer with the Greek dip toppings in the order they are listed. Finish the dip with a sprinkle of the reserved 2 ounces of feta cheese and a drizzle of olive oil.

Serve the dip with pita chips, toasted pita slices, fresh sliced veggies or veggie chips. Enjoy!

Recipe Notes
NOTE #1: The quality of your feta cheese and olive oil will make or break this dip. Please use the best ingredients for best results.