Ever feel like you're cooking the same things for dinner all the time? We've all been there. The dreaded cooking rut. But with so many amazing foods, ingredients, and cuisines in the world, cooking and more importantly eating should never be boring.
If you've ever watched an episode of 'Chopped' you've seen ingredients you never thought would go together be transformed into some amazingly creative and tasty dishes. And it's easy to do this in your own kitchen. Start simply by either swapping out or adding a new ingredient to some of your standby recipes.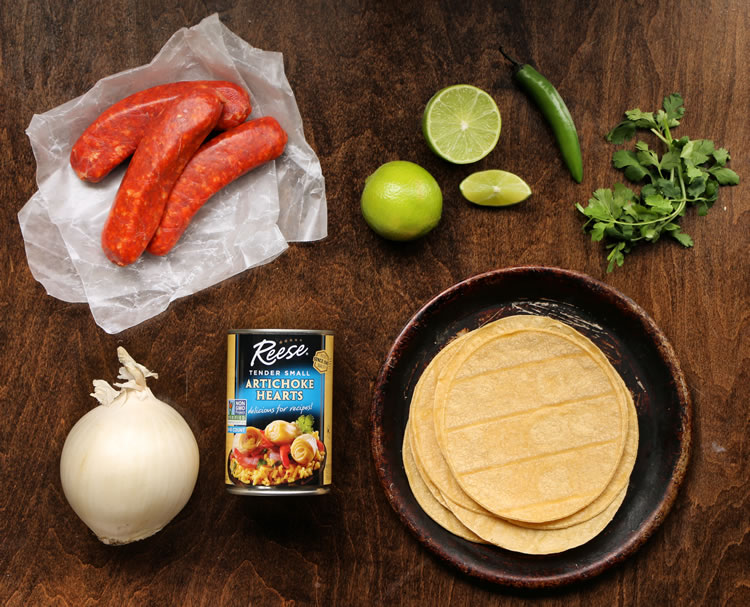 Cinco de Mayo will be here before we know it and for me, that means there will be tacos. And I'm not hating it. But I also got to thinking: what are some new ways I could update some of my traditional taco favs.
Mexican style chorizo tacos are one of my favorites. Okay, they're all my favorites. But for now, I'll just focus on the chorizo. Traditionally in Mexico, chorizo tacos or 'tacos de chorizo' are served very simply. Chorizo, ground and seasoned pork, is cooked on a stove-top or grill until slightly crisped and browned.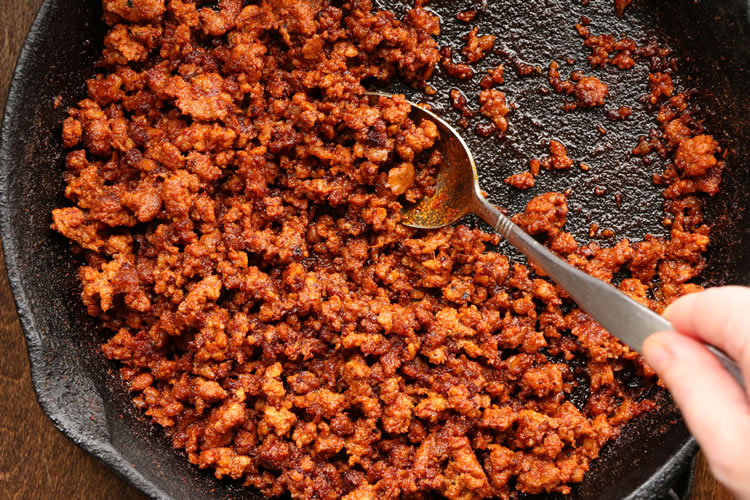 The chorizo is then spooned into a warm corn tortilla and garnished with a little fresh chopped onion and cilantro. Slices of lime are served on the side and that's it. It's then up to you to add the salsa or hot sauce you desire. You can then take a bite and thank the stars above for such a delicious taco.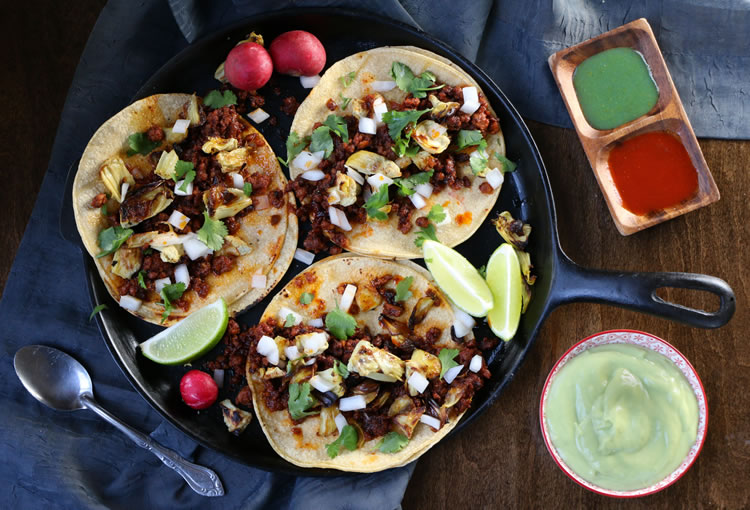 It dawned on me. Why not add crispy roasted artichokes to chorizo tacos? Artichoke's mild buttery flavor and meaty texture make them a delicious addition to even the simplest of recipes.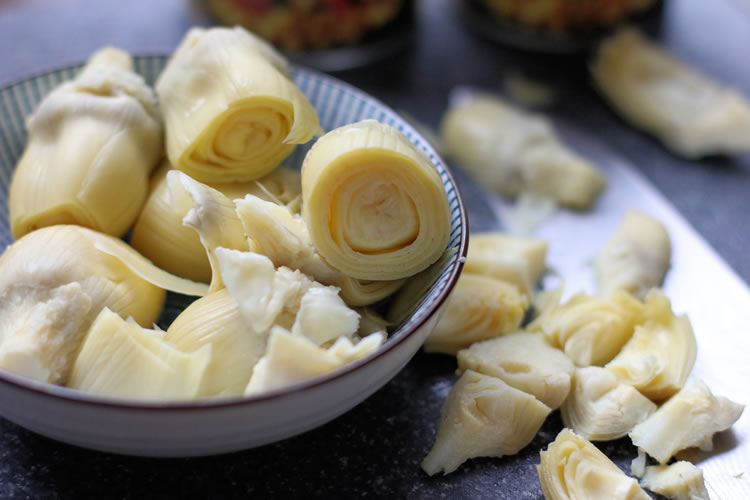 Growing up I usually ate artichokes whole, stuffed and baked with seasoned breadcrumbs, garlic, parsley, lemon, white wine, and butter. The best part was peeling leaf by leaf and working your way to the tender, buttery heart. It's such a beautiful and satisfying dish. But preparing fresh artichokes takes some work. They have sharp pointy leaves that must be trimmed properly before cooking. So when I'm in the mood for artichokes but short on time which is more often than not, I reach for my stash of canned artichoke hearts. The hearts are after all the best part of the artichoke. And with all the work done for me, it's easier to enjoy them more often. It's a great staple to always keep in your pantry and is great for those times when your dish can use a little something something.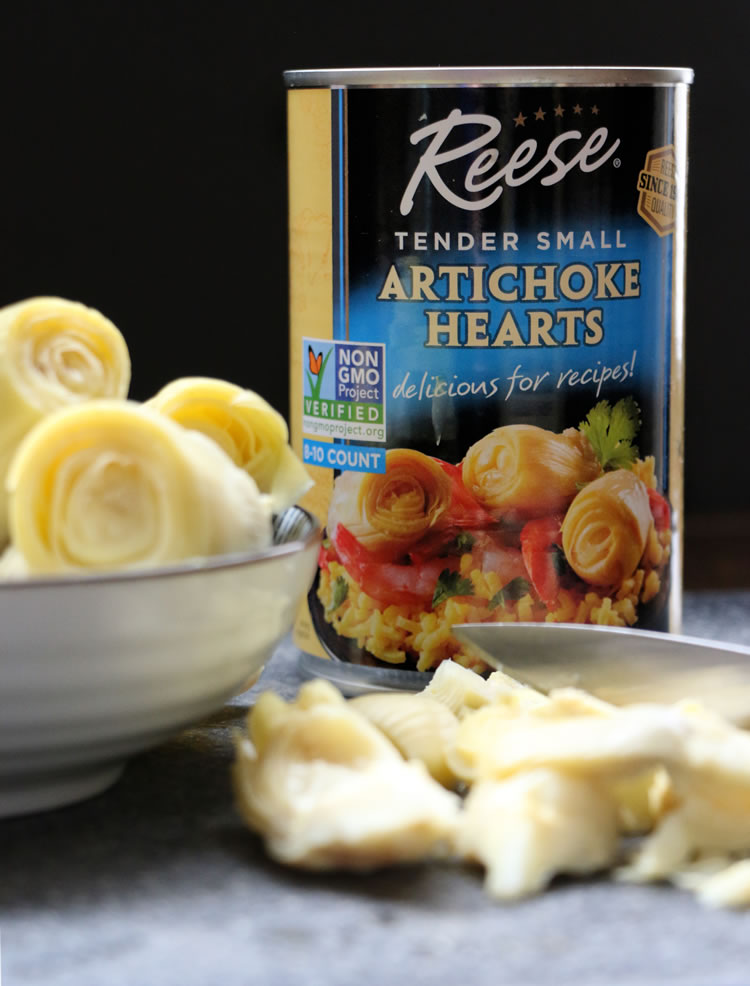 So with artichokes on my mind, I created this recipe for Artichoke and Chorizo Tacos. It's simple and delicious. I seriously couldn't stop eating them.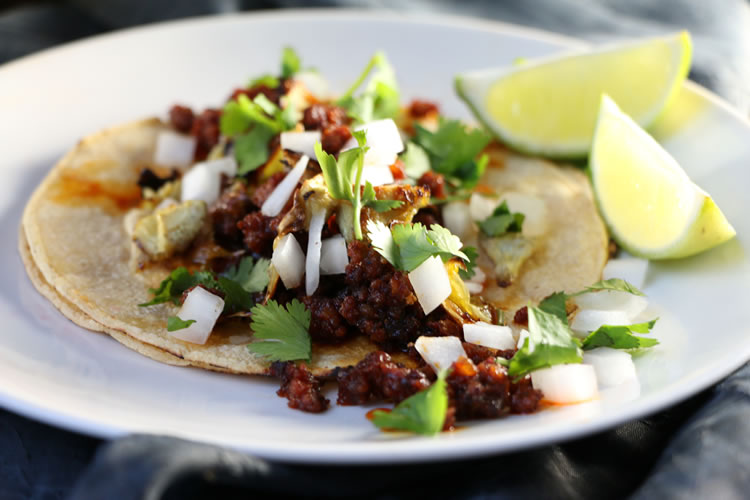 Browned Mexican chorizo, roasted artichokes, fresh white onion, and cilantro is layered in a warm corn tortilla and then drizzled with an avocado, lime and Serrano pepper salsa for the win. Make these tacos and you'll find yourself going back for more. And more.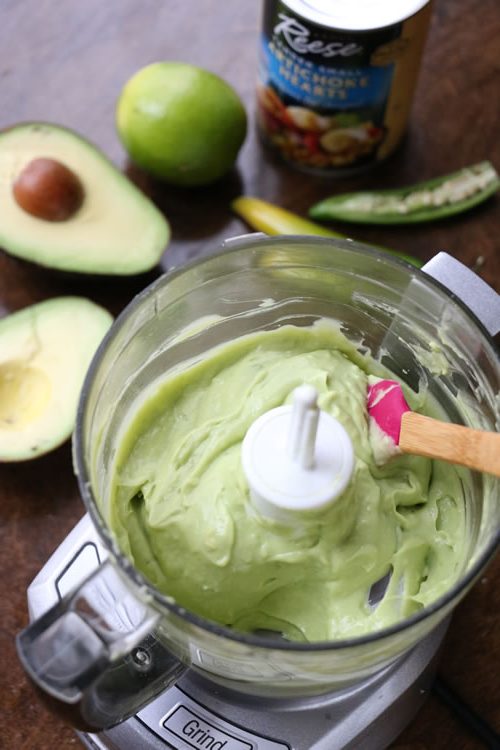 You may not realize but canned artichokes lend well to roasting. True story! Simply drain, rinse and pat dry with a paper towel. Drizzle with a little olive oil and then season with salt and pepper. The artichokes come out crispy, nutty and delicious. Separate the little leaves in the pan and you'll have yourself some artichoke chips.
So next time you're looking to "Step Out Of Your Comfort Food" try adding a can of Reese Artichokes Hearts. Not only are they delicious and versatile, but they're vegan and vegetarian-friendly. They're also Non-GMO Project Verified!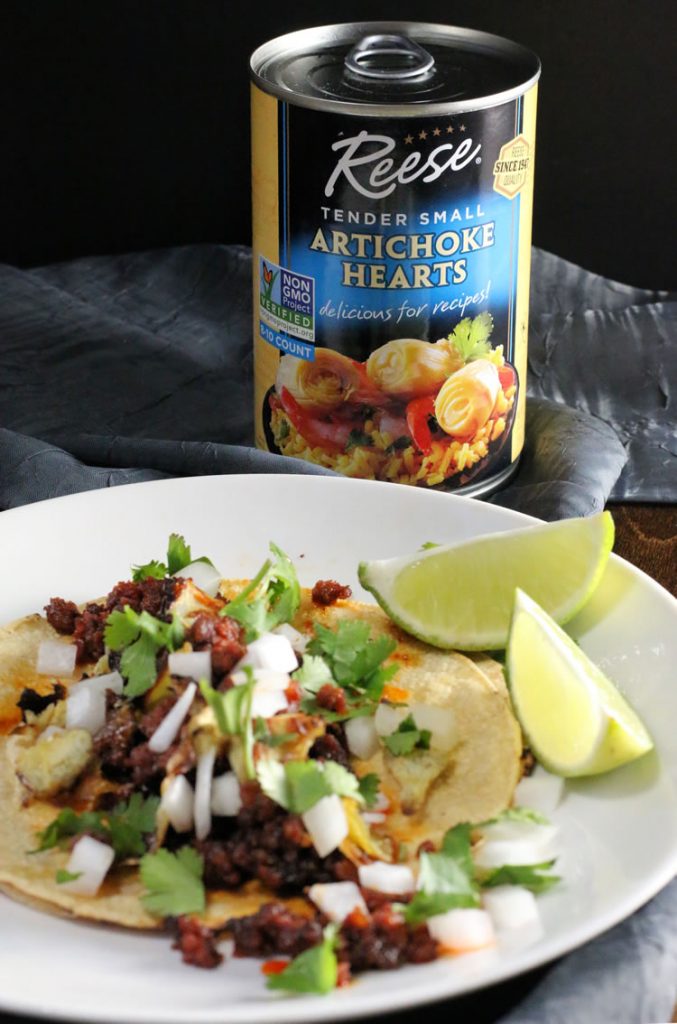 Go on and give Reese Artichokes a try! Reese also offer Hearts of Palm, Capers, and Horseradish that will turn your ordinary dishes into the extraordinary! YOU GOT THIS!
For more recipes and delicious inspiration follow Reese on social media @:
Facebook:   ReeseSpecialtyFoods
Instagram: ReeseSpecialtyFoods
Pinterest:    ReeseSpecialty
#StepOutOfYourComfortFood
Download the Ibotta App to earn money back every time you buy Reese products!!!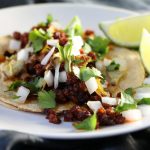 Mexican Chorizo And Artichoke Tacos With Creamy Avocado-Serrano Salsa
Shake up a traditional Mexican style chorizo taco with sweet and tender artichokes. Mexican style chorizo is browned and seared in a pan and placed in a warm corn tortilla topped with crispy roasted artichokes, chopped white onion, fresh cilantro. Drizzle with our cool and creamy avocado-serrano salsa for an irresistible combination.
Ingredients
FOR THE TACO FILLING
1

lb

Mexican style chorizo, removed from casing (if needed)

2

cans

Reese artichoke hearts (count 8-10), drained and rinsed

3

tbsp

oil, divided
FOR THE SALSA
1

avocado

1

small serrano chile pepper, stem and seeds removed

1

lime, juice of

salt, to taste
For The Tacos
corn tortillas, warmed

limes, sliced

cilantro

white onion, chopped
Instructions
PREPARING THE FILLING
Preheat oven to 400 degrees F. Put the chorizo in a skillet or heavy bottomed pan with a little oil on medium-high heat. Make sure the pan is not overcrowded so the chorizo can brown nicely. Be sure to break up the meat as you go. It should have a ground consistency when done. While the chorizo is cooking prepare the artichokes.

After rinsing the artichokes, drain well and then pat dry with a paper towel. Cut the artichokes into quarters and then cut them in half again. If you prefer larger pieces leave the artichokes quartered.

Prepare a small roasting pan. Toss the artichokes in a little olive oil, season with salt and pepper and roast for 12 to 14 minutes or until browned and crispy flipping halfway through for even cooking. Set aside.
PREPARING THE SALSA
Put the avocado, half the serrano chile, the lime juice and a pinch of salt in a blender or food processor. Add a couple tablespoons of water to achieve a creamy consistency. For more heat add the rest of the chile. Taste and season with salt if needed. Set aside.
PLATE THE TACOS
Warm corn tortillas on a griddle or skillet. Layer two tortillas per taco. Spoon some of the chorizos into the taco, then add the roasted artichokes. Garnish with chopped onion, cilantro, and the avocado-serrano salsa if desired.

Serve with slices of lime. Enjoy!
Recipe Notes
NOTE:  Mexican style chorizo can be found in grocery stores in the sausage section. Some varieties come "cased" in a sausage form. These are fine and easily taken out of the casing. This is not the same thing as Spanish chorizo which is a cured and often times smoked product.
Things to note when ingredient shopping: Mexican Chorizo is different from Spanish Chorizo. Mexican Chorizo is a raw pork or beef product that must be cooked fully before eating. Spanish Chorizo is a type of sausage that is usually cured or semi-cured and is more similar to hard salami.