Better Living uses affiliate links. If you make a purchase through them, we may receive a small commission (for which we are deeply grateful) at no cost to you.
A recent study from Brigham and Women's Hospital found that a whopping 50.2 million or 1 in 5 Americans live with some degree of chronic pain. [1] That means if you don't have pain at this moment, you can be certain someone you know does. 
Pain in its mildest form is uncomfortable, but at its worst it can be debilitating. But there's a reason for that. Pain is the body's way of protecting us by telling us we're injured. It tells us to stop walking on that broken foot or when to rest a muscle that's overworked or pulled. Feeling burning? It's your body saying "Get your hand off that hot pan!" 
While pain is our body's way of telling us we need to rest and heal, it can make life really difficult. It can interfere with work and doing the things we love, and even make the simplest of tasks seem impossible. When it becomes chronic, it's also a major instigator of depression.
One thing for sure though: once we're in pain, finding a way to make it stop is priority number one. But most of the options we're presented with, mainly pills and topicals, are either dangerous or not that well designed.  Until now.
A plant compound called resveratrol is changing the pain game for good. And there's science to prove it. Keep reading to see why resveratrol works and why it's so different from typical pain-relievers.
Why Prescription Drugs Are The Least Safe Option For Pain

 
Over time your body builds up a tolerance to these drugs, which means you'll need more and more to get the same relief.  Not only can they be addictive (opioid epidemic?), but they can be hard on the liver and cause a variety of side effects like nausea, constipation, lowered immunity, fogginess, anxiety, and irritability. Overdosing with these drugs is always a concern.
Traditional Topicals Are Safer Than Drugs, But They're Not Very Effective
Pain-relieving topicals are always the better option than drugs, but they have their drawbacks for long-term use. 
Until recently, pain-relieving topicals come in only two types:
Type #1: Numbing Creams 
The Good: These topicals provide pain relief by numbing the entire area where it's applied. The active ingredient is usually lidocaine or benzocaine.
The Not-So-Good: They also block heat, cold, and pressure and only work as long as it's on your skin. They can put athletes at risk for greater injury, especially if you actively train or are an athlete. Some pain can be the body's way of telling us to lay off an injury as it heals.
Type #2: Distracting Creams 
The Good:  These use a "cooling" and "heating" sensation to distract you from the pain for a while. The active ingredients are usually menthol ( cooling) or capsaicin (heating).
The Not-So-Good: These are less effective than numbing creams and not ideal for long-term or chronic pain.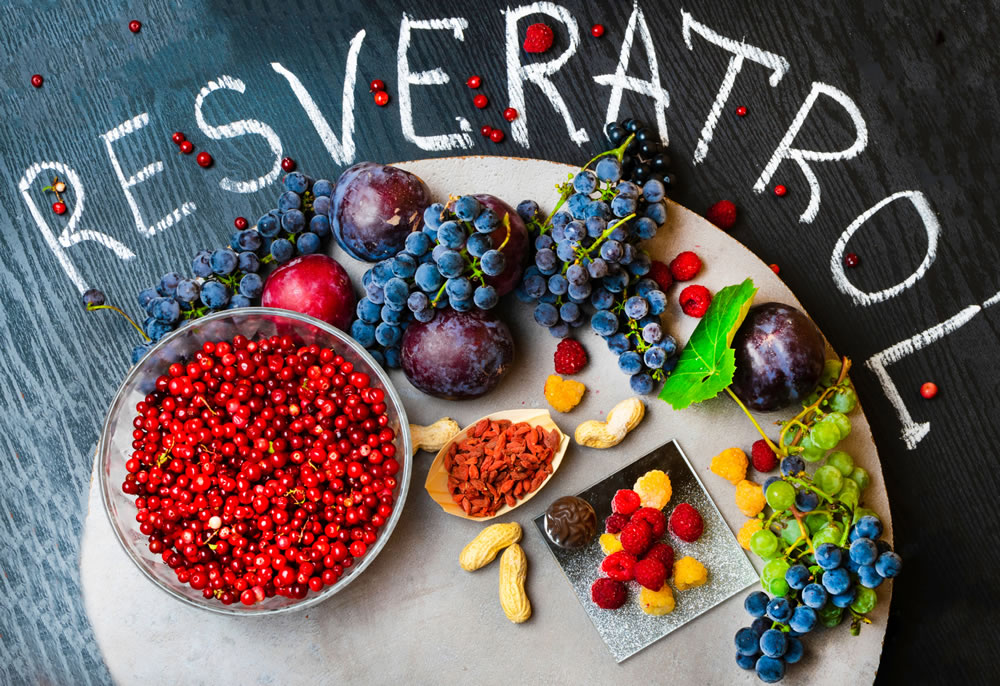 Resveratrol Is Known As An Anti-Aging Compound Found In Red Wine. But A Neuroscientist Found It's Actually Way Better At Relieving Pain.

 
Trendy for a while as an anti-aging superstar, resveratrol is a plant-compound and antioxidant found in high concentrations in grape skins (that's where the wine comes in) as well as blueberries, cocoa, peanuts, and other plants. 
The truth is scientists still don't know if resveratrol alone can make us ageless and wrinkle-free. But pain? Apparently it works really well for that. And it does it in a more direct and functional way than everything else we've been using.
After spending years researching pain, Dr. Ted Price, a world-leading neuroscientist and pain researcher found his Achilles tendonitis from an old football injury acting up while sitting in his lab in 2017. Not knowing what to do, he thought back to some of his earlier peer-reviewed research on resveratrol as a pain-reliever. 
He happened to have some in his lab, slapped it on his injured shoulder and the results were incredible.  After passing his resveratrol cream out to family, friends and colleagues he found it wasn't just a fluke and the feedback was amazing. 
With the help of his research partner, neuroscientist and migraine expert Dr. Greg Dussor, Ted's Pain Cream was born under the company Ted's Brain Science. 
It's the first and only pain-relieving topical on the market with resveratrol. And bonus: it's backed by real science!
You can learn about the science behind Ted's Pain Cream here and how an NPR interview "triggered" their success.
Resveratrol Doesn't Just Numb Pain Or Distract Us. It Calms Nerves by Resetting Them On A Molecular Level. 
Once we're injured, our pain nerves get excited and send out signals to the brain which we perceive as pain. But the problem is our nerves don't always return to their calm and collected selves after we heal. In fact, they can get stuck in a hyper excited state, sending out pain signals that can last for months or even years even though we've technically healed.
This is what Dr. Ted calls "false" pain which can become chronic.
This video comparing nerve pain to a dinner party explains it perfectly.
Here's Why Resveratrol And Ted's Pain Cream Is A Game-Changer For Pain
It doesn't numb or distract like other topical pain relievers. Instead it works on a molecular level to calm nerves by "resetting" them back to their pre-injured state. 
While resveratrol stops false pain signals, it still allows real protective stop-what-you're-doing pain signals to still get through. No risk of addiction or side effects. You apply where it hurts, and that's it.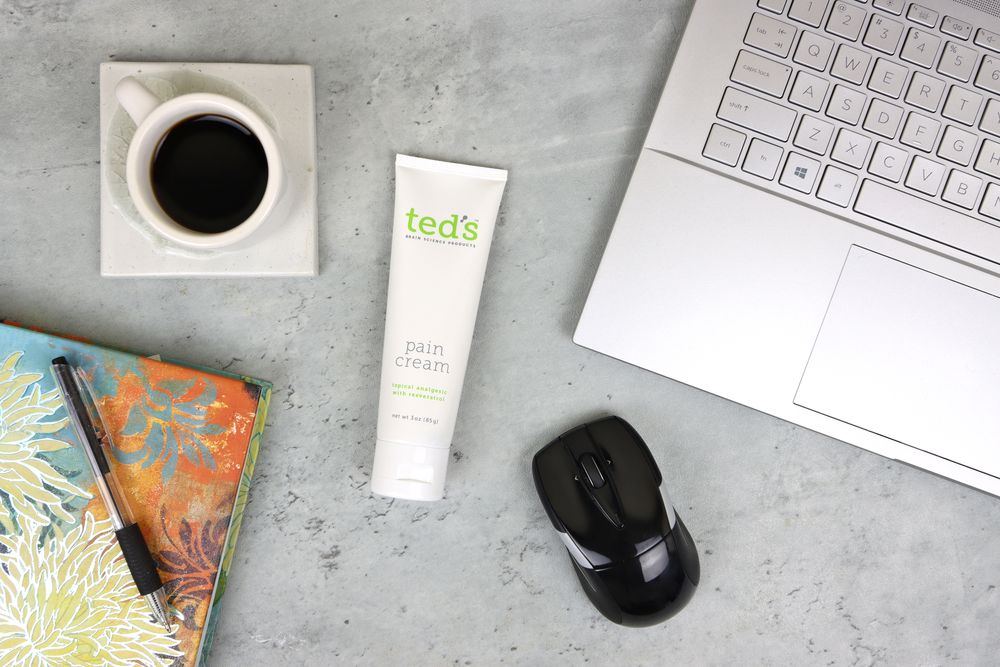 Besides Resveratrol, What Else Is In Ted's Pain Cream?
Ted's Pain Cream has a feel similar to a light moisturizer. White in color, it absorbs quickly without any greasiness at all.  
In addition to resveratrol, Ted's Pain Cream also contains methyl salicylate from wintergreen oil for an extra boost of pain relief. Not only does it smell amazing, but it's also a natural proven anti-inflammatory pain-fighting compound, related to aspirin (salicylate). 
Read their peer-reviewed research for yourself.
Have an aspirin allergy or on blood thinners? Go with Ted's Pain Gel or Ted's Professional Strength Pain Cream formulated without Wintergreen (methyl salicylate). Check them out below.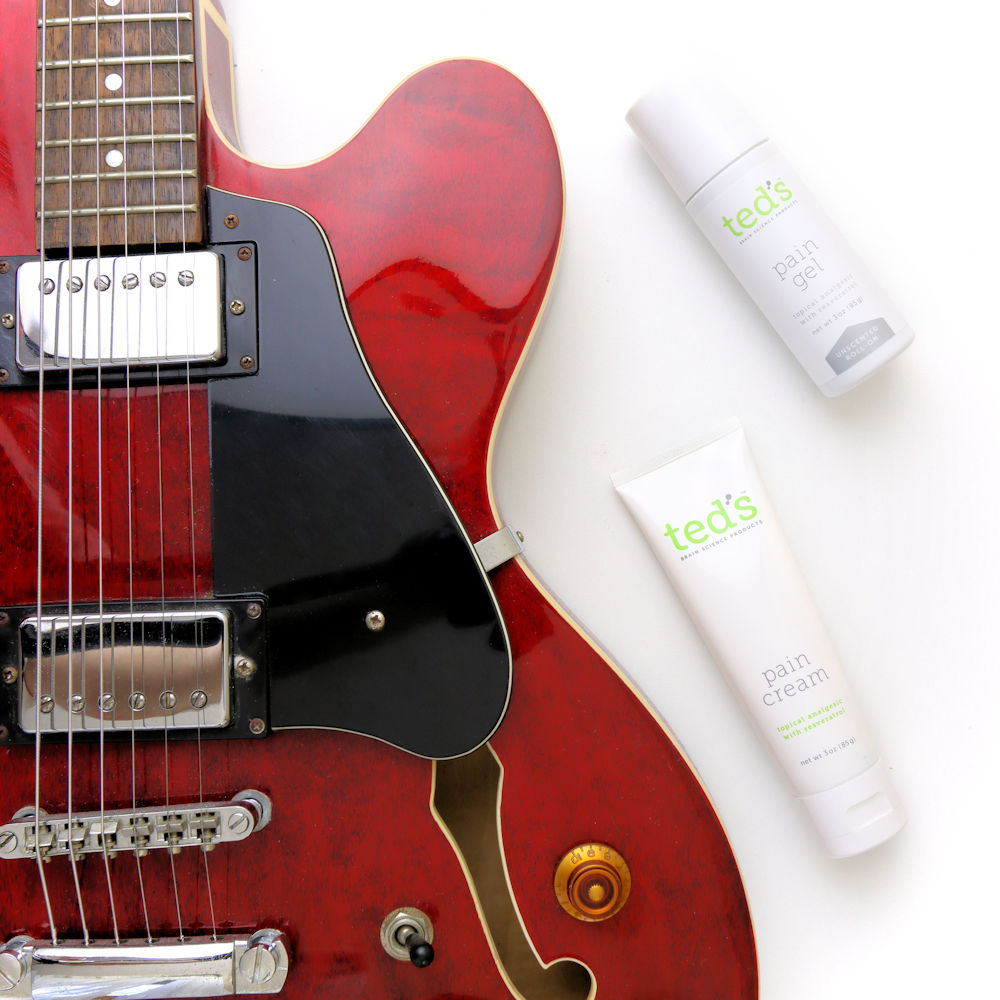 What Kind Of Pain Does Ted's Pain Cream Work Best For? One Use Is Pretty Surprising.
Ted's Pain Cream can be used for all sorts of pain including sore muscles, muscle strains and bruises. Also try it for:
Sports and weight training injuries (inflammation, tendonitis, tennis elbow, golfer's elbow, jumper's knee, swimmer's shoulder, etc.)

General muscle overuse and pulled muscles

Painful wrists, ankles, knees and Achilles (heel)

Trigger finger or trigger thumb

Plantar's fasciitis and Morton's Neuroma

Carpal tunnel syndrome

Arthritis and fibromyalgia

Rubbed into temples and the neck for migraine pain
Perfect for musicians too that have achy hands, as well as other forms of chronic pain.
Some have even found it works great for those itchy bug bites that nothing else will work on!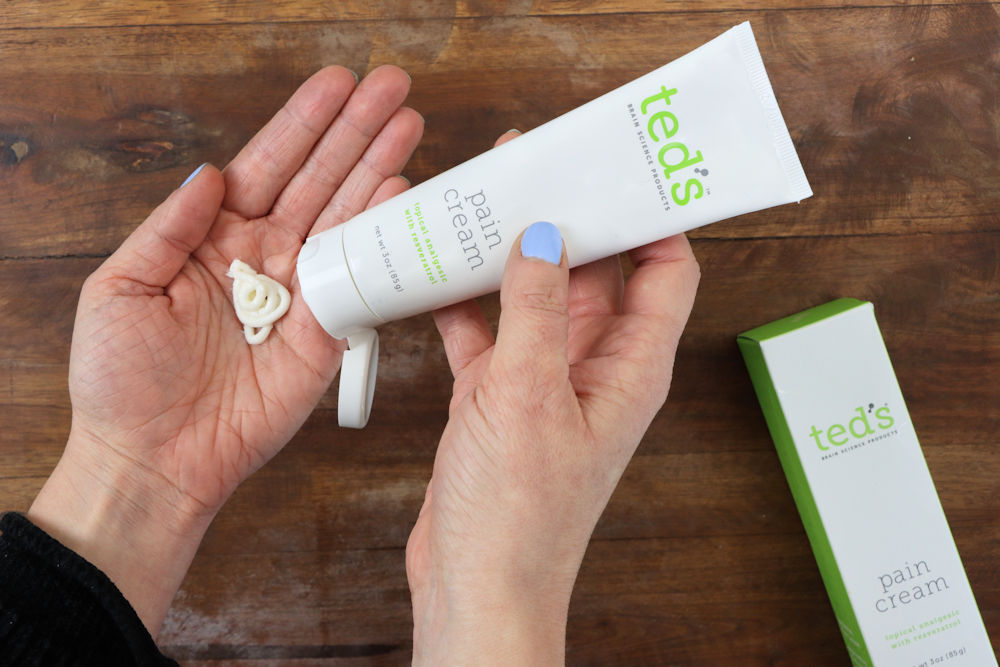 How To Use Ted's Pain Cream And Our Experience 
Ted's Brain Science recommends Ted's Pain Cream should be applied consistently 3X per day for 7 days. Then you can make the call if it's working or not. While most users report that the combination of resveratrol and wintergreen lead to serious pain relief, in some cases the pain is permanently eliminated. 
Our 1st Experience: I first used Ted's Pain Cream on a wrist that was acting up with some carpal tunnel-like pain making typing this post up a bit difficult. It worked amazingly! Within an hour I forgot all about the pain and was good to go. After only 3 applications, the pain never returned!
Continuing Use: Now, I'm testing it out on an injured shoulder that I've had for over 6 months. It works great for the lingering pain after application, but I suspect it will take a while longer to officially "reset" the pain for good. I'm excited for the results and will update in the future.
The Smell: Personally, I adore the wintergreen scent of Ted's Pain Cream. If wintergreen isn't your thing, opt for their unscented formulas without wintergreen which include their Ted's Pain Gel (a roll-on) and their Professional Strength Cream (jarred cream). See all their descriptions below.
Find The Right Ted's Brain Science Product For You
Below check out if Ted's Pain Cream, Ted's Pain Gel, or Ted's Professional Strength Pain Relief Cream is right for you.
Note: The FDA does not recognize resveratrol as an active ingredient (yet!). So to comply with FDA labeling standards, resveratrol is listed under "other ingredients" instead. 
Here's a product comparison if you're not sure which Ted's Brain Science product is right for you: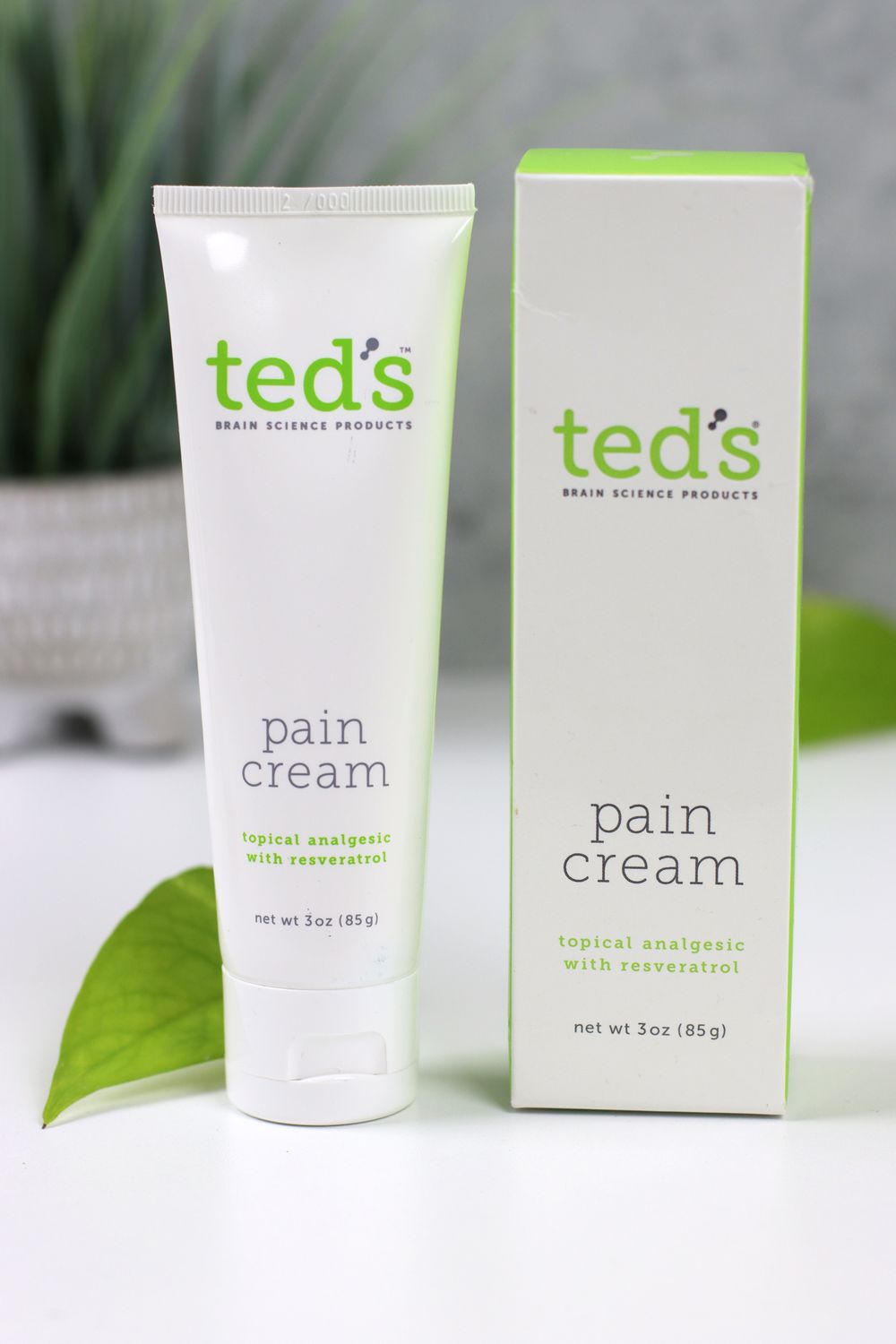 Ted's Pain Cream

(#1 best seller)
Scent: Wintergreen
Delivery: Squeeze tube
What's inside: Resveratrol +  pain-fighting methyl salicylate from wintergreen. 
Other Ingredients: Well-studied anti-inflammatory natural ingredients including aloe, Arnica Montana flower extract, and Boswellia Serrata extract. Xx
Best For: Resetting the pain threshold of nerves with a quick-absorbing cream.
Who Shouldn't Use It:  Anyone on blood thinners or those with aspirin (salicylate) allergies.
Happy User Review: "I purchased this product for my residual pain in my knees and surrounding tissues and ankles and surrounding tissues. This was getting to be long term pain that I had thought would be long gone by now. Let me tell you that this roll on pain reliever has worked 100% of the time – yes, every time to instantly relieve my area pain. Now I also use it to relieve itches from bug bites and even poison ivy! It stops my itching and the bug bite just heals quickly. Highly recommended – happy customer!"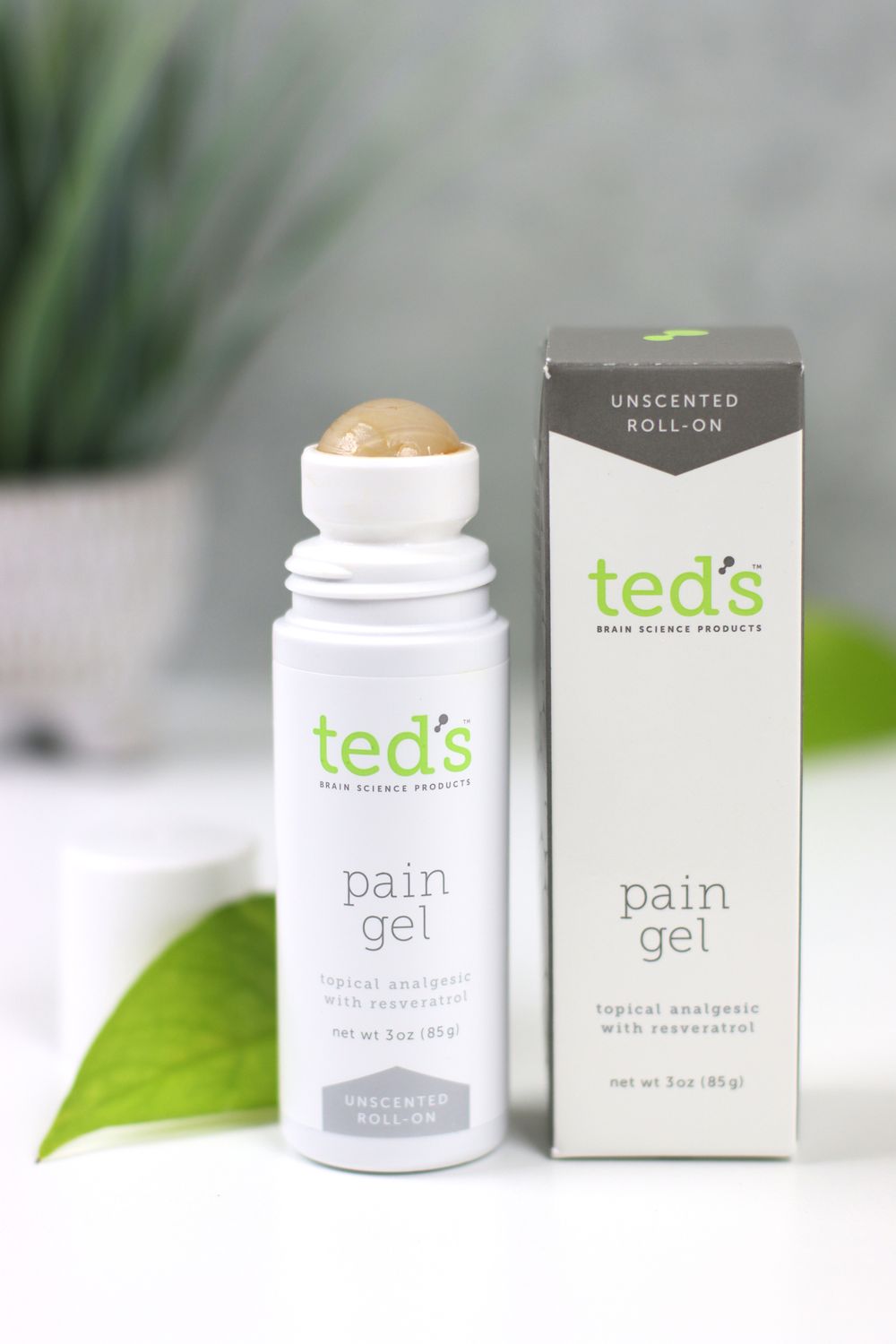 Ted's Pain Gel

 
Scent: Unscented
Delivery: Roll-on
Key Ingredients: Resveratrol + Trolamine Salicylate, a similar pain-reliever to wintergreen, but no scent. 
Other Ingredients: Well-studied anti-inflammatory natural ingredients including aloe, Arnica Montana Flower Extract, and Boswellia Serrata Extract.  [2]
Best For: Anyone who wants pain relief with an unscented gel. Great for those with neuropathy or conditions where the warming sensation of wintergreen may be a bit much.
Who Shouldn't Use It:  Anyone on blood thinners or those with aspirin (salicylate) allergies.
Happy User Review: "I got the roll on and have been using it for over a week now on the joint pain I have in both elbows, my lower back pain and pain I have due to the bunion on my foot. It has worked amazingly well on the elbow joint pain, the pain is almost gone. I feel a bit of a difference with my back and foot pain, but not as drastically improved as with my elbow joint pain. It seems to be a very good product when you use it consistently and give it time to work. Thanks!?"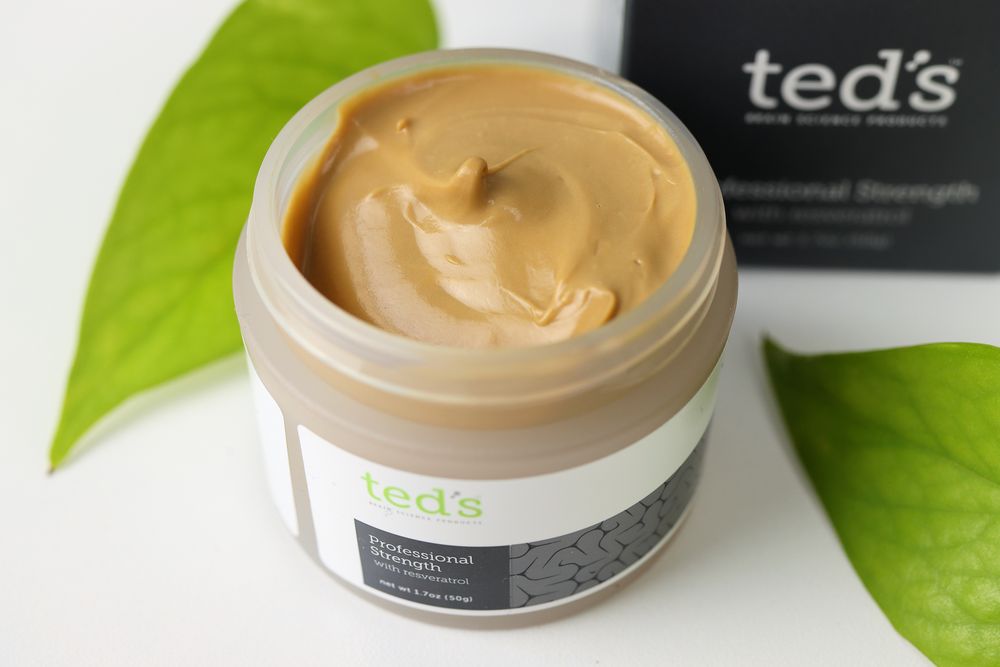 Ted's Professional Strength Pain Relief Cream

(most powerful)
Scent: Unscented
Delivery: Jar
What's inside: 4 times the resveratrol of the original formula + lidocaine 
Other Ingredients: Well-studied anti-inflammatory natural ingredients including aloe, Arnica Montana flower extract, and Boswellia Serrata extract. Xx
Best For: The most powerful resveratrol formula for pain relief and resetting the pain threshold of nerves with a quick-absorbing cream. Lidocaine works quickly while resveratrol builds up to provide long-term relief.
Who Shouldn't Use It: With no scent and no aspirin-like pain relievers this one should work for everyone. This includes anyone on blood thinners and those with neuropathy.
Happy User Reviews: "Raynauds syndrome and bunions have plagued me for 2 years, and nothing but a shot in the ankle from the podiatrist helped. But the shots were as bad as the original pain and didn't last. Ted's has saved me. First with the cream, then the Professional strength. The effect lasts a good 3 days after the initial application of Professional, using the cream at night. I've turned my old skiing buddies on to Ted's – we're all fans!"
"I first heard of Ted's Pain Cream from NPR. It is the only thing I've ever preorder and I'm so glad I did. My shoulder and knees are no longer painful! I just received my extra strength cream (preordered because I know they make great products) and it's amazing! The regular strength wasn't completely cutting it for my wrists, but wow the extra strength is phenomenal for my sad wrists. Thank you so much!"
 ➡ Buy Ted's Professional Strength Pain Relief Cream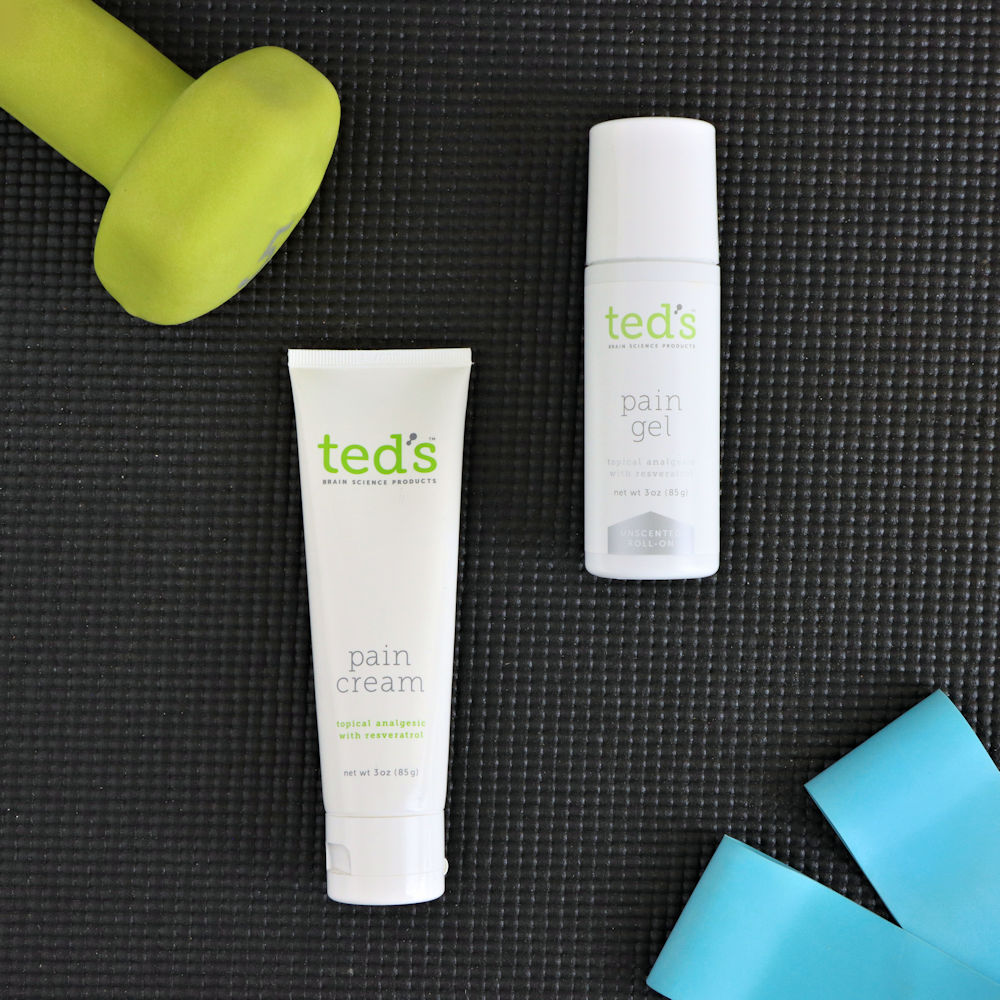 ➡ Try Ted's Combo Pack – This includes the original Ted's Pain Cream cream with (wintergreen) and Ted's Pain Gel (unscented).
To Get The Most Benefits, Consistency Is Key. But, Unlike Other Creams You May Only Have To Buy It Once
Since Ted's Brain Science Pain Cream doesn't work like other topical pain creams, applying it consistently is key for the long-term results. 
You'll still get pain relief right away, but the pain-relieving benefits of resveratrol can build up over time for more lasting relief with every application.
Unlike other pain creams, you might only need to buy once.  If you have any pain at all, Ted's Pain Cream is 100% worth a try. 
Reset Your Pain Now With Ted's Brain Science!
As scientists, Ted's Brain Science knows their pain cream might not work for everyone.  But we're happy to report it's working great for us and for about 90% of their customers!
 ➡ Visit tedsbrainscience.com today to get 15% OFF your first tube of  Ted's Pain Cream with email sign up!