Better Living uses affiliate links. If you make a purchase through them, we may receive a small commission (for which we are deeply grateful) at no cost to you.
*This post is sponsored by Brookdale Senior Living. The information and opinions presented here are all mine. 
It's only natural to want our parents to live a long and healthy life. But even if we're lucky enough to have them with us for many years to come, you may notice that their mobility is starting to fade and they're not able to keep up with the house like they used to. 
There also may come a time when you realize they need more care than you're able to give. That's why having a discussion about a long-term care solution like Assisted Living, sooner rather than later, can be an important way to help relieve stress for you and your parent down the road. 
Unfortunately, it's very likely that older parents won't plan for this kind of care on their own. A 2014 survey found that 43% of adults, ages 40-70, believed there was no more than a one-in-five chance of them needing long-term services and support (LTSS) at some point (Wiener et al. 2015). But the reality is quite different. According to the Department of Health and Human Services, it's estimated that 69% of those over the age of 65 will need some type of long-term care services. (1) And the AARP reports that more than 70 million Americans over the age of 50 have at least one chronic medical condition. All this means is that Assisted Living is something many of us will most definitely have to plan for and discuss.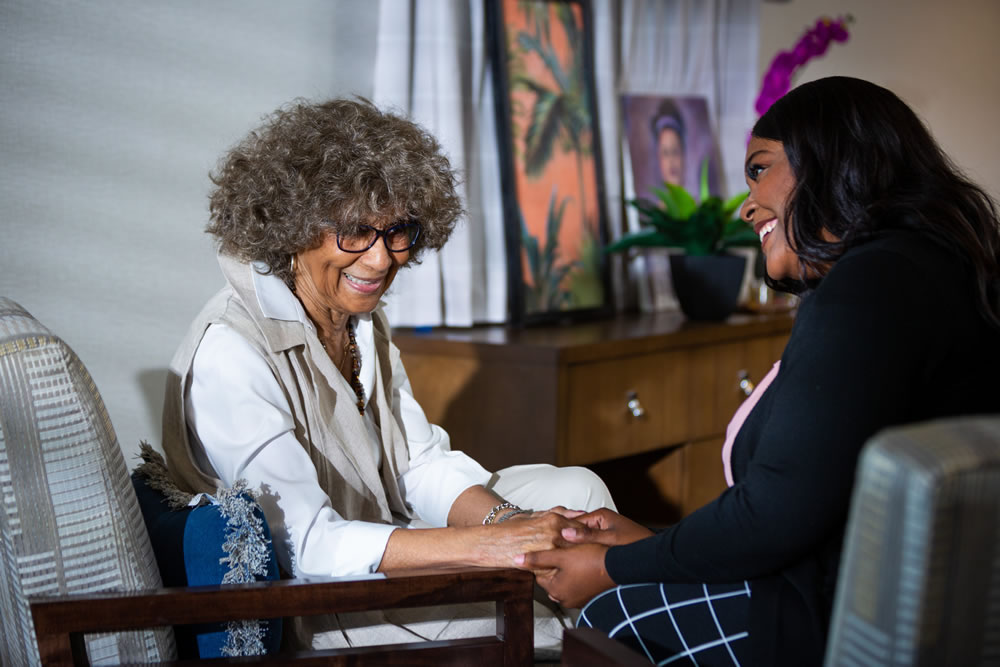 What is Assisted Living? 
Often when we hear the term Assisted Living, it can conjure up thoughts of our loved one stuck in a dark room alone or stuck watching TV all day with nothing else to do. But today's Assisted Living Communities have evolved way beyond the institutionalized setting of the "old folk's homes" of the 1960s and 1970s that have fostered these stereotypes. 
According to the American Health Care Association:
"The goal of Assisted Living is to maximize and maintain resident independence for as long as possible. Assisted Living offers residents a unique mix of companionship, independence, privacy, and security in a home-like setting. " 
Assisted Living Communities are ideal for seniors who may not need 24-hour intensive care and skilled nursing like what a nursing home can provide, but could use extra help with day-to-day activities like grooming, bathing, eating, dressing, and managing medications. They also help with mobility and escort assistance, cognitive and ongoing health support. But more than that, Assisted Living facilities can offer a better quality of life and provide a variety of daily activities and amenities like game rooms, gardens, fitness centers, classes, and even on-site hair salons. 
Right now approximately one in three Americans is willing to have discussions about long-term care planning for both their parents and for themselves. But most families are unprepared for what experts say is one of the biggest decisions seniors and their adult children will make in their lives. 
Here are some tips for how to have the conversation about Assisted Living, sooner rather than later.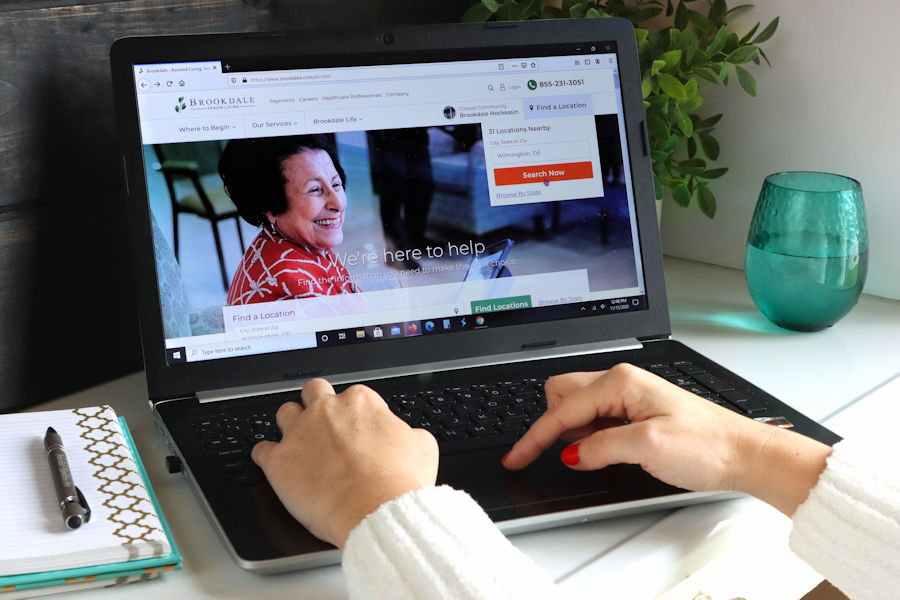 Do Your Research 
Some of the toughest conversations are the ones that need to be had the most. Although it may be difficult, it may be easier to learn as much as you can about Assisted Living beforehand discussing the subject. This way you can answer any questions your parent might have and calm their fears with facts about the possible move. It may even be helpful to have some brochures or websites and look through them together. The more information you have available beforehand, the more comfortable and open they may be. 
Let Them Know You Love and Support Them 
Although it may be the best thing for everyone involved, the decision to move to Assisted Living is a big life change. This means it can bring out a lot of mixed emotions especially when your parent may need to downsize their home. Having to go through old belongings while getting rid of others can make your parent feel the same way as someone mourning a loss. Let your parent know you're there to help them with this big transition in any way you can, even if that means potentially storing some of their things they can't seem to part with. 
Consider Their Needs and Feelings Because it's Ultimately Their Decision 
When having a serious discussion about Assisted Living with your parent, it's important to listen to them and acknowledge their needs and feelings. They may be having thoughts or anxiety over things you may not have even realized, like they're being discarded or not respected. 
Dr. Linda Teri, a director of the geriatric and family services department at the University of Washington Medical Center says, "the problem is that people try to resolve the declining health of an aging relative without listening to the needs of everyone involved. A family may feel obligated to bring Dad into the home after his heart attack without first asking him if he would prefer Assisted Living instead." 
During the conversation try to communicate how much you care without making them feel like you're trying to manage or control their life and decisions.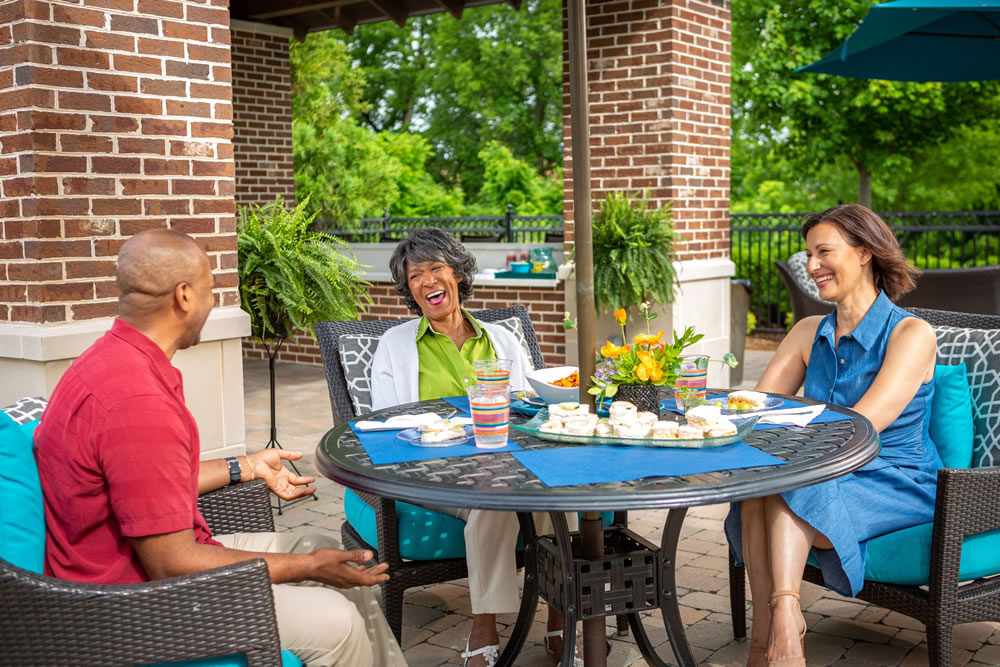 Let Your Family Be Part of the Process 
If you're the first to notice that mom or dad is no longer doing as well on their own, it's important to talk to your siblings too. Their input can help support your parent and you through this process. With an "all hands on deck" approach, they can help your parent emotionally, as well as physically, when it comes to moving and downsizing their home. If you're still having trouble, maybe seek the help of a family counselor to offer support and guidance through the process. 
What Not to Say 
As with most things in life, it's not what you say but how you say it. Assisted Living may already be a touchy subject, but even if your parent is on board, they don't want to feel like they're being condescended, patronized, or made to feel helpless. Making cliche statements like, "You'll make new friends!", "Change is good!", "It's better than living alone", or "Believe me, you'll get used to it" can be dismissive of what your parent is going through. Sounding too excited about moving them into Assisted Living may make them feel like you're trying to get rid of them, whereas sounding worried and nervous can make them feel scared about making the change. When discussing whether Assisted Living is a good option, stick to going over the pros and cons so they don't pick up any mixed signals from you. 
Sensitively Outline The Reasons Why You Believe Assisted Living is Their Best Option 
Beyond the basics like difficulty dressing, bathing, and preparing meals, there's a lot of reasons why seniors can have a difficult time living by themselves. Here are just a few reasons why Assisted Living might be a better option than living on their own: 
Loneliness and isolation can cause severe depression, which can have a negative effect on their overall quality of life. It has also been linked in studies to prescription drug abuse as well as other severe health issues like anxiety, heart disease, dementia, and an increased risk of mortality. Assisted Living can offer your parent a sense of community and the ability to make new friends all while maintaining healthy relationships with their family. 

A decrease in mobility as we age can be frightening and dangerous. Assisted Living can provide safety and security. 

For some seniors, managing their money can be difficult. Not only are they often the target of financial scams but they may also have trouble keeping up with bills which can both put their

retirement savings at risk. 

Homes require a lot of upkeep including daily cleaning, lawn mowing, snow shoveling, and many seniors aren't able to keep up with the maintenance. Assisted Living takes this burden off their plate and gives them more free time to enjoy.

It's estimated nearly five million seniors face hunger in the U.S. today. That along with health problems, medication side effects, a fixed income, and lack of appetite can make seniors especially vulnerable to malnutrition. At Assisted Living facilities like Brookdale, residents have access to healthy menu choices and restaurant-style dining without the burden of cooking, plus they can enjoy dining with others at mealtime. Residents can also choose to cook in their own kitchen if it's something they enjoy.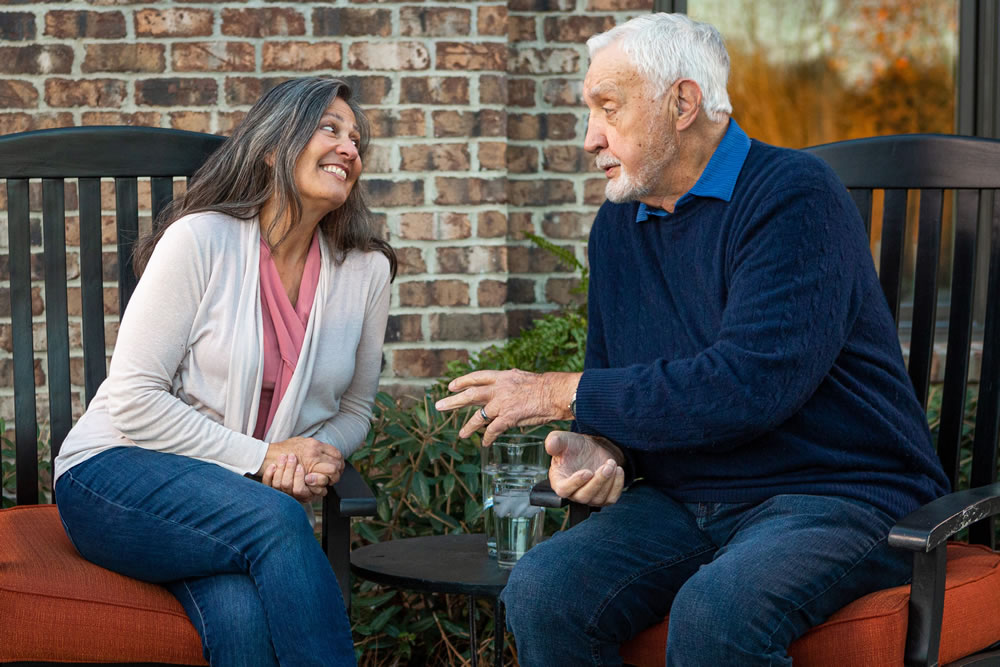 They May Ultimately Prefer To Live On Their Own 
Many adults with senior parents feel guilty for not being able to care for them. But studies from the American Psychological Association indicate many seniors prefer independence over living with their children. Another survey found approximately 7 in 10 adults realize that unforeseen health issues can arise at any time, so your parent may have already thought about Assisted Living, especially if they're having trouble taking care of themselves. Just understand, even if they recognize that Assisted Living may be a necessity, it may take some time for them to bring the idea into action. 
Understand That It Can Be Scary 
Steven Zarit, a professor of human development and family studies at Pennsylvania State University says that "One of the scariest things to people as they age is that they don't feel in control anymore." A recent study by Zarit looked at parental stubbornness as a factor that can complicate intergenerational relationships. 
"If you tell your dad not to go out and shovel snow, you assume that he'll listen. It's the sensible thing. But his response will be to go and shovel away… It's a way of holding on to a life that seems to be slipping back," he adds 
Your parents want to be cared about, but they don't want to feel like their roles have suddenly reversed, where they're now the ones who need to be cared for.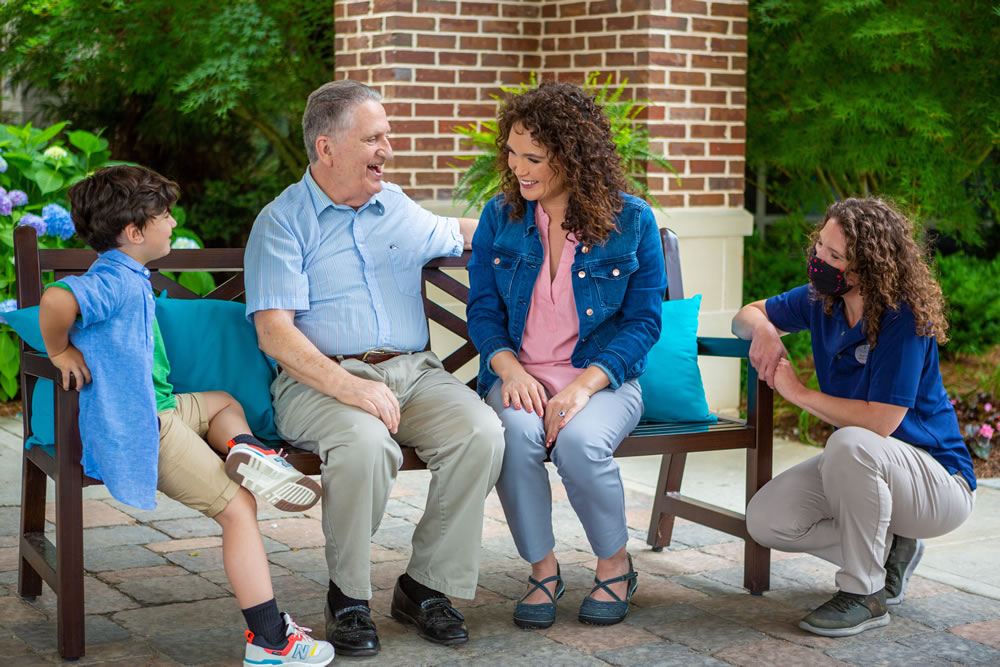 Let Them Know They'll Still Have Their Independence

 
Many seniors worry most about losing independence when moving to an Assisted Living Community. The truth is, senior living may actually help encourage independence. Yes, moving from a family home is a big change, but Assisted Living may give seniors even more freedom and more choices to live life on their own terms. 
At Brookdale, senior living is designed to be more like a college campus, where they provide a variety of amenities as well as a daily calendar of social events and activities organized by the staff. Senior living apartments also come in various shapes, sizes, and floor plans 
Assisted Living Communities can support your senior parent's autonomy in a variety of ways. They can help seniors get transportation for doctor's appointments, shopping trips, classes, lunches, events, volunteering, and worship services. Assisted Living can also help prevent isolation and depression while offering older adults a chance for new friendships and community. 
See what a day at Brookdale Assisted Living really looks like. 
Go Over the Finances 
Once your parent is open to looking into Assisted Living Facilities, discussing finances may be the next step. The cost of Assisted Living can vary greatly depending on several factors including where you live, what kind of senior living apartment your parent wants, and how much assistance your parent will need throughout the day. 
If you need help figuring out costs, at Brookdale, they understand that each individual will need a different amount of care and can work with you to figure out the finances. They provide each of their residents and their families a personalized assessment that helps determine how much care your parent will need and the associated costs.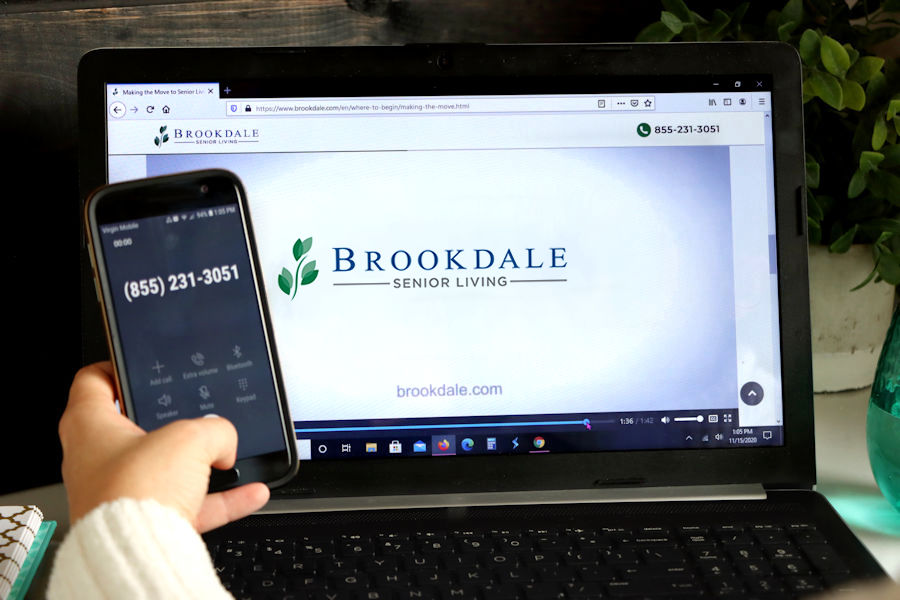 Be Sure to Book a Tour 
After talking to your parent about Assisted Living, they may be open to getting started on their new journey. But it's also completely normal for your parent to still be skeptical of the situation. In that case, they may need to see this new lifestyle firsthand. Either way, the best thing to do for your parent is to schedule a few tours together before making a final decision. At Brookdale, they're always happy to take visitors around their campus so they can see all the great amenities they offer. Don't forget to inquire about all the activities and social events your parent will have access to. 
Want to Learn More About Assisted Living Communities? 
Brookdale Senior Living has more additional helpful tips and guidelines to get you started on your journey to Assisted Living. Visit them now to get all of the info you need to make the best decision for you or your loved one.