Better Living uses affiliate links. If you make a purchase through them, we may receive a small commission (for which we are deeply grateful) at no cost to you.
This is a sponsored post written by me on behalf of Iron-Tek. All opinions are 100% mine.
If you're just starting to workout or maybe getting back into fitness it's important to do the right things to make the most of your exercise.  That means proper nutrition before and after your workout to support energy, support muscle tissue and support fat loss. Although eating a meal of whole foods is an important part of fueling your body for a workout, sometimes you might want an extra boost of energy. Adding a quality pre-workout supplement like Iron-Tek's Beet Energizer will not only support your energy but improve your focus and stamina, and helps to keep fatigue at bay. When you perform better during your workouts, you'll see better results, feel more confident and will be more likely to reach your fitness goals.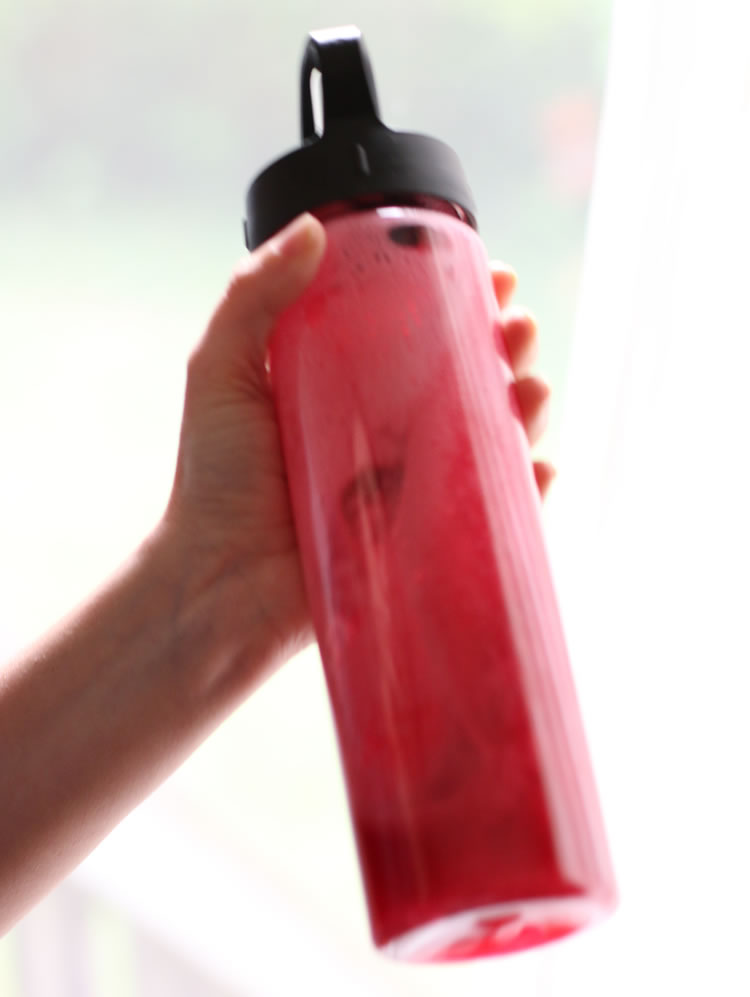 I'm always looking for that next great thing to fire up my workout and give me energy. I also avoid products with preservatives. At the moment I'm loving Iron-Tek's Beet Energizer, a pre-workout supplement that is made with some food based ingredients.
Why We Love It
Iron-Tek's Beet Energizer is not only meant to energize your body but also keep you hydrated. Just one scoop in 8 ounces of water, drink and you're good to go. Plus it's
Made

with 

food-based ingredients like Beet and Coconut
Has a nice subtle Watermelon flavor and stirs smoothly into cold water.
Includes betalains and nitrates from Beet Juice and Beet Powder
Contains NO yeast, wheat, soy, milk, preservatives, artificial colors, flavors or sweeteners or GMO's
Is NON-GMO, Vegan, Gluten-Free, and Kosher certified
Iron-Tek's own Energizing Blend contains organic CoffeeBerry® coffee extract providing about 90 mg caffeine, about the same as an average 8-ounce cup of brewed coffee. It also includes Guayusa extract.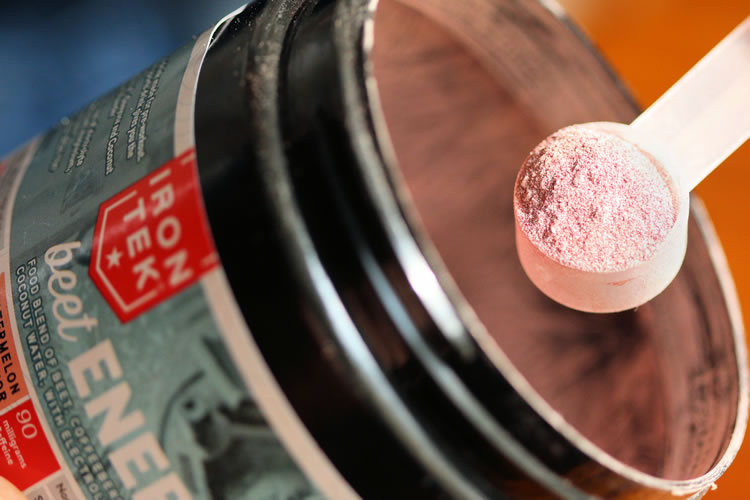 I took the Beet Energizer about 30 minutes before a high-intensity workout. This stuff really energizes and definitely powered me through a tough routine.  Make sure to give yourself enough time before your workout so you can feel the full effect.
⭐ Tip: If you're extra sensitive to caffeine maybe try half a scoop to start to see how you feel.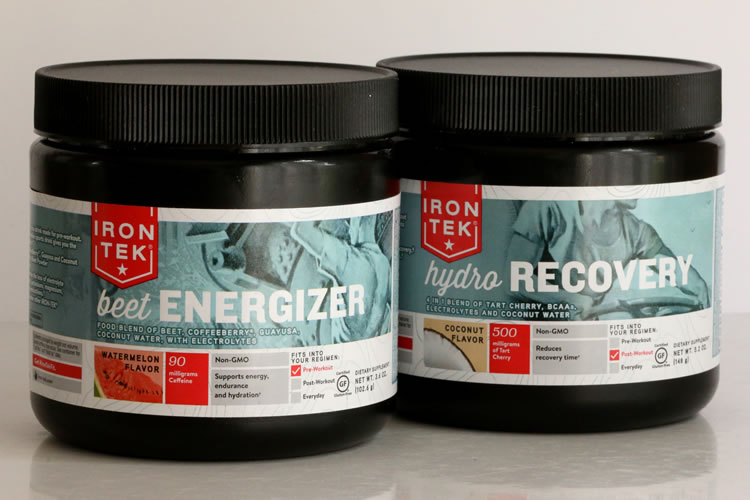 Recovering From Your Workout
Refueling your body after your workout is just as important as before. You need to give your body what it needs to reduce recovery time. Iron-Tek's Hydro Recovery is an awesome post-workout supplement and does just what the name suggests: supports your recovery while hydrating you.  Also completely natural without any artificial flavors or preservatives Hydro Recovery contains 4 important recovery ingredients so you'll be rearing to go for your next workout.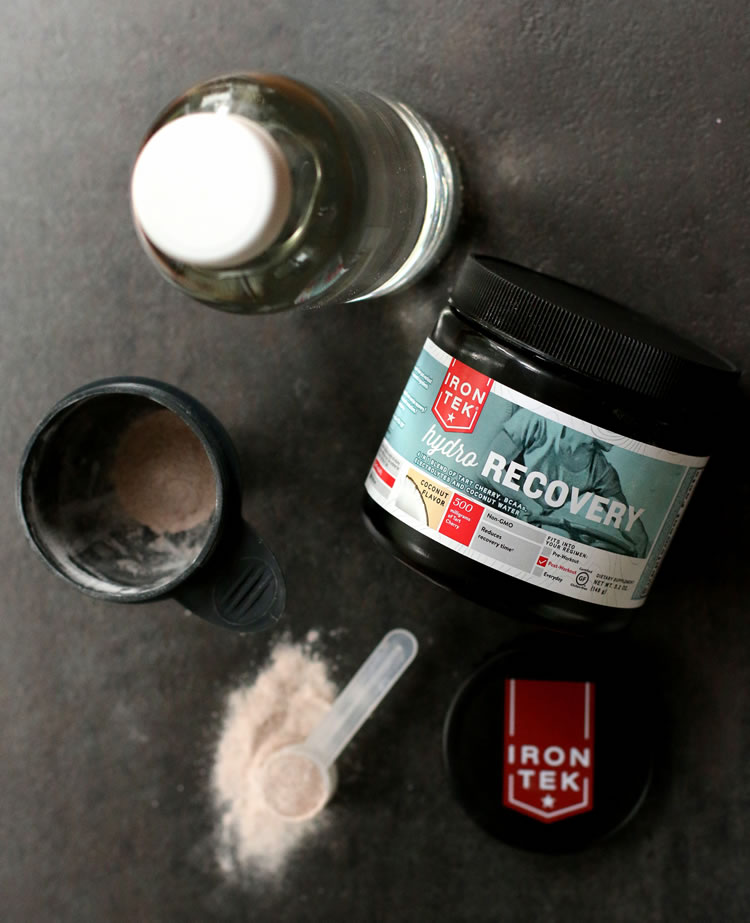 Hydro Recovery contains:
Tart cherry (CherryPURE®) to reduce recovery time.
Branched-chain amino acids (BCAAs) promote muscle health and exercise recovery.
Coconut water with potassium (plays an essential role in healthy muscle contractions)
6 Essential electrolyte minerals lost through sweat.
If you like anything tropical or coconut flavored this is pretty delicious.  I mixed it with water right after my workout one day and mixed it with cold unsweetened almond milk the following day. It kind of reminded me of a pina colada. After taking this for a couple of days I really felt like I had more natural energy for my next workout. Certainly more recovered. Definitely a keeper. I would only recommend the Hydro Recovery with an unsweetened beverage since it is already sweetened.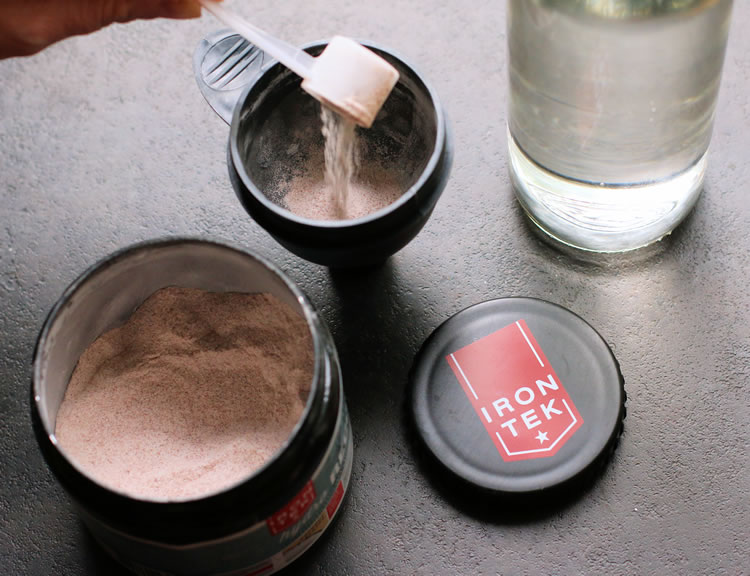 ⭐ Tip: On days you know you won't be home right after your workout, fill-and-go funnels are genius little inventions. You fill it with the supplement you want and screw on the top. When you're ready to use, just unscrew the bottom into your water bottle or drink of choice. It's convenient, clean and portable!  Not going to be home all day? Have a few fill-and-go funnels to easily divide and carry your supplements when you're on the go.
Do you find fitness nutrition overwhelming?
You're not the only one. With so many supplements on the market, it can really get confusing. Iron-Tek relaunched in 2016 in response to the question: When did fitness and nutrition become so difficult? They wanted to make things easy for us. So they designed a simple 3 part system of nutritional workout supplements. This 'Back to Basics' line includes an:
1) Everyday – For workout days and off days, I take any time really 2) Pre-Workout – Take 30-90 minutes before my workout 3 ) Post-Workout – I take within 30 minutes of my workout.
All Iron-Tek products:
Contain no artificial flavors or sweeteners.
Are Non-GMO.
Are gluten-free.
Use protein made with milk from rBGH & rBST-free cows.
Are purity tested
Come in recyclable packaging
Manufactured with the support of wind power.
That's all. No extra thinking involved. No sketchy ingredients. Just clean and simple nutrition. What more do you need? Your body and your workouts will thank you.
LEARN ? more about Iron-Tek here —>  Iron-Tek
FOLLOW Iron-Tek ☄ —> On Facebook, Instagram, and Twitter
Iron-Tek on Facebook  Iron-Tek on Instagram  Iron-Tek on Twitter